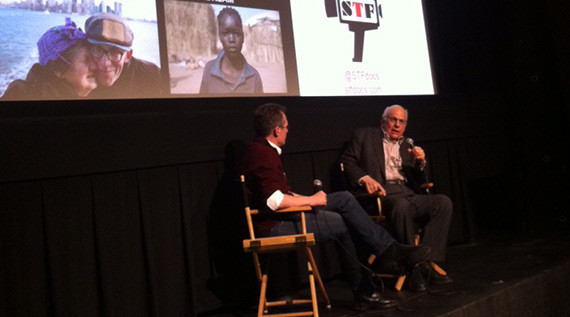 In a shocking moment of clairvoyance, a collective of artists realized that television did not have to be taken at face value. It was a medium as pliable as paint and as immediate as film, and in the 1970s, its creative potential seemed nearly limitless. The late 1960s saw the rise of cinema verite and experimental filmmaking, but television was still ruled by big broadcasting and the mainstream media. But under the bright lights of New York City's WNET public television studios, the entire format was being dismantled, reimagined, and radically rearranged.
TV Lab was an incubator of early video art that would come to foreshadow the current state of media saturation and fragmented imagery that we now know as social media, information sharing and ceaseless video streaming. There are an abundance of ways to interact with video now, but in the 1970s and early 1980s, the technology associated with television broadcasting was inaccessible to the average, creative types who wanted to try something different. TV Lab gave them that chance.
In what Stranger Than Fiction Artistic Director Thom Powers called "a relentless effort to excavate an era of TV history," director Howard Weinberg's NAM JUNE PAIK & TV LAB: LICENSE TO CREATE documents the rise of early experimental television through the people who paved the way. With Paik and executive producer David Loxton at the forefront, and with funding by the Rockefeller Foundation, WNET essentially turned their studios into a rotating, artist residency program, where for the first time artists and early video hackers had access to equipment, and to a community.
Paik, along with fellow artists Russell Connor, Bill Viola, and William Wegman, experimented with both the form and function of television by dismantling cameras and bending signals to create fascinating visual puzzles that were broadcast to the small masses who tuned in to WNET in New York. By turning television sets inside out and reprogramming them, they created tools the other artists could use in their own projects and programs, and they did, often to outrageous and powerful effect.
Journalists and documentarians hopped on board too, and saw an opportunity to tell stories that mainstream media outlets left untold. From gritty crime docudramas like THE POLICE TAPES (screening at STF on May 12), to political satire and socio-economic travel diaries, TV Lab was a platform that launched the careers of dozens of artists and filmmakers, and changed the way people looked at television.
"If you're lucky in life, you will encounter some magic moments in time when you know what you're doing is exciting, and to some degree, is needed," filmmaker Jon Alpert says in in of the film's many revealing and insightful interviews. "That's what TV Lab let us all do."
---
Writing and photography by Krystal Grow, an writer, producer and photo editor based in New York City. Follow her on Twitter and Instagram @kgreyscale.
Related Film