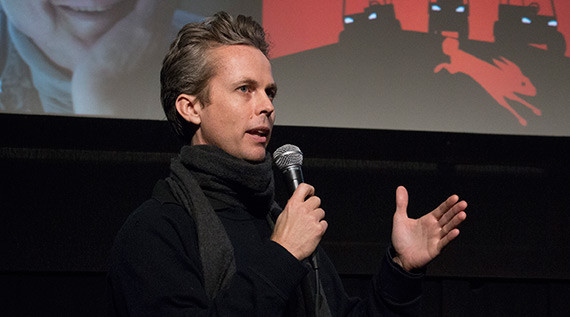 Dreamland was anything but an idyllic place. The former Ba'athist retreat in Fallujah, Iraq turned U.S. army camp was ripe with instability and confusion with a soundtrack of helicopter blades and explosions.
Tuesday evening's film, OCCUPATION: DREAMLAND, paints the raw portrait of a U.S. army squad stationed at "Camp Dreamland" in January 2004. The soldiers' dialogue reflects tediousness and boredom, interspersed with moments of confused interactions with local Iraqis and vaguely explained bursts of violence. The walls of their bungalow are lined with pictures of half nude women, and the soldiers listen to heavy metal rock music as they put on military garb and load their weapons.
At the start of the film, one soldier inquires, "I need some clarification of what we're doing here, but I guess someone else smarter than me knows."
The soldiers are young, some just out of high school, and they explain the reasons they enlisted, "I had no money," and "I had no idea what to do with my life." At the same time, they are not naïve. One soldier describes his disillusionment with the American government's intentions in Iraq, "You put two and two together. War is money."
Based on the editing of sound bites and scenes of fearful faces of Iraqis in their homes as U.S. troops raided them, the film appears to a have a viewpoint. Yet, what the audience experiences feels raw and unadulterated. Indeed, during the Q&A after the screening, director Ian Olds said that the soldiers depicted in the film affirmed to him that it was a truthful portrayal of what life was like at Camp Dreamland.
Olds' co-director, Garrett Scott, died of a heart attack at age 37 just a day before OCCUPATION: DREAMLAND won the 2005 Independent Spirit Award. Olds said that this screening was the first time in many years that he had watched this film, and it reminded him of his partner he had lost.
There are a few remarkable things about this documentary. First is the filmmakers' access, which can be partly attributed to brilliant timing. Olds explained, "At that time, things were still very unregulated. We flew to Jordan and showed up at the camp, knocked on the door, and said something like, 'We're making a film about the day in the life of a soldier.'"
But, the regulations were about to change. After the violent siege of Fallujah just three months later in April 2004, access for journalists altered completely.
Another notable aspect of the film is the sound design, done by Jim Dawson, which is a bombastic backdrop to the steady escalation of violence in Fallujah, which ultimately leads to death of 1,000 Iraqis and 42 U.S. marines in the city's siege.
Olds said that he and his co-director, Scott, wanted "to make a historical document" of a moment in wartime.
Stranger Than Fiction's Winter 2015 season runs from February 3rd to March 24th, taking place each Tuesday night at the IFC Center. The season features an eclectic mix of sneak previews and retrospectives, including appearances by filmmakers Marc Levin, Ian Olds, Liz Garbus and film subject Seymour Bernstein.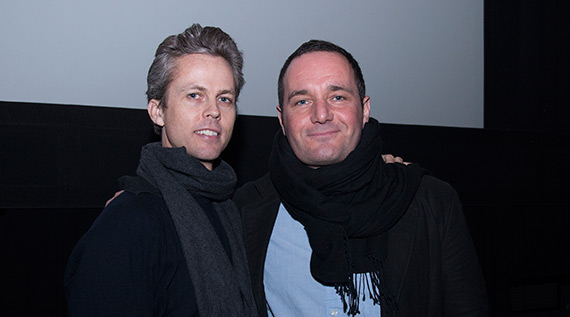 Director Ian Olds with writer and collaborator Christian Parenti following the screening of OCCUPATION: DREAMLAND at Stranger than Fiction.
---
Writing by Maya Albanese, a New York City based multimedia reporter, writer, producer, and filmmaker covering social and environmental sustainability as well as innovation in the arts, food, and technology worlds. Maya has produced content for print, digital, and broadcast media, including The Washington Post, The Huffington Post, NBC Nightly News, The Today Show, GreenBiz.com, Fresh Cup, Coffee Talk, Heritage Radio and TellurideTV. In 2015, she is producing two documentary films and will receive a Masters degree with an emphasis in Documentary Filmmaking from Columbia University's Graduate School of Journalism. Twitter @mayaalbanese.
Videography by Steff Sanchez, a filmmaker and designer based in New York City. Twitter @steffsanchez.
Photography by Lou Aguilar, a photographer based in New York City. Twitter @Luberta.
Related Film