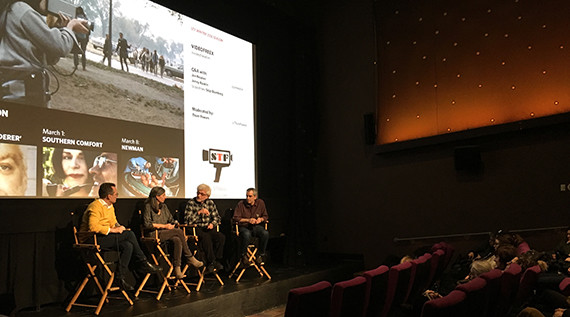 "It was necessary for us to go to these places where history was being made and say let's have that alternative record."
–Skip Blumberg, Videofreex member
In the 1960s there were three major news networks and CBS ruled the airwaves. Youth movements were in full force all over the country championing Women's Liberation, fighting for Civil Rights, and protesting the war in Vietnam. As attitudes and perspectives changed and voices of a generation made themselves heard, technology, too, was changing. The portable hand held video camera was born. Equipped with instant playback, it imprinted on the generational landscape an inexpensive and accessible tool to capture the times. A group of intrepid journalists flocked to this method of storytelling, and baptized their renegade collective as the Videofreex.
In theaters March 9, the Stranger Than Fiction documentary series treated its audience to a sneak peek of HERE COME THE VIDEOFREEX, directed by Jon Nealon and Jenny Raskin. Extracted from obsolete technology, reels and reels of archival footage reveal stories of a generation documented by the Videofreex. In person for the screening, Video freak Skip Blumberg said, "We were trying to find out what was unique to this brand new medium and the fact that you could just roll."
A spontaneous and communal bunch, "just rolling" worked because each Videofreex player had a role that empowered the individual. From shooting to tech support, from accounting to cooking, unique strengths were utilized and thus enabled the dynamic group. At a time when gender roles were being examined, for the Videofreex, men and women were learning at the same time, and pre-assigned roles were out of the question. For the Videofreex, it came down to matters of equity and a spirit of spontaneity.
CBS tapped into this spirit and in an effort to extend its primetime scope, the VideoFreex were hired to travel across the United States and tell the stories of the country. HERE COME THE VIDEOFREEX features interviews with Abbie Hoffman, legendary activist who co-founded the Youth International Party. Hoffman believed that "You measure a democracy by the freedom it gives its dissidents, not the freedom it gives its assimilated conformists." Though this quote is not in the film, the VideoFreex had intimate access to voices like Abbie's that leaped off the edges of expectation. CBS knew this, but after Illinois Black Panther Leader Fred Hampton was killed at age 21 in a Chicago police raid, the VideoFreex hotly disputed the CBS one dimensional decision to air mourners attending Hampton's funeral. Just weeks earlier, the Freex had interviewed Hampton. They had rare footage that could be included in CBS coverage and told another story. CBS refused, and the VideoFreex were out of a job, but not before fitting in one last expression of "damn the man" and getting their tapes back.
Interviewed in the film, VideoFreex member David says, "Unlike today the piece that was missing was means to access mass distribution." After filming the MayDay protests, one of the biggest acts of civil disobedience, Video Freak Burt said, "We recognized the power but couldn't wield it, because what good is it if people couldn't see it?" To combat these challenges, they set up their own guerilla television in upstate New York and immersed themselves in the community of Lanesville. Pirate TV was illegal, but as Burt said, "We wanted someone to say 'you can't do it' and we wanted to say 'why not?'"
The STFdocs discussion endeared itself to the fun Skip Blumberg, who highlighted that much of video history is left out of filmmaking. Nealon added, "I think the sensibility of a videomaker is much different to a certain extent and we're losing that lately in filmmaking, in media making–there's a certain amount of magic that happens– an honesty that comes through in some of this footage that really captures the period of time in a very unmediated way that only video could."
Writing by Megan Scanlon. Megan works at the American University of Beirut. She has written for the DOC NYC blog and the Journal of Community Engagement and Scholarship. Megan was a prescreener for the Margaret Mead Film Festival, and is a volunteer at the Bronx Documentary Center and DOC NYC. Follow her on instagram and twitter @meganscanlon5
Related Film