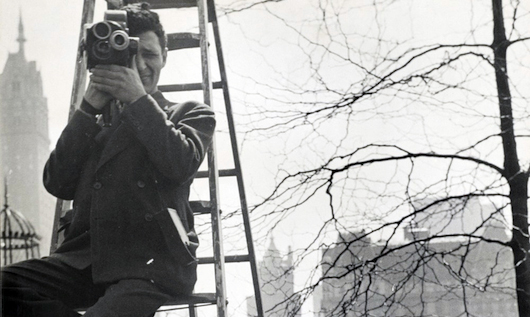 Join us this season for an eclectic mix of sneak previews and retrospectives, including appearances by filmmakers Marc Levin, Ian Olds, Liz Garbus and film subject Seymour Bernstein.
Our season opens on Feb 3 with THE HAND THAT FEEDS, winner of the DOC NYC Audience Award, focusing on a labor battle at a Hot & Crusty restaurant on the Upper East Side. The STF line-up features four other sneak previews: Marc Levin's FREEWAY: A CRACK IN THE SYSTEM (Feb 10) about drug dealer "Freeway" Rick Ross; Ethan Hawke's SEYMOUR: AN INTRODUCTION (Mar 10) about piano teacher Seymour Bernstein; Anthony Baxter's A DANGEROUS GAME (Mar 12); about protestors fighting Donald Trump; and, for the season's closing night, THE MUSES OF ISAAC BASHEVIS SINGER (Mar 24), directed by Shaul Betser & Asaf Galay, about the Nobel prize winning author and his harem of translators. The season also features four retrospective screenings: THE BEST OF EGG THE ARTS SHOW (Feb 17) celebrating the WNET arts program that was ahead of its time; OCCUPATION: DREAMLAND (Feb 24), the 2005 Iraq war doc by Ian Olds & the late Garrett Scott for its 10th anniversary; THE FARM: ANGOLA, USA (Mar 3), the 1998 Oscar-nominated prison doc by Liz Garbus & Jonathan Stack; and TO TELL THE TRUTH: A HISTORY OF DOCUMENTARY 1928-46 (Mar 17) Cal Skaggs & David Van Taylor's profiles of non-fiction film pioneers. The STF winter season takes place at the IFC Center every Tuesday night at 8:00 pm for eight weeks, plus special screenings on Jan 19 and Mar 12. Each event includes a discussion with the filmmakers, followed by a gathering at a nearby bar.
"Sharing great documentaries with an audience is a great way to beat the winter blues," said Artistic Director Thom Powers, who also programs for the Toronto International Film Festival, DOC NYC and SundanceNOW Doc Club. "This selection of films will entertain, inspire, anger and illuminate."
Tickets for Stranger Than Fiction screenings are $16 for the general public and $13 for IFC Center members. Click here to purchase tickets and watch trailers. A Season Pass, available for $99 ($80 for IFC Center members), covers admission to all 9 evenings, plus additional perks including free popcorn at each STF screening and a free DVD courtesy of Docurama. Click here to order a season pass.
---