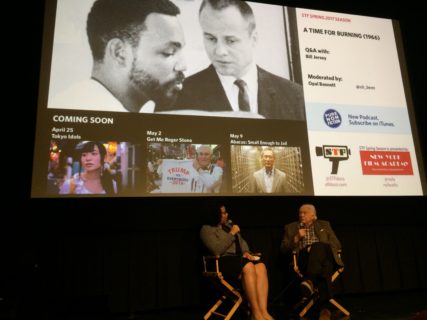 Writing and videography by Joseph Schroeder, who has managed the production of highly acclaimed educational and informational programming for networks such as PBS, A&E and National Geographic for over a decade. Currently the Vice President of Production and Operations of The Independent Production Fund. Follow him on Twitter and see more of his work on his website.
Stranger Than Fiction opened its Spring 2017 season with a 50th anniversary screening of the landmark film, A Time for Burning, and a Q&A with its director, Bill Jersey.  What followed was not only a master class on a documentary filmmaking, but an exploration of race relations back in 1967 and right now in 2017.
A Time For Burning portrays the leaders of the Augustana Lutheran Church in Omaha, Nebraska, struggling with how to integrate African-Americans into their parish in 1965.  The congregation is led by a charismatic young preacher, Bill Youngdahl, who believes the only way to move forward is to integrate fully, starting with a number of home interracial exchange visits with nearby Hope Lutheran Church.  He is determined to create a place where "People can take different sides of the issue and still forgive each other."  Many members agree, including Ray Christensen, who believes "The world is going to pass us by on the biggest issue of our lifetime."  But a divide soon presents itself, most notably through council leaders of the church, who repeatedly state that "the timing is not good" regarding the issue.
---