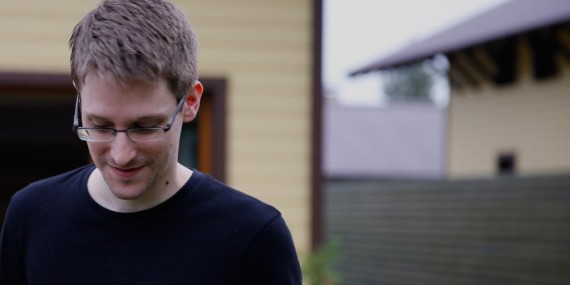 This week CITIZENFOUR, the new film from director Laura Poitras on the events surrounding the NSA leaks from whistleblower Edward Snowden, premiered at the New York Film Festival. Steven Zeitchik reported on the premiere for the Los Angeles Times, as did Emily Buder of Indiewire. At The Hollywood Reporter, Scott Feinberg posited the idea that the film had leapt to the top of the doc Oscar race. Ronnie Scheib of Variety reviewed the film, as did Eric Kohn of Indiewire. Also, George Packer released a profile of Poitras for the New Yorker. Finally, Adam Benzine of Realscreen reported that a new doc on Snowden, titled SNOWDEN'S GREAT ESCAPE, was in the works.
The film THE OVERNIGHTERS from director Jesse Moss premiered in theaters this week. At Nonfics.com, Katie Walsh interviewed Moss about how he handled some of the surprises thrown at him during production. Writing for the A.V. Club, A.A. Dowd gave the film an A- review, while Noel Murray of The Rolling Stone explored how the film came to be. And at the New York Times, Eric Hynes wrote on the intimate approach employed by Moss in making the film.
This week Stranger Than Fiction continues its tribute to Chris Hegedus and D.A. Pennebaker with a screening of COMPANY: ORIGINAL CAST ALBUM, a rarely screened film that documents the recording session of the Stephen Sondheim musical "Company." It will be accompanied by the short LAMBERT & CO. The films screen this Tuesday, October 14 at the IFC Center in Manhattan at the special time of 8:30pm. Following the screening D.A. Pennebaker will be in attendance for a Q&A. For more information or to purchase tickets, please go here.
---