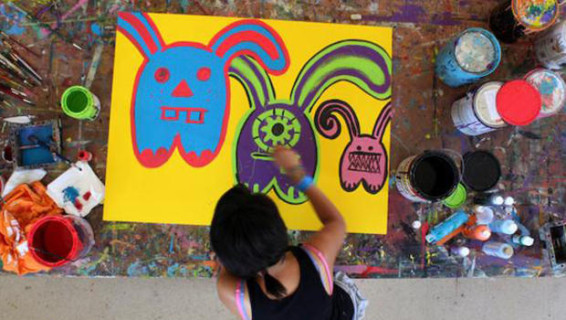 Writing for The Wrap, Steve Pond this week reported that the Academy for Motion Picture Arts and Sciences (AMPAS) had turned their attention to an overhaul of rules governing the short documentary award. Similarly to the changes visited by the Academy last year on the feature documentary award, the new changes were intended to open voting up to more Academy members. Guy Lodge of HitFix also had coverage of the new changes.
Scott Macaulay of Filmmaker Magazine profiled Tugg, the online platform that allowed viewers to organize theatrical screenings of films. Writing for Indiewire, Erin Whitney reported that Tugg and Codeblack Films were working to make the film FREE ANGELA & ALL POLITICAL PRISONERS available at theaters across the country. In a post for the Reel Politik column at Indiewire, Anthony Kaufman highlighted a viral video being used to promote the film.
If you can't wait for Tugg to do its work, you're in luck. This week Stranger Than Fiction is hosting a screening of FREE ANGELA on Tuesday, April 2 at 8 p.m. at the IFC Center. Director Shola Lynch will be in attendance and will hold and audience Q&A following the screening. For more information or to buy tickets, go here.
Adam Benzine of Realscreen had coverage of Participant Media's new cable channel Pivot, which would replace the Documentary Channel and Halogen TV. Benzine also spoke with Pivot President Evan Shapiro about the new channel's programming, which is slated to include feature docs.
Sara Hamdan of the New York Times reported the story of Aflammah, a crowdfunding platform used by two filmmakers in Dubai to raise money for their film on autism.
Back at Realscreen, Barry Walsh had coverage of the docs named winners of Peabody Awards, which included THE LOVING STORY by director Nancy Buirski and SUMMER PASTURE by filmmakers Lynn True, Nelson Walker III and Tsering Perlo. The ITVS blog also had coverage of programs that had won awards.
In distro news this week, Kevin Ritchie of Realscreen reported Oscilloscope Laboratories continued its streak of observational acquisitions with its pickup of North American rights for Lotfy Nathan's film 12 O'CLOCK BOYS. Mike Fleming Jr. of Deadline also had the news. Ritchie also reported that Dogwoof had nabbed UK rights for the critical favorite THE ACT OF KILLING from Joshua Oppenheimer.
At The Verge, Nathan Igraham wrote up the Sebastian Junger film WHICH WAY TO THE FRONT LINE FROM HERE? THE LIFE AND TIME OF TIM HETHERINGTON, a screening of which STF is hosting on April 23, and which is airing on HBO on April 18.
For the month of April, SundanceNOW's Doc Club will focus on the theme of "making art," and includes films such as THE GATES and GERHARD RICHTER PAINTING.
Also at Realscreen, Adam Benzine reported on awards winners at this year's Thessaloniki Documentary Festival in Greece. At the What (Not) to Doc blog, Basil Tsiokos had a recap of the festival in three installments: part one is here, part two here and part three here.
At the Artist Services section of the Sundance website, Chris Dorr interviewed Annie Roney of ro*co films about the evolving world of documentary distribution.
Recaps of the True/False Film festival continued to make their way to the web. Nick Pinkerton shared his take at Artforum, while Nicolas Rapold published a recap for Film Comment's website.
At the Documentary Channel blog, Christopher Campbell had a recap of doc news from the week. Campbell also interviewed filmmaker Rebecca Richman Cohen about her film CODE OF THE WEST, a look at medical marijuana in the U.S. And at Filmmaker Magazine, Brandon Harris also spoke with Cohen.
In other interviews, MEDORA directors Davy Rothbart and Andrew Cohn were queried by Bill Graham at The Film Stage. Writing for No Film School, Oakley Anderson-Moore spoke with OUR NIXON producer Brian L. Frye.
At Filmmaker Magazine, Scott Macaulay pointed to an excerpt from an interview with ROOM 237 director Rodney Ascher, whose films hit theaters this week. Hugh Hart of Fast Company's Co.Create blog also covered the film, as did David Segal of The New York Times and Anthony Kaufman of the SundanceNOW blog.
Theresa Agovino of Crain's Business New York this week spoke with American Documentary Executive Director Simon Kilmurry about the payout POV recently got from the MacArthur Foundation.
Back at Filmmaker Magazine, Ariston Anderson talked to filmmaker Ken Loach, eliciting 10 filmmaking lessons from him.
The Independent Lens blog this week hosted an interview with filmmaker David Sutherland, director of the film KIND HEARTED WOMEN.
Chris O'Brien of the Los Angeles Times had an update on Apple's efforts to win back editors following widespread dissatisfaction with the launch of Final Cut Pro X.
At the Doc Geeks blog, Andrea Zeevalkink had some new details on this year's lineup for the Sheffield Doc/Fest,
Writing for the International Documentary Association website, Pat Aufderheide covered the South by Southwest Film Festival. Meanwhile, Film Threat highlighted the latest episode of Ondi Timoner's BYOD: Bring Your Own Doc online interview show, this one featuring the filmmakers behind THESE BIRDS WALK; WE ALWAYS LIE TO STRANGERS; and TPB-AFK: THE PIRATE BAY. And Scott Macaulay of Filmmaker Magazine talked with Jason Brush and Michel Reilhac about SXSW panels they participated in on the topic of film and interactivity.
In other web/interactive doc news, Randy Astle of Filmmaker Magazine covered the launch of the multimedia doc DABAAB STORIES. The MIT Open Documentary Lab interviewed Kamal Sinclair of the Sundance Institute's New Frontier Story Lab. And a video from the BBC dealt with the issue of interactivity in docs.
That does it for this week. Please send any tips/recommendations via e-mail here, or tweet them to @GuerrillaFace. Have a great week everyone.