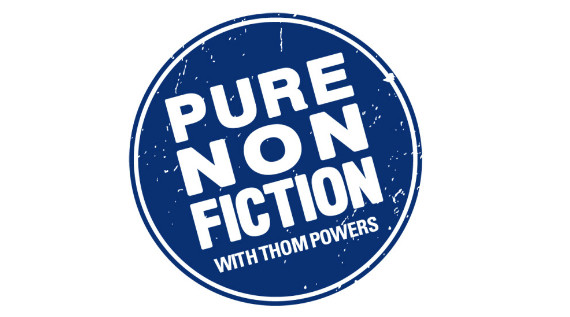 If you'll allow me, I will be brief this week. I've spent the last five days laid up, feverish and full of yuck, but I'm on the upward swing and there are some interesting bits of news to report. First and foremost, after weeks of teasing with podcast playlist tweets, Thom Powers' Pure Nonfiction podcast has gone live, both on the web and iTunes, where you can get a brief hint of the documentary goodness to come. Be sure to hit up the site, subscribe via your favorite podcast service and leave him a review to get the new program some much needed exposure. The first three episodes featuring interviews with Kahane Cooperman, Dawn Porter and the filmmakers behind MAKING A MURDERER roll out this week.
Second on the agenda is the online release of AJ Schnack's shocking Sundance short SPEAKING IS DIFFICULT, which was published this week by Field of Vision. To compliment the film's release, The Intercept ran a disconcerting piece by John Thomason titled "What We Know and Don't Know About Mass Shootings and Gun Deaths," while The New York Times published Mekado Murphy's extensive take on Schnack's film, noting its potential growth as further violent acts are committed. I also discussed the film with Schnack for IONCINEMA.com after it screened as part of the shorts programs at True/False.
This week at Stranger Than Fiction we'll be screening David Van Taylor's timely 2012 documentary ADVISE & DISSENT, the first documentary to go behind the lines and into the trenches of the judicial confirmation wars. The film tracks two opposing lobbyists and two lions of the Senate through three contested nominations, each of which inflames passions and provokes surprising conflicts and shifting alliances. Director Van Taylor will be on hand for a post-screening Q&A and tickets are still available here.
Next on the list this week is the announcement of this year's Peabody Awards finalists, which include titles like LAST DAYS IN VIETNAM, GLEN CAMPBELL…I'LL BE ME, DO NOT TRACK, HOW TO DANCE IN OHIO, 1971, THROUGH A LENS DARKLY and many more worthy documentary productions.
As far as film festivals were concerned, Tom Roston recapped this year's Full Frame Documentary Film Festival at Doc Soup, while the festival's director of programming Sadie Tillery interviewed guest Thematic Program curator R.J. Cutler on the festival's website. At Filmmaker Magazine, Astra Taylor interviewed with filmmaker Brett Story about her excellent new film currently screening as part of Art of the Real, THE PRISON IN TWELVE LANDSCAPES. And for indieWIRE, Chris O'Falt reported on why Tribeca has become an important new launchpad for the doc community.
Horrifyingly, Variety's Brent Lang reported that AMC, the largest chain theater in America, is now considering allowing text messaging in select theaters. At the opposite end of the theatrical experience, Need Supply Co.'s Sam Wittwer interviewed the Women of Cinefamily, which is "a collection of women involved with the theater [Cinefamily] in various aspects, whose focus is to screen and promote the work of female filmmakers, and to provide a gathering point for female filmmakers in Los Angeles."
On film funding there were two must read pieces this week – one from Kevin Ritchie at Realscreen on finding new ways to funding art docs like Robert Greene's KATE PLAYS CHRISTINE, the other from indieWIRE's Chris O'Falt, who examines the aftermath of the MacArthur Foundation's announcement that it would discontinue direct support of individual documentary projects in 2016.
Lastly, riffing on the Tribeca / VAXXED controversy, Chelsea Jack wrote at length for The Establishment, opening up a nasty little can of worms by asking, "Do Documentaries Have To Tell The Truth?" Now, that was much more long-winded than I meant to be, but there were some gems that had to be shared! Until next week, if you have any tips or recommendations for the Memo, please contact me via email here, or on Twitter, @Rectangular_Eye.