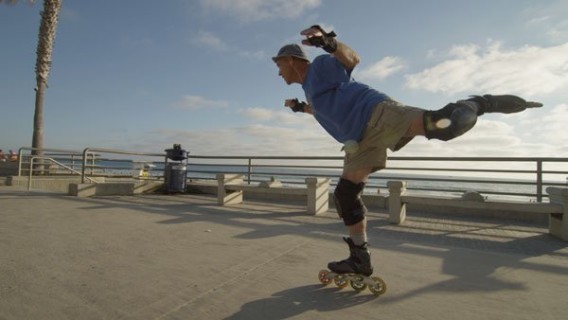 The Academy of Motion Picture Arts and Sciences (AMPAS) this week named the short docs named to their shortlist. Mark Olsen of the Los Angeles Times covered the news, as did Jon Weisman of Variety. At Nonfics.com, Christopher Campbell had the vitals on the films on the shortlist.
Realscreen's Adam Benzine reported on the lineup at this year's International Documentary Film Festival Amsterdam (IDFA). Writing for DocGeeks, Alexandra Zeevalkink zeroed in on the IDFA offerings from the National Film Board of Canada. IDFA's DocLab also announced details on the interactive titles selected for the festival,
In a thoughful piece at Nonfics.com, Christopher Campbell contemplated docs that could be construed as platforms for an evil ideology. Campbell's piece was, at least in part, a response to a critical review of THE ACT OF KILLING from About.com writer Jennifer Merin.
This week Stranger Than Fiction is hosting a screening of Andrew Jarecki's 2003 film CAPTURING THE FRIEDMANS on Tuesday, October 15 at 8pm at the IFC Center in Manhattan. The film follows the story of a Long Island family torn apart by accusations of child molestation. Director Andrew Jarecki will be in attendance for a Q&A following the film. For more information or to purchase tickets please go here.
At Filmmaker Magazine, Brandon Harris spoke with THE INSTITUTE director Spencer McCall. And Nathan Rabin reviewed the film for The Dissolve.
Lauren Cornell interviewed filmmaker Laura Poitras about her filmmaking practices and life post-Snowden for a post at Mousse Magazine.
At Movie City News, David Poland posted two interviews from the Toronto International Film Festival: one with Errol Morris and another with Frederick Wiseman. It's a good way to spend an hour.
Writing for the SundanceNOW blog, Anthony Kaufman's Docutopia post centered on the glut of docs hitting screens, and the role of niche films.
David Britten of the Telegraph penned a piece on whether liberal documentaries can actually make a difference.
At DisCo, Rob Pegararo recounted an interesting exchange he had with director Doug Pray on the complexities of distro in the digital world.
The International Documentary Association (IDA) this week announced the recipients of the Pare Lorentz Documentary Fund grants.
Canadian filmmaker John Greyson and doctor Tarek Loubani finally made it back to Canada, after being released last week from held without charge by Egyptian authorities beginning in mid-August. The CBC had the news.
Steven Zeitchik of the Los Angeles Times gave interactive docs some shine, focusing his attention on EMPIRE from Kel O'Neill and Eline Jongsma, which showed at the New York Film Festival.
The New York Times launched its latest interactive project, HIGHRISE, a partnership between its Op-Docs brand and the National Film Board of Canada. At the i-Docs site, Jess Linington wrote a review of the project.
At the Tribeca Film Institute blog, Jason Guerrasio considered the complications surrounding when one should end their transmedia project, speaking with Elaine McMillion of the HOLLOW project and Katerina Cizek of HIGHRISE. Meaghan McDonough of the Berkeley Beacon also wrote up HOLLOW.
The POV blog played host to a video featuring 56 UP director Michael Apted and subject Tony Walker.
In distro news, Third World Newsreel announced that they had acquired Jessica Chen Drammah's film ANOMALY on multiracial identity. At Nonfics.com, Christopher Campbell reported that PARTICLE FEVER had been snagged by Abramorama. And Kevin Ritchie of Realscreen reported that Autlook had picked up international rights for THE PUNK SINGER from Sini Anderson.
In a piece for the Film School Rejects blog, Christopher Campbell made some doc suggestions for those enamored with the Alfonso Cuaron film GRAVITY.
And back at Nonfics.com, Christopher Campbell had the previous weekend's box office haul, with LINSANITY making a strong showing.
Bryce J. Renninger of Indiewire provided a recap of his experiments with drone filmmaking; it'll be interesting to see if and how mainstream documentarians might use the technology. His colleague Noam Croll had some advice for those thinking about guerrilla filmmaking techniques.
At the POV blog, Tom Roston wrote about the new trend of making "hybrid" films, and also noted a few projects he would place in the nascent category.
On a related note, Robert Greene added to his canon of cinematic nonfiction with EDVARD MUNCH from Peter Watkins.
Adam Schartoff's Filmwax podcast this week featured filmmaker Angad Bhalla, the director behind HERMAN'S HOUSE.
Andrew Pulver of the Guardian interviewed writer/director Sebastian Junger, who in turn remembered the late filmmaker Tim Hetherington.
At the Huffington Post, Gerry Flahive penned a ringing endorsement of documentaries in a piece.
Back at Nonfics.com, Daniel Walber reviewed TIM'S VERMEER, leaving it with a four-star rating. In a separate post, Christopher Campbell wrote a critique of AMERICAN PROMISE, also giving it four stars. Campbell also had the list of the latest docs to hit theaters, and also shared his picks for the top films in home release.
The BBC Four announced that three of the documentaries from its Storyville brand would first be released online before they were aired on television.
At Indiewire, Steve Greene and Eric Kohn updated their list of the best docs of 2013 thus far, with THE ACT OF KILLING leading the pack.
Basil Tsiokos provided a helpful doc overview of several festivals at his What (Not) to Doc blog, included the Yamagata International Documentary Film Festival; the BFI London Film Festival; the New Orleans Film Festival; and the Hamptons International Film Festival.
Filmmaker Magazine posted a piece from Terry Green about the prospects for filmmakers to make a living from their work that focuses on narrative directors, but seems to apply equally to documentarians.
The Flaherty NYC seminar published a recap of its October 1 event, which is part of a series programmed by anarchists Sherry Millner and Ernie Larson.
i-Docs put out word that it was seeking participants for its 2014 symposium, the details of which can be found here.
Kevin Ritchie of Realscreen reported that this year's Coutts Grierson Trustee's Award would be handed to producer John Battsek.
And Realscreen colleague Kelly Anderson reported that the Montreal International Documentary Festival (RIDM) would open with Jehane Noujaim's THE SQUARE.
Finally, the Associated Press reported that leftist documentary filmmaker Saul Landau had passed away at the age of 77 from cancer.
That's it for this week. You can send tips and recommendations for the Memo here, or tweet them to @GuerrillaFace. Thanks and have a great week!