The South by Southwest Film Festival this week announced the lineup of its feature films, both documentary and narrative. At Realscreen, Kelly Anderson took a look at some of the docs that made the cut, as did Basil Tsiokos on his What (Not) to Doc blog.
Sundance news continued to make its way out of Park City this week as well. Writing for Indiewire, Jon Fougner examined the Sundance Institute's Artists Services Program, which provides filmmakers with different means of getting their work to audiences. The hive mind of Indiewire's Criticwire Network anointed AFTER TILLER by Lana Wilson and Martha Shane as the most highly rated feature doc to come out of Sundance. And Julie Fischer of MIT's Open Doc Lab reviewed GOOGLE AND THE WORLD BRAIN by Ben Lewis.
Also writing for Indiewire, Anthony Kaufman presented his Sundance "best and worst" list, which included both docs and fictional narrative films. In a piece for Slate, Kaufman also noted that two films–Richard Rowley's DIRTY WARS and Alex Gibney's WE STEAL SECRETS: THE STORY OF WIKILEAKS–presented a new strain of films from the left that were critical of the administration of President Barack Obama. And in his Docutopia post for SundanceNOW, Kaufman wondered if the rash of Israeli docs focusing on Palestine have had an effect on public sentiment among Israelis. (Also, last week the New York Times' Jodi Rudoren spoke with THE GATEKEEPERS director Dror Moreh on whether he thought his film was influencing Israeli thought on Palestine.)
Enthusiasm among distributors to ink deals also seemed to carry over from Sundance this week. At Indiewire, Zoe Beyer reported that Cinedigm picked up North American rights for the Sundance film NARCO CULTURA by Shaul Schwarz, while Josh L. Dickey did the same for Variety. Dominic Patten of deadline had the news that Lionsgate's Codeblack Films nabbed the rights to FREE ANGELA DAVIS AND ALL POLITICAL PRISONERS by Shola Lynch, as did Variety's Dave McNary. At The Hollywood Reporter, Tatiana Siegel reported that Participant Media had acquired North American rights for 99%–The Occupy Wall Street Collaborative Film. Mike Fleming Jr. of Deadline reported that American Masters grabbed the U.S. television rights for the J.D. Salinger doc SALINGER by Shane Salerno. Eric Eisenberg of CinemaBlend reported that Sony Pictures Classics had won the rights to FOR NO GOOD REASON, a portrait of Hunter S. Thompson compatriot and illustrator Ralph Steadman.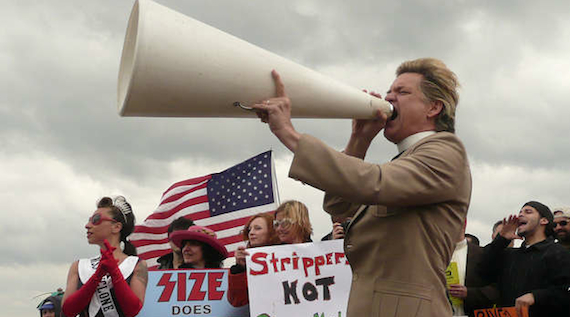 This week Stranger Than Fiction is hosting a screening of the film ZIPPER: CONEY ISLAND'S LAST WILD RIDE by director Amy Nicholson on Tuesday, Feb. 5 at 8 pm at the IFC Center. The film takes a look at the changes wrought in the iconic Brooklyn neighborhood under the claims of improvement. Nicholson will be in attendance for a Q&A following the screening. You can get more information and purchase tickets here.
At the Los Angeles Times, critic Kenneth Turan profiled documentary film writer Mark Monroe and considered the rising role of the writer in documentary film.
At the POV blog, Heather McIntosh took a look at CNN Films' dive into the doc world. Guest blogger Dara Kell shared her experience in self-distribution for her film DEAR MANDELA, which she co-directed with Christopher Nizza. Liz Nord profiled some of the women making waves in the world of transmedia. And guest blogger Pamela Yates talked about her film GRANITO: HOW TO NAIL A DICTATOR in a post taken from the WITNESS blog.
This week saw both the death of former New York City Mayor Ed Koch, and the theatrical release of his biographical doc Koch, by director Neil Barsky. Glenn Whipp of the Los Angeles Times considered both the man and the film in a piece, while Realscreen's Adam Benzine did the same. A.O. Scott of the New York Times reviewed the film, while HOW TO SURVIVE A PLAGUE filmmaker David France considered the politician's legacy in relation to the AIDS crisis for a piece in New York Magazine.
At the Independent Lens blog, Maria Goodavage highlighted some of the programming on the show celebrating Black History Month.
The Museum of Modern Art this week officially announced the lineup for its Documentary Fortnight program, set to take place Feb. 15 – March 4. Erin Whitney of Indiewire had the details.
Writing for the Documentary Channel blog, Christopher Campbell took a look at the documentary prize winners coming out of Sundance, and considered whether they were good candidates to be anointed as the best films of 2013.
The Miami International Film Festival this week also announced its lineup of features, which included a number of docs that had screened at Sundance.
Back at Indiewire, Nigel Smith had an interview with CUTIE AND THE BOXER director Zachary Heinzerling.
Neil Genzlinger of the New York Times reviewed Dave Grohl's Sundance doc SOUND CITY, giving it a coveted "Critic's Pick" designation.
Brad Lichtenstein's film AS GOES JANESVILLE will get a reairing on Independent Lens today at 10 pm. The team behind the film is also launching BizVizz, a mobile app inspired by the film that allows users to quickly access the financial information of the U.S.'s largest corporations. The film, which examines the effects of the shutdown of a GM plant on a Midwestern town, got its DVD release last week.
Working Films this week announced that co-founder Robert West was stepping down from his role at the organization to focus on his health in the face of a recent diagnosis of cancer. Our thoughts and support are with West.
This week saw the passing of Stefan Kudelski, inventor of the Nagra portable recording device which played a key role in the ability of filmmakers to shoot handheld with synched sound. Paul Vitello of the New York Times penned an obit for Kudelski, while Gordon Quinn of Kartemquin Films spoke on the influence Kudelski's devices had on his work.
Adam Benzine of Realscreen reported that Alex Gibney was in the midst of recutting his doc on cyclist Lance Armstrong given the athlete's recent admittance of doping.
At the DocGeeks blog, Alexandra Zeevalkink reviewed the film A RUSSIAN FAIRYTALE by Jake Mobbs.
The New York Times' John Anderson took a look at the slate of documentaries in progress focusing either directly or tangentially on Hurricane Sandy.
Olivia Humphreys of IdeasTap nabbed an interview with MARLEY director Kevin Macdonald on his filmmaker philosophy.
Finally, Christopher Campbell of the Documentary Channel blog has this week's breakdown of docs in theaters in a new, revamped approach to the topic (and I, for one, am glad). He also noted that Oscar-nominated short docs were also taking a bow in theaters this week, in advance of the awards ceremony.
That's it for this week. Please send any tips or recommendations you have via email here, or tweet them to @GuerrillaFace. Thanks, and have a great week everyone!