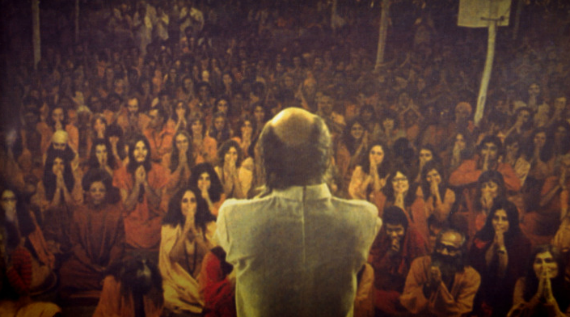 It doesn't seem possible, yet SXSW has swiftly come and gone, with the festival's award winners having been announced on Tuesday of last week. Hao Wu's PEOPLE'S REPUBLIC OF DESIRE won the Grand Jury prize for in the documentary feature competition, while Charlie Tyrell's MY DEAD DAD'S PORNO TAPES took home the Jury Award in Documentary Shorts, and TRANSMILITARY by Gabriel Silverman and Fiona Dawson took home the Audience Award. Meanwhile in Denmark, CPH:DOX is just getting started, and unsurprisingly, Basil Tsiokos whipped up a rundown of all the new docs making their debut at the festival over at What (not) To Doc, including those in its international competition for the Dox:Award and its regional competition for the Nordic:Dox Award.
Looking forward, Hot Docs has revealed another wave of titles in its Special Presentations program, bringing the total up to 32 films "showcasing high-profile premieres, award winners, and works by masters or featuring star subjects." The festival, which runs April 26 through May 6, also revealed the 20 projects set to compete at this year's Hot Docs Forum. Those that made that cut include new work by Brett Story, Nanfu Wang, Liz Marshall, and Lyric R. Cabral, reports Pat Mullen of POV Magazine. Additionally, the San Francisco International Film Festival unveiled its generous documentary program for this year's edition, featuring lots of imports from Sundance, TIFF and SXSW.
Tomorrow at IFC Center, our 2018 Winter Season rolls on with Ian Olds and Garrett Scott's 2005 Falluja doc classic, OCCUPATION: DREAMLAND. Co-director Ian Olds will be in attendance for a live Q&A following the screening. Tickets are still available here.
While there were a couple theatrical releases this week – ITZHAK (lovingly reviewed by Matt Zoller Seitz at RogerEbert.com) and 12 DAYS (covered by Manohla Dargis in The New York Times), it was Chapman and Maclain Way's STF alum Netflix series WILD WILD COUNTRY that dominated all critical attention this past week. Dubbed "a new six-part Netflix documentary is a stunning dive into a utopian religious community in Oregon that descended into darkness," by Sophie Gilbert in The Atlantic, A.V. Club's Nick Allen thought that "by handling this story so intelligently and by opening its heart to a very complicated idea of good and evil, WILD WILD COUNTRY has a profound, mesmerizing power itself." While most reviews have been overwhelmingly positive (Robert Lloyd of the LA Times, Ben Travers of IndieWire, and Mike Hale of The New York Times included), Anthony Schneck of Thrillist was a bit less enthused, writing, "Like most of Netflix's recent fare, however, WILD WILD COUNTRY is a case of too much and not enough…The conventions of documentary filmmaking go unchallenged through what feels like a long, long six-part series that probably could have functioned as a tight feature-length documentary."
Though Netflix continues to grab critical attention wholesale, there was a piece of small screen news that had every ounce of my attention: IndieWire's Steve Greene reported, "History announced on Thursday that Herzog and legendary HARLAN COUNTY, USA director Barbara Kopple will lead the network's new documentary film series, tentatively titled HISTORY 100. The collection is planned to span 100 films, each of which will highlight momentous events and movements over the past century of world history. Herzog's film, currently called MEETING GORBACHEV, is intended as a one-on-one profile of Mikhail Gorbachev, told through interviews and footage from the former Soviet Union leader's personal archive. Meanwhile, Kopple will tackle the failed Operation Eagle Claw rescue mission in the wake of the 1979 Iran hostage crisis in DESERT ONE."
In documentary production news, The Finnish Film Foundation awarded 10 documentary projects over a combined €700,000 for production, while Tom Grater of Screen Daily reported that "producer Lisa Marie Russo has been appointed by Doc Society (formerly BRITDOC) to head up the newly-launched BFI Doc Society Fund."
Three new shorts are presently available to stream: SINGLE ROOM OCCUPANCY by Artemis Shaw and Alexander Wolf Lewis ("When the tide of gentrification reaches her Harlem single room occupancy building, a former Bond Girl documents her mission to save the neighborhood and her home."), the self explanatorily named THE PRICE WOMEN PAY FOR TIPS by Leslye Davis and Shane O'Neill, and a new published at Field of Vision by Scott Cummings aptly called ADVERSARY, which "examines Trump's mini-me Carl Paladino – and how to beat Trumpism."
I'll leave you this week with Christopher Campbell's top five docs of 2018 so far, published over at Thrillist. As always, if you have any tips or recommendations for the Memo, please contact me via email here, or on Twitter, @Rectangular_Eye.