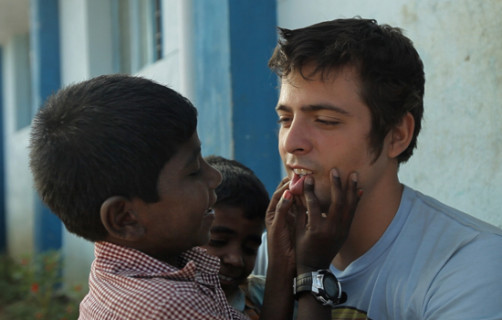 Steve Hoover's film BLOOD BROTHER, about American Rocky Braat who dedicates his life to working with HIV positive children living in an orphanage in India, was the big award winner at Sundance this year, taking home both the Grand Jury Prize and the Audience Award Prize for a U.S. documentary. The Grand Jury Prize for world cinema went to Kalyanee Mam for her film A RIVER CHANGES COURSE, about several families in Cambodia. You can find a full list of Sundance award winners here. Adam Benzine of Realscreen also had an awards recap, as did Bryan Alexander of USA Today. Benzine also provided a comprehensive recap of documentary news that came out of the festival.
Perhaps the biggest news to come out of the festival was that docs were selling well. The folks at Indiewire took on the task of rounding up all the acquisitions deals that were inked during Sundance (the list includes both docs and narratives). Daniel Miller and Tatiana Siegel of The Hollywood Reporter reported that a minimum of four docs sold for at least $1 million: PUSSY RIOT–A PUNK PRAYER by directors Mike Lerner and Maxim Pozdorovkin; THE SUMMIT by Nick Ryan, TWENTY FEET FROM STARDOM by Morgan Neville; and BLACKFISH by Gabriela Cowperthwaite. Josh L. Dickey and Jeff Sneider of Variety also reported that the high price tags commanded by many films may have frozen out smaller indie distributors.
Siegel and Miller of The Hollywood Reporter said that BLACKFISH, about the captive killer whale Tikkum, had elicited a bidding war between a handful of distributors before going to Magnolia Pictures and CNN Films for a number in the low seven figures. Chris Lee of the Los Angeles Times reported that Showtime had nabbed TV and VOD rights for THE HISTORY OF THE EAGLES PART I before the film had even screened at Sundance. Adam Benzine of Realscreen reported that RADiUS-TWC had inked a deal for the English speaking rights to INEQUALITY FOR ALL, and also that international rights for WHO IS DAYANI CRYSTAL? had gone to Mundial and that K5 International picked up international rights for NARCO CULTURA. Dominic Patten of Deadline had the news that RADiUS-TWC also grabbed North American and French rights for CUTIE AND THE BOXER.
Directors also had a chance to bask in the media limelight at Sundance. Roger Ross Williams, director of GOD LOVES UGANDA, spoke with Kevin Ritchie of Realscreen. Ritchie also talked with Jason Springarn-Koff, the force behind the New York Times' Op-Docs, and with Greg 'Freddy' Camalier, director of MUSCLE SHOALS. Marlow Stern of The Daily Beast sat with Alex Gibney about his film WE STEAL SECRETS: THE STORY OF WIKILEAKS, as did Amy Goodman of Democracy Now! Goodman also spoke with Jehane Noujaim, director of THE SQUARE, and with Marc Silver, director of WHO IS DAYANI CRYSTAL? Christopher Campbell of the Documentary Channel blog spoke with GIDEON'S ARMY director Dawn Porter.
Eric Kohn of Indiewire spoke with Gabriela Cowperthwaite, director of BLACKFISH. Sophie A. Schillaci of The Hollywood Reporter interviewed PUSSY RIOT–A PUNK PRAYER directors Maxim Pozdorovkin and Mike Lerner, and James Rocchi of MSN blog The Hitlist talked with INEQUALITY FOR ALL director Jacob Kornbluth. Finally, Scott Macaulay of Filmmaker Magazine spoke with Alexandra Pelosi about her film FALL TO GRACE.
In other news related to Sundance, Scott D. Pierce of the Salt Lake Tribune profiled the film AMERICAN PROMISE, while Daniel Fienberg at HitFix reviewed it. Casey Newton of CNET took a look at the film GOOGLE AND THE WORLD BRAIN, as did Adario Strange of PC Mag. Jacob Kornbluth shared his motivations for making INEQUALITY FOR ALL in a post for Filmmaker Magazine. In his weekly Docutopia post at SundanceNOW, Anthony Kaufman examined the aesthetics employed by doc filmmakers whose work was shown at Sundance. David Fear of Time Out New York had short profiles of NARCO CULTURA, AFTER TILLER and BLACKFISH, while John Anderson reviewed GIDEON'S ARMY for Variety.
Katie Edgerton took a look at how crowdsourcing worked for 99% – THE OCCUPY WALL STREET COLLABORATIVE FILM for Indiewire, and David Rooney of The Hollywood Reporter reviewed WHICH WAY IS THE FRONT LINE FROM HERE? THE LIFE AND TIME OF TIM HETHERINGTON. Amy Goodman also penned a piece about DIRTY WARS: THE WORLD IS A BATTLEFIELD for the TruthDig website. Justin Lowe of The Hollywood Reporter reviewed prize-winning film BLOOD BROTHER, and Eric Kohn reviewed CUTIE AND THE BOXER. James Greenberg of The Hollywood Reporter shared his opinion on GOD LOVES UGANDA, while Rob Nelson of Variety gave VALENTINE ROAD the same treatment. Finally Justin Lowe reviewed LINSANITY for The Hollywood Reporter, and then did the same for the film THE CRASH REEL.
This week Stranger Than Fiction is hosting a screening of KOCH, a profile of former New York City Mayor Ed Koch by director Neil Barsky on Tuesday, Jan. 29 at 8pm at the IFC Center in Manhattan. You can find out more information about the film and purchase tickets here.
Believe it or not, there was other doc news in the world this week unrelated to Sundance. Over at the POV blog, Emma Desau shared tips gleaned from filmmakers behind three successful Kickstarter campaigns. Tom Roston took a look at the recent scandal enveloping football player Manti Te'o, and questions regarding authenticity similarly raised by the film CATFISH. And Shannon Carroll spoke with director Kelly Anderson on building successful community screenings.
Adam Benzine of Realscreen reported on some of the feature docs that were honored by the Alfred I. duPont-Columbia Awards this year, among them THE INTERRUPTERS by Steve James; AI WEI WEI: NEVER SORRY by Alison Klayman and BULLY by Lee Hirsch. David Nanasi at the POV blog also had details on the duPont-Columbia Awards. Benzine also had the news that THE IMPOSTER by Bart Layton won best doc honors at at the 33rd London Critics' Circle Film Awards, and that Malik Bendjelloul's SEARCHING FOR SUGAR MAN nabbed the best doc prize at the Producers Guild Awards.
Director Roger Ross Williams had his short GOSPEL OF INTOLERANCE featured as a New York Times Op-Doc this week.
The Documentary Fortnight program at the Museum of Modern Art was announced back on January 11; you can find details of the event, set to run Feb. 15- March 4, here.
Realscreen took some time out to craft two posts identifying documentary trailblazers in 2012, which can be found here and here.
Christopher Campbell spoke with THE IMPOSTER director Bart Layton about his preference for nonfiction film work.
Sam Byford at The Verge reported that TBP AFK, the Simon Klose-helmed documentary about The Pirate Bay, would be made available for free download on February 8, the same day it would screen at the Berlin International Film Festival. Vincent Chang of CNET also reported on the news.
Writing for the International Documentary Association website, Mary Moylan examined the new book "The Cinema of Me: The Self and Subjectivity in First Person Cinema," a collection of essays on the topic.
Larry Rohter of the New York Times' Carpetbagger blog interviewed director Kirby Dick about his Oscar-nominated film THE INVISIBLE WAR.
At the Independent Cinema Office blog, Charlie Phillips of the Sheffield Doc/Fest explained what was learned from the experience of running a crowdfunding campaign for the festival.
Rebecca Brand of the DocGeeks blog shared a list of five women directors to keep an eye out for in the new year.
At GOOD, Jordan Bryon raised the danger that doc makers face in potentially marginalizing their subjects.
Maria Goodavage of the Independent Lens blog spoke with filmmaker Scott Thurman about his film THE REVISIONARIES.
For those in New York City, you can catch a special 20th anniversary screening of BROTHER'S KEEPER by directors Joe Berlinger and Bruce Sinofsky on Thursday, Jan. 31 at 7pm at the 92YTribeca. Both Berlinger and Sinofsky will be in attendance for a Q&A following the screening. You can find out more information and purchase tickets here.
Also, the Kelly Anderson-helmed doc MY BROOKLYN about gentrification in Kings County was held over this week at the reRun Gastropub Theater in Dumbo after selling out a slew of screenings last week. You can find out more information and purchase tickets here.
That does it for this week. Please remember to send any tips or submissions for the Memo here, or tweet them to @GuerrillaFace. Thanks, and have a great week everyone!