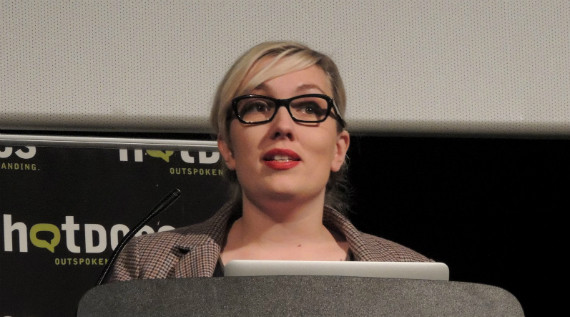 Less than a month after the conclusion of this year's edition of Toronto's Hot Docs Film Festival, Charlotte Cook, the festival's Director of Programming for the last four years, has announced that she'll be stepping down from her position to focus, in her words, on "working closely with filmmakers. Something I hope to have the honour to do for the rest of my life." Shipra Harbola Gupta reported the news for Indiewire, as did Julianna Cummins for Realscreen. Gracefully ruminating on her time with Hot Docs, Cook wrote a personal statement over at Medium, signing off with, "A huge thank you to everyone who supported a young Brit with a passion for showing films and celebrating those who make them. And I can't wait to share my next adventure with you all.."
Last week there was much talk about The New York Times' decision to change their film reviewing policy to no longer guarantee a review if it plays in theaters, some positive, some negative. This past week, a pair of further thoughts came through the wire, one from The New Yorker's Richard Brody in which he opines that the new policy gives smaller films and online releases a more even playing field while incisively commenting on very nature of criticism in our current culture of mass data itself. The second came from Calum Marsh in The Guardian who discussed what will likely end thanks to the policy change – 'four-walling', or how filmmakers pay to see their work on screen.
We here at Stranger Than Fiction show films not for reviews, but because we want audiences to be able to see them in their prime, on the big screen. Our Spring Season is coming to a close tomorrow with Crystal Moselle's mind-blowing debut, THE WOLFPACK. The director will be in attendance for a post-screening Q&A. More details on both the film and screening can be found here.
Post Cannes, Indiewire's Anthony Kaufman investigates why docs remain a second rate attraction despite the addition of a new non-fiction award, L'Oeil d'Or. At Cineuropa, Camillo De Marco reports that several of the doc offerings at Cannes will soon be making their way to Bologna for the Biografilm Festival, including Asif Kapadia's AMY, which was recently reviewed in Forbes by Melinda Newman.
Giving a preview of the festival fun on offer this summer in New York City, Mekado Murphy outlined the cinematic options coming soon in The New York Times, including the Brooklyn Film Festival which kicked off last week and was profiled by Basil Tsiokos at What (not) To Doc. And at Cineuropa, Vladan Petkovic interviewed Sinai Abt, Artistic director of Docaviv, the Tel Aviv International Documentary Film Festival.
Netflix launched their latest non-fiction feature this week in Jill Bauer and Ronna Gradus' HOT GIRLS WANTED. The film was Thom Powers and Raphaela Neihausen's Doc of the Week on WNYC, was reviewed by Mike Hale in The New York Times and featured in The Washington Post by Alyssa Rosenberg. The filmmakers appeared on The Takeaway discuss their new feature.
Another much written about film this week was Alex Winter's Silk Road doc DEEP WEB, which was featured by Tom Roston at Doc Soup, as well as reviewed by RogerEbert.com's Brian Tallerico and Neil Genzlinger in The New York Times. After news broke that Ross Ulbricht, creator of Silk Road, was sentenced to life in prison, Vulture's Jennifer Vineyard published Winter's response to the conviction.
Other films receiving press this week include Andrew Morgan's revealing fashion industry critique THE TRUE COST, which Booth Moore wrote at length about in the LA Times. Likewise, The New York Times' Vanessa Friedman, Observer's Jordyn Taylor and Alan Scherstuhl of The Village Voice each covered the film.
Prior to the HBO premiere of Lucy Walker's THE LION'S MOUTH OPENS tonight at 9pm, Jamie Maleszka of Nonfics spoke with the tireless filmmaker, while Cineuropa's Maud Forsgren interviewed Norwegian director Kenneth Elvebakk to talk about his documentary BALLET BOYS. Elvebakk's film was reviewed by Anna Smith in The Telegraph and Cormac O'Brien at Little White Lies.
This morning, the latest edition of What's Up Doc?, which tracks my top 100 documentaries currently in development, went live over at IONCINEMA. Two of the films on the list currently have Kickstarter campaigns in full swing, including Justin Schein and David Mehlman's LEFT ON PURPOSE and Shalini Kantayya's CATCHING THE SUN. Kahane Cooperman's own fund raising effort to finish JOE'S VIOLIN has less than a week to go. Her film was featured this week on The Huffington Post by Nicholas Alexander Brown.
With Netflix, CNN and ESPN all dipping into the world of non-fiction features, its unsurprising to hear that NBC has announced, via reports by Variety's Brian Steinberg and the Wall Street Journal's Matthew Futterman, the formation of their own sports doc unit, NBC Sports Films.
For filmmakers looking for development opportunities, Cineuropa's Maša Marković wrote a piece on the Institute of Documentary Film's Ex Oriente Film workshop whose submission deadline is today! If you're in need of more time, according to the European Documentary Network, the Balkan Documentary Center and Sarajevo Film Festival's Docu Rough Cut Boutique workshop is accepting submissions through the end of June. On the festival side of submissions, DOC NYC's late submission deadline is June 5th, while Cineuropa's Giorgia Cacciatore reports that 2015 Guangzhou International Documentary Film Festival are now open through the end of July. And most helpful, the European Documentary Network has put together a thorough list of additional upcoming festival submission deadlines.
In need of some non-traditional non-fiction? Doc Alliance Films is currently hosting a free online retrospective of avant-garde doc filmmaker Peter Tscherkassky – Nonfics' Daniel Walber reports on the happening.
I'll leave you this week with a moving memorial to Albert Maysles by POV-founder Marc N. Weiss, found over at the PBS Blog.
As usual, if you have any tips or recommendations for the Memo in the meantime, please contact me via email here, or on Twitter, @Rectangular_Eye. I look forward to hearing from you!