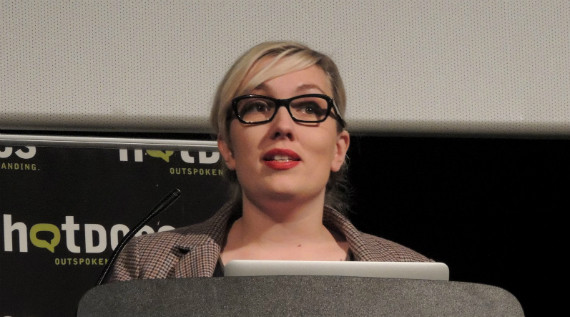 Less than a month after the conclusion of this year's edition of Toronto's Hot Docs Film Festival, Charlotte Cook, the festival's Director of Programming for the last four years, has announced that she'll be stepping down from her position to focus, in her words, on "working closely with filmmakers. Something I hope to have the honour to do for the rest of my life." Shipra Harbola Gupta reported the news for Indiewire, as did Julianna Cummins for Realscreen. Gracefully ruminating on her time with Hot Docs, Cook wrote a personal statement over at Medium, signing off with, "A huge thank you to everyone who supported a young Brit with a passion for showing films and celebrating those who make them. And I can't wait to share my next adventure with you all.."
Last week there was much talk about The New York Times' decision to change their film reviewing policy to no longer guarantee a review if it plays in theaters, some positive, some negative. This past week, a pair of further thoughts came through the wire, one from The New Yorker's Richard Brody in which he opines that the new policy gives smaller films and online releases a more even playing field while incisively commenting on very nature of criticism in our current culture of mass data itself. The second came from Calum Marsh in The Guardian who discussed what will likely end thanks to the policy change – 'four-walling', or how filmmakers pay to see their work on screen.
We here at Stranger Than Fiction show films not for reviews, but because we want audiences to be able to see them in their prime, on the big screen. Our Spring Season is coming to a close tomorrow with Crystal Moselle's mind-blowing debut, THE WOLFPACK. The director will be in attendance for a post-screening Q&A. More details on both the film and screening can be found here.
---