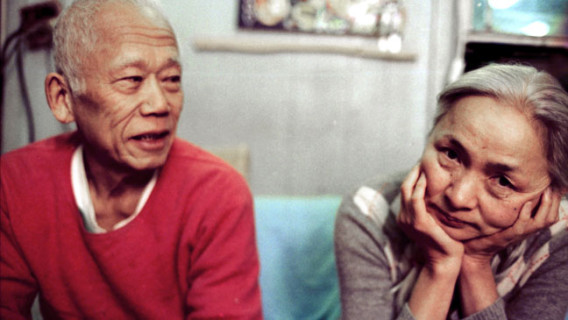 Zachary Heinzerling's profile of Ushio Shinohara and his wife Noriko, CUTIE AND THE BOXER, reached theaters this week. Anthony Kaufman wrote about the film and its place in the oeuvre of "art" docs for his Docutopia post at the SundanceNOW site, while A.O. Scott reviewed the film for The New York Times. Nigel M. Smith interviewed Heinzerling for Indiewire, while Sara Vizcarrondo penned her own review of the film for the International Documentary Association (IDA) website.
Madeline Raynor of Indiewire reported on the news that Time had created a new digital documentary unit called Red Border Films. Georg Szalai of The Hollywood Reporter also had the news, as did Adam Benzine of Realscreen. Christine Haughney provided coverage at The New York Times.
Adam Benzine of Realscreen had details on the Toronto International Film Festival Doc Conference, while the festival itself posted a schedule on its website. Peter Knegt of Indiewire reported on the addition of 75 titles to TIFF's lineup.
Peter Maas had an in-depth piece in the New York Times Magazine on filmmaker Laura Poitras and her role in the release of information leaked by whistleblower Edward Snowden.
In distro news, Kelly Anderson of Realscreen reported that Echo Bridge had acquired the rights for six docs, including SHEPARD & DARK. Ben Travers at Indiewire had the news that Oscilloscope had snagged North American rights to TEENAGE from director Matt Wolf.
In a post for TV Mole, Nicola Lee had some tough love for documentary filmmakers based on her experience at the International Documentary Film Festival Amsterdam (IDFA) in 2012.
At his What (Not) to Doc blog, Basil Tsiokos wrote up overviews of Kosovo's Dokufest, which ended on Saturday, and the Sarajevo Film Festival.
In a new feature at the POV blog, Fernanda Rossi shares some backstory on various films she's worked on, and kicked off the series with a post about Amy Nicholson's ZIPPER: CONEY ISLAND'S LAST WILD RIDE.
Writing for IDA's website, Katharine Relth shared six tips for using archival footage. And Lisa Hasko rounded up some fall documentary grant opportunities for filmmakers.
In a piece for Cracked, Amanda Mannen provided some backstory on six documentaries she describes as "full of crap."
Brian Stelter of the New York Times provided an update on the fundraising situation of CITIZEN KOCH from directors Tia Lessin and Carl Deal.
Ondi Timoner celebrated the 100th episode of her online show Bring Your Own Documentary (BYOD), which you can view here.
Back at the New York Times, Mike Hale took a look at the work of Ross McElwee currently being showcased at SundanceNOW's Doc Club.
At Filmmaker Magazine, Brandon Harris spoke with OFF LABEL directors Donal Mosher and Michael Palmieri.
At the Public Books site, Christine Walley analyzed Michael Apted's UP series films through the lens of class.
Documentarians Josh Aronson and Adam Larsen had a conversation about the start of their careers in a piece at Filmmaker Magazine. And Eva Orner relayed a story about the troubles faced by one of her subjects from the film THE NETWORK.
Writing for Realscreen, Adam Benzine reported that Alex Gibney had won an Emmy for Exceptional Merit in Documentary Filmmaking for his film MEA MAXIMA CULPA: SILENCE IN THE HOUSE OF GOD.
The Nation writer Dave Zirin penned a glowing review of THE TRIALS OF MUHAMMAD ALI from director Bill Siegel.
Reporting from the Locarno Film Festival, Eric Kohn reviewed a pair of films for Indiewire: MANAKAMANA from directors Stephanie Spray and Pacho Velez and PAYS BARBARE from directors Yervant Gianikian and Angela Ricci Lucchi.
At the True/False blog, Dan Steffan spoke to LUNARCY! director Simon Ennis.
And in a post at the Tribeca Film Institute website, Joe Reid launched its documentary power rankings for the week, which was led by CUTIE AND THE BOXER.
That's it for this week. Please send tips or recommendations for the Memo via email here, or by Twitter to @GuerrillaFace. Thanks and have a great week!