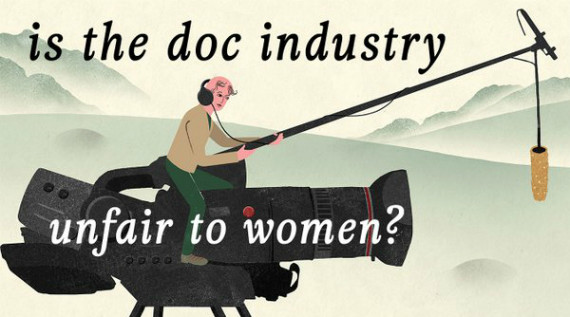 Entertainment attorney Victoria Cook stirred up much conversation around the perception of gender equality within the non-fiction filmmaking community with a lively Facebook post that was subsequently republished at The Female Gaze as an opinion piece titled "In Reality, We Must Demand Equal Representation for Women Documentarians, Too." As an outpouring of opinions from within the doc making community hit the net, Cook expanded her thoughts in a follow-up piece for indieWIRE's Women and Hollywood Blog, "Gender Parity in Documentary Filmmaking Is A Fiction." indieWIRE's own Anthony Kaufman responded via a Reality Check's piece asking if the documentary industry is indeed unfair to women. Cook hopes to continue the conversation in person at a meet up at the upcoming Sundance Film Festival in Park City.
Speaking of Sundance, Basil Tsiokos has been spending quite a lot of time previewing each of the docs hoping to make a splash with their Park City world premieres at What (not) To Doc. In addition, Variety has learned that the originally anonymous filmmaker responsible for the religious cult doc HOLY HELL due to premiere at Sundance is Will Allen. The report from Dave McNary reveals that "his name was kept secret so that he could finish the film while minimizing the possibility of interference by the some of the subjects of the film."
While Tsiokos, McNary and so many others are looking forward to what 2016 holds, the British Academy Film Awards have just announced their nominations, including nods to AMY, LISTEN TO ME MARLON, CARTEL LAND, SHERPA and HE NAMED ME MALALA, and the National Society of Film Critics named AMY the Best Documentary of 2015. Dan Epstein of Rolling Stone also wrote at length about the resurgence of the music doc in 2015. Looking toward the Oscars and back at last year's releases, Cara Buckley outlined what it takes for a non-fiction feature to embark on the Oscar race for The New York Times. And, while not exactly dealing with docs, Michael Cieply and Brooks Barnes, also of The New York Times, reviewed the supposed truths on which the fiction features in the Oscar race were built upon and how far each film strayed.
Though Kent Jones and Michael Moore showed up on the latest episode of The Close-up to discuss WHERE TO INVADE NEXT and James Crump's TROUBLEMAKERS: THE STORY OF LAND ART was selected as both a NYT Critics' Pick by Glenn Kenny, as well as WNYC's Documentary of the Week by our own Raphaela Neihausen and Thom Powers, it was once again Moira Demos and Laura Ricciardi's MAKING A MURDERER which dominated the documentary conversation this past week. The Guardian had three seperate reports come in centering around MAKING A MURDERER: one by Gwilym Mumford in which the Netflix serial beats the cable competition at its own game, another in which Lilit Marcus discusses the internet's (and her own) crush on the series' defense attorney Dean Strang, and lastly, Edward Helmore's report that over 275,000 viewers have signed various online petitions demanding the pardoning of Steven Avery and Brendan Dassey. One of these 100,000+ petitions was registered under the whitehouse.gov domain, which has forced the president's camp to respond. The answer, via Daniel Victor of The New York Times, was that these crimes were not under federal jurisdiction, and thus, President Obama does not have the power to pardon.
Daniel Victor kept the conversation going by giving voice to the case prosecutor, former DA Ken Kratz, who claims that crucial facts were left out of the series. The inquisition into MAKING A MURDERER's validity continued with a feature in The Washington Post by Stephanie Merry wrote at length about how listening to NPR's SERIAL made her doubt Demos and Ricciardi's serial, while The Los Angeles Times' Meghan Daum reasonably asked if we are all making too much of MAKING A MURDERER. Variety's Whitney Friedlander and Cynthia Littleton reports that Investigation Discovery think not and plan to air a "documentary news special focusing on the events in the hugely popular Netflix true-crime series MAKING A MURDERER," further explaining that they "feel compelled to display some of the critical details missing from the Netflix production."
Kirby Dick's college campus sexual assault doc THE HUNTING GROUND has come under critical fire while still in the Oscar running, and thus the film's producer Amy Ziering has fired back in The Huffington Post, outlining how Harvard law professors retaliated against an assault survivor. Ziering also spoke at length with Variety's Elsa Keslassy on the film and the continued controversy surrounding it.
Doc filmmakers looking for funding help would do well to look at the International Documentary Association's grant database, which offers a wealth of opportunities for filmmakers in need. Within that database one is surely to find the Hot Docs Forum, whose submissions for the 2016 edition are due today, while applications to Film Independent's Fast Track program are due February 22, 2016.
Those looking for docs to watch can rejoice in the fact that Kartemquin Films is celebrating their 50th anniversary by streaming one film from their robust catalog each week, starting this week with Gordon Quinn's 1968 feature, INQUIRING NUNS.
I'll sign off this week with a pair of brief recommended watch lists – one from Jason Gorber of Nonfics, listing director Guy Maddin's favorite six non-fiction features, and four films to watch to celebrate Black History Month via the POV Blog. Until next week, if you have any tips or recommendations for the Memo, please contact me via email here, or on Twitter,@Rectangular_Eye.