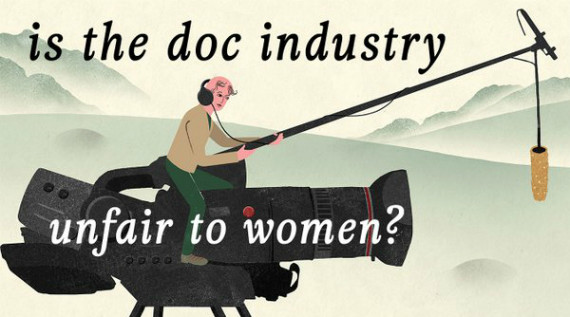 Entertainment attorney Victoria Cook stirred up much conversation around the perception of gender equality within the non-fiction filmmaking community with a lively Facebook post that was subsequently republished at The Female Gaze as an opinion piece titled "In Reality, We Must Demand Equal Representation for Women Documentarians, Too." As an outpouring of opinions from within the doc making community hit the net, Cook expanded her thoughts in a follow-up piece for indieWIRE's Women and Hollywood Blog, "Gender Parity in Documentary Filmmaking Is A Fiction." indieWIRE's own Anthony Kaufman responded via a Reality Check's piece asking if the documentary industry is indeed unfair to women. Cook hopes to continue the conversation in person at a meet up at the upcoming Sundance Film Festival in Park City.
Speaking of Sundance, Basil Tsiokos has been spending quite a lot of time previewing each of the docs hoping to make a splash with their Park City world premieres at What (not) To Doc. In addition, Variety has learned that the originally anonymous filmmaker responsible for the religious cult doc HOLY HELL due to premiere at Sundance is Will Allen. The report from Dave McNary reveals that "his name was kept secret so that he could finish the film while minimizing the possibility of interference by the some of the subjects of the film."
While Tsiokos, McNary and so many others are looking forward to what 2016 holds, the British Academy Film Awards have just announced their nominations, including nods to AMY, LISTEN TO ME MARLON, CARTEL LAND, SHERPA and HE NAMED ME MALALA, and the National Society of Film Critics named AMY the Best Documentary of 2015. Dan Epstein of Rolling Stone also wrote at length about the resurgence of the music doc in 2015. Looking toward the Oscars and back at last year's releases, Cara Buckley outlined what it takes for a non-fiction feature to embark on the Oscar race for The New York Times. And, while not exactly dealing with docs, Michael Cieply and Brooks Barnes, also of The New York Times, reviewed the supposed truths on which the fiction features in the Oscar race were built upon and how far each film strayed.
---