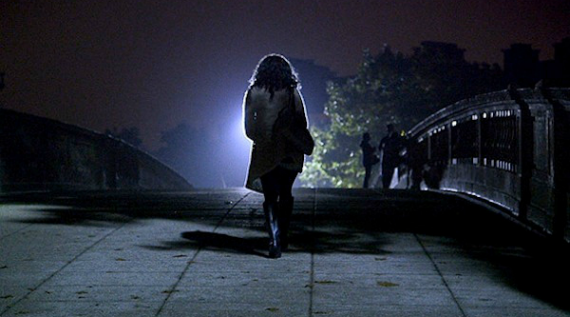 Just as HBO's Vice premiered their latest episode, "Campus Coverup" (which Sarah Seltzer covered for Flavorwire), and New York Governor Andrew Cuomo began to screen Amy Ziering and Kirby Dick's exposé of rape crimes on U.S. college campuses, THE HUNTING GROUND, in an effort "to promote legislation that would establish a uniform definition of consent, as well as reporting and investigative procedures for all his state's public and private colleges and universities", controversy has broken out over the film's legitimacy thanks to an exhaustive factual critique by Emily Yoffe at Slate in which she suggests that "the filmmakers put advocacy ahead of accuracy". In response, Flavorwire's Jason Bailey published an article he titled "Our Brand Is Rape Skepticism: On Slate and Emily Yoffe's Weird 'Hunting Ground' Obsession". The back and forth makes for an interesting read.
In the same vein, Bailey, Deadline's David Robb and The Hollywood Reporter's Jonathan Handel each reported that Amy Berg's child sex abuse in Hollywood doc, AN OPEN SECRET, has once again come under fire, this time in a threat to sue from the Screen Actors Guild‐American Federation of Television and Radio Artists if Berg didn't remove all references to the union from the film. Supporting the film, Jen Yamato wrote a feature on AN OPEN SECRET for The Daily Beast.
Last week our Spring Season of Stranger Than Fiction came to a close with a sold out screening of Crystal Moselle's THE WOLFPACK. Stranger Than Fiction will return in the Fall starting September 22nd.
The Sheffield Doc/Fest kicked off over the weekend and runs through Wednesday evening. Basil Tsiokos previewed a selection of the films on offer at What (not) To Doc, as did The Guardian's Karl Mathiesen. Tsiokos also wrote a piece outlining the 2015 program of South Africa's Encounters, Africa's largest documentary film festival. As the 55th edition of Poland's Krakow Film Festival just finished up yesterday, Cineuropa's Dorota Hartwich wrote a brief piece on the festival's far reaching non-fiction scope. And at Hammer To Nail, Susanna Locascio reflected on her time at this year's Tribeca Film Festival and docs like THE WOLFPACK, Camilla Nielsson's DEMOCRATS and James Burns's short WE LIVE THIS.
Various long view pieces came through the wire this week including Greg de Cuir Jr.'s look at the films of Kevin Jerome Everson in Cineaste. Similarly, in an interview by Nick Pinkerton with Thom Andersen in Film Comment, they discuss not only the film essayist's latest JUKE: PASSAGES FROM THE FILMS OF SPENCER WILLIAMS, but earlier films like LOS ANGELES PLAYS ITSELF and RED HOLLYWOOD. Taking a broader perspective, Mirta Varela discussed the use of interviews and archival footage in Argentine documentaries on the Malvinas War in Frames Cinema Journal.
Two years after the release of Gabriela Cowperthwaite's damning SeaWorld exposé BLACKFISH, Hugo Martin of the LA Times reports that SeaWorld may be bouncing back from the backlash.
Theatrically, Rodney Ascher's THE NIGHTMARE was the hot ticket of the week, garnering reviews from LA Times' Robert Abele, The Dissolve's Scott Tobias, RogerEbert.com's Sheila O'Malley and Christopher Campbell over at Nonfics. The film was also the topic of this week's episode of Kathy Kieliszewski and Steve Byrne's The Documentary Podcast. Mark Hartley's ELECTRIC BOOGALOO: THE WILD, UNTOLD STORY OF CANNON FILMS hit UK theaters this past week and received a review from Katherine McLaughlin at Little White Lies, as well as inspired David Hayles to write an article in the same publication on "How Cannon Films Conquered The Home Video Market". Brett Morgen's KURT COBAIN: MONTAGE OF HECK continues to attract attention, this time from Melvins' frontman and long time friend of Cobain, Buzz Osborne, who called the film "complete bullshit" in an editorial at The Talkhouse. Josh Rottenberg of the LA Times covered the impassioned accusations. Tom Roberts' EVERY LAST CHILD was also reviewed this week by Andrew Lapin at The Dissolve, while Tom Roston had a bone to pick with Lucy Walker's THE LION'S MOUTH OPENS over at Doc Soup. And on DVD this week, Gabe Polsky's RED ARMY was selected as our own Thom Powers and Raphaela Neihausen's Doc of the Week on WNYC.
A wealth of docs freely available online hit the net this past week, including Gary Jobson's new 30-for-30 short on Grantland titled TED TURNER'S GREATEST RACE and Fiona Dawson's newest edition to Op-Docs, TRANSGENDER, AT WAR AND IN LOVE. A new New York Times presented, six part series by David D. Kirkpatrick called THE TRIALS OF SPRING is now live and outlines ongoing political struggles in the Middle East. Tony Zhou posted his new video essay IN PRAISE OF CHAIRS, in which he celebrates the perfect selection of chairs throughout cinema. Lastly, Tsai Ming-liang's WALKER series, which public performance art with non-fiction observation, has a new entry in NO NO SLEEP. The film was featured this week on The Arts of Slow Cinema.
On the development side of things, two new high profile films launched Kickstarter campaigns – John Walter's THE EARTH MOVES which looks to outline the history of Philip Glass' monumental 'Einstein On The Beach', and FOR THE LOVE OF SPOCK by Leonard Nimoy's son, Adam Nimoy. Plus, Indiewire's Paula Bernstein listed "10 New Ways to Think About Audiences for Social-Issue Documentaries".
This week I'll conclude with pair of articles that ruminate in depth on not just non-fiction film, but the physical mediums of cinema itself. Writing in Artforum, Nick Pinkerton discussed the incredible industry changeover from 35mm to DCP and current institutional interests in highlighting the difference between the two, while Daniel Engber wrote a wonderful piece The New Yorker about the continued misuse of 3D in movies today.
As usual, if you have any tips or recommendations for the Memo in the meantime, please contact me via email here, or on Twitter, @Rectangular_Eye. I look forward to hearing from you!