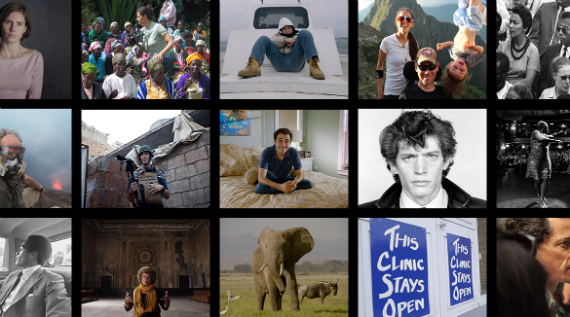 Amidst a rather busy week of the doc circuit, DOC NYC revealed its Oscar predicting 2016 Short List, naming 15 films to screen at the festival with the director or other special guests present. As Anne Thompson noted in her coverage of the announcement at IndieWire, last year the DOC NYC Short List had ten titles overlapping the subsequent Oscar Documentary Short List. Among this year's selection was Ava DuVernay's incisive Netflix prison doc 13TH, which opened the New York Film Festival on Friday night to a standing ovation and a shower of glowing reviews. At IndieWire, Eric Kohn called the film "the most relevant movie of the year." The Guardian's Jordan Hoffman wrote that its "an articulate, no-nonsense cup of iced water splashed in my face telling me to wake the f-ck up." Even Manohla Dargis of The New York Times fully endorsed DuVernay's film, calling it "powerful, infuriating and at times overwhelming…(while it) challenges your ideas about the intersection of race, justice and mass incarceration in the United States." Similarly rhapsodic reviews were logged by Vikram Murthi at Movie Mezzanine, Odie Henderson at RogerEbert.com, Richard Brody of The New Yorker, and Steven Zeitchik of The Los Angeles Times. You can watch the press conference with DuVernay herself over at the Film Society of Lincoln Center's website.
Of course, there are other docs on offer this year at NYFF, as Basil Tsiokos made abundantly clear in his overview of the nonfiction offerings at What (not) To Doc. Likewise, the staff at IndieWire listed seven docs to catch at the fest if you're able, including Kasper Collin's I CALLED HIM MORGAN, which Richard Brody, a jazz diehard, seems to have loved. Also kicking off on Friday was the International Documentary Association's three day Getting Real conference, which a handful of diligent members of The D-Word live blogged (in three separate categories – sustainability, diversity, other conference happenings). Leading up to the conference, Realscreen published a piece by the founding members of the NYC Doc Producer's Alliance on issues surrounding industry and career sustainability. Meanwhile across the pond, Christine Bardsley recommended a trio of docs to watch at the upcoming London Film Festival via BFI.
Our fall season of Stranger Than Fiction celebrating the documentary work of Jonathan Demme continues tomorrow at IFC Center with SWIMMING TO CAMBODIA. Director Jonathan Demme, as well as producer Renée Shafransky, will be on hand to discuss the film in a post-screening Q&A. Tickets for the screening are still available here.
While DOC NYC looks towards the Oscars with its own short list, Anne Thompson returned to Oscar talk with a piece at IndieWire on why the Oscars have a soft spot for Holocaust related cinema, including docs. And while on the topic of awards, Realscreen's Jonathan Paul reported that the International Emmy Awards announced its nominees for best documentary: WAR OF LIES, MY SON THE JIHADI, MOTHERS OF PLAZA DE MAYO – THE STORY and KBS DOCUMENTARY GONG GAM: MOM & CLARINET. The Grierson Trust also announced that filmmaker Louis Theroux will receive this year's Grierson Trustees' Award for "his immense contribution to the genre and the wider industry."
According to a report by Kevin Ritchie at Realscreen, Nick Fraser, who has served as BBC's 'Storyville' editor for the past 17 years, is stepping down to launch the documentary streaming platform Yaddo, which he has co-founded with producer Lawrence Elman, who serves as CEO. Yaddo is rolling out in Europe at the end of this month and will enter 160 territories, including the United States, in November.
Most excitingly, "New York is set to become the first city in the country with a major municipal program geared toward helping female filmmakers and theater-makers. The Mayor's Office of Media and Entertainment is to announce on Thursday a new five-part initiative to promote equality behind and in front of the camera, in film and television, as well as onstage," reports Melena Ryzik of The New York Times. "As part of the new initiative, the office will create a $5 million fund for female film- and theater-makers, administered over five years, to help them complete projects that are 'by, for, or about women.'"
Theatrically, there are quite a number of films on screens this week, with the TIFF hit AMANDA KNOX and the Tribeca Best Documentary winner DO NOT RESIST attracting the most attention. Jeanette Catsoulis named AMANDA KNOX a NYT Critics' Pick, while The Guardian's Peter Bradshaw and RogerEbert.com's Brian Tallerico gave it warm reviews. At The Playlist, its directors Rod Blackhurt and Brian McGinn turned up in conversation with Gregory Ellwood discussing how they got involved in the project and more. Andrew Crump's positive take on DO NOT RESIST also was published on The Playlist, as Matt Zoller Seitz and Stuart Miller each wrote at length on the project at RogerEbert.com and The Guardian, respectively. It should also be noted that Eric Hynes' excellent piece on KATE PLAYS CHRISTINE that ran in the summer issue of Film Comment has finally been posted online.
Those looking for newly streaming docs would do well to head over to the ongoing Kartemquin 50th Anniversary celebration, as they are currently streaming Steve James' profile of Roger Ebert, LIFE ITSELF. Or, head over to the new home of Field of Vision to watch Yung Chang's award winning short GATEKEEPER, about a retired police detective who dedicates his life to preventing deaths at Japan's suicide cliffs.
It seems as time goes on, more and more must-listen podcasts get added to the memo. That list might be increasing soon, Hot Docs has announced the schedule for their inaugural Hot Docs Podcast Festival, running November 18-20 at the Hot Docs Ted Rogers Cinema in Toronto. Also released this week was the latest episode of Pure Nonfiction featuring a conversation with CAMERAPERSON director Kirsten Johnson, as well as a new episode of the No Film School podcast featuring a conversation with Nanette Burstein, director of GRINGO: THE DANGEROUS LIFE OF JOHN MCAFEE.
Now, among this wonderful abundance of doc news, I leave you with a pair of must-reads in Tom Roston's look at this year's lukewarm documentary box office intake over at Doc Soup, and Caty Borum Chattoo's comprehensive State of the Documentary Field address which was published over at IDA. As has become customary, if you have any tips or recommendations for the Memo in the meantime, please contact me via email here, or on Twitter, @Rectangular_Eye.