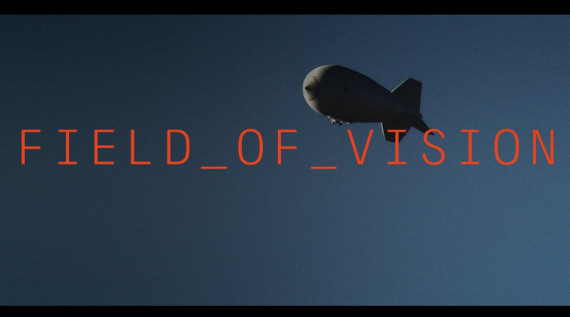 After being inundated by an avalanche of doc news in the wake of TIFF, this past week has been comparatively quite quiet. Coverage from Toronto keeps trickling in through pieces like Jason Gorber's list of the festival's top docs that was published over at Nonfics and film reviews like my piece on Kent Jones' HITCHCOCK/TRUFFAUT posted at IONCINEMA, while most media has already trained their eyes on the New York Film Festival which kicked off last Friday. Prior to opening night, Manohla Dargis wrote a thorough preview of the fest for The New York Times, as did Basil Tsiokos at What (not) To Doc, both of whom somehow overlooked the world premiere of Laura Poitras, AJ Schnack and Charlotte Cook's FIELD OF VISION short subject series, which took place last night. If (like most of us) you weren't able to make yesterday's screening at the Film Society of Lincoln Center, the series is scheduled to hit the net tomorrow!
As reported by Stephen Holden in The New York Times, Noah Boambach's DE PALMA is set to make a splash later this week, as is Paul Thomas Anderson's first non-fiction feature JUNUN, on his friend and frequent creative collaborator Jonny Greenwood. Most excitedly, much like FIELD OF VISION, JUNUN will be available for online viewing the day after its NYFF premieme on October 9th via the meticulously curated streaming service, MUBI. Sophie Monks Kaufman wrote about the surprise development for Little White Lies.
Here at Stranger Than Fiction, tomorrow night marks the opening of our Fall 2015 season with a very special screening of TIFF's People's Choice Documentary Award winner WINTER ON FIRE: UKRAINE'S FIGHT FOR FREEDOM at the IFC Center! Director Evgeny Afineevsky will also be on hand for a post-screening Q&A. Season passes are still available here.
In other festival news, the 63rd San Sebastian Film Festival just wrapped up, garnering coverage from Variety's John Hopewell on director Alvaro Longoria's THE PROPAGANDA GAME and reports from Emiliano De Pablos for he same outlet on the festival's Lau Haizetara Documentary Co-Production Forum. At Realscreen, Daniele Alcinii broke the news that True/False Film Fest has taken on Pamela Cohn, who "previously served as associate programmer for the Prizren, Kosovo documentary and shorts festival, DokuFest."
Stanley Nelson's THE BLACK PANTHERS: VANGUARD OF THE REVOLUTION continues to make an impact theatrically, having been discussed by Kenneth Turan and Renee Montagne on NPR, debated by Mark Olsen in The Los Angeles Times and discussed as a point of comparison in Tom Hawking's piece at Flavorwire titled "A Tale of Two Movies: How Racism Is Skewing Our Perception of Violence in Cinemas," which discussed the rather troubling shooting threat that forced Baltimore's Charles Theatre to shut down last Saturday, cancelling screenings of the film scheduled to take place there, according to The Baltimore Sun's Erica L. Green.
Turan also reviewed Bryan Carberry and J. Clay Tweel's odd-ball severed leg doc FINDERS KEEPERS for The Los Angeles Times, as did Dan Schindel for Movie Mezzanine, leading with the byline, "A Cult Classic In The Making." Director Douglas Tirola's DRUNK STONED BRILLIANT DEAD: THE STORY OF THE NATIONAL LAMPOON was also reviewed at Movie Mezzanine, though by Charles Bramesco, while Glenn Kenny praised the film at RogerEbert.com. Richard Brody's write up in The New Yorker about  Carol Bash's MARY LOU WILLIAMS: THE LADY WHO SWINGS THE BAND, Mark Kermode's review in The Guardian of Sean McAllister's A SYRIAN LOVE STORY and Gabrielle Glaser's interview in The New York Times Parvez Sharma, director of A SINNER IN MECCA, round out the week's theatrical coverage.
On the production side of things, indieWIRE published a pair of helpful pieces, the first of which was written by Steve Dollar and outlines the process of pitching projects at Points North Pitch, which runs alongside the Camden International Film Festival. Aubrey Page also posted a piece that sees Nancy Goldman, SVP of HBO Documentary Films and Julie Goldman, founder of Motto Pictures, giving their advice on how to maintain a steady career within the field of non-fiction filmmaking. This week also saw the court decision to make Happy Birthday no longer a work locked under the protections of copyright law, thanks to the hard work of documentary filmmaker Jennifer Nelson and her legal team. Christine Mai-duc's in-depth article in The Los Angeles Times outlines the legal case that led to the decision. Variety's Ted Johnson also reported on the story.
I'll sign off this week with a trio of shorts newly available online, including Jason Cohn and Camille Servan-Schreiber's new Op-Doc, BIBLE BELT ATHEIST, the supposed first doc wholly shot on an Apple iPhone 6s, THE PAINTER OF JALOUZI, and THE DEEPER THEY BURY, which was "directed by Angad Bhalla, the filmmaker behind HERMAN'S HOUSE, and Ted Biggs for the National Film Board of Canada." Bhalla's film was reported by Yvonne Ashley Kouadjo on POV's Documentary Blog.
As usual, if you have any tips or recommendations for the Memo, please contact me via email here, or on Twitter, @Rectangular_Eye. I look forward to hearing from you!