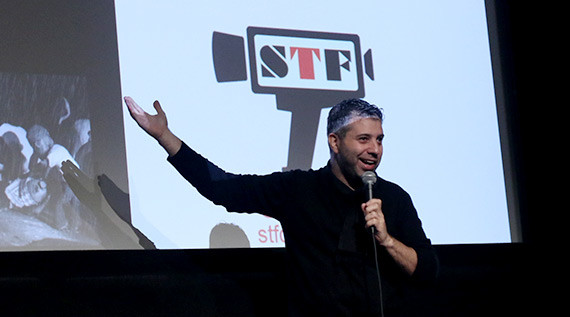 It's an all too familiar story – a peaceful protest fueled by a deep desire for change becomes a violent battle for basic human rights. In the past few years, we've witnessed the rise of revolutions in Egypt, in Spain, and in the US, but on the opening night of the Fall season of Stranger Than Fiction, we had a front row seat to an uprising in The Ukraine, and a country's struggle for independence, freedom, and a better future.
WINTER ON FIRE: UKRAINE'S FIGHT FOR FREEDOM follows 93 days of protests that began in Kiev's Maidan Square, following then-president Viktor Yanukovych's refusal to sign an agreement that would allow his country to enter the European Union. The people of Ukraine saw inclusion in the EU as a move that would help stabilize the long-flailing country, and usher in a new era of hope, independence, and eventual prosperity. But Yanukovych instead signed a major deal with Russian President Vladimir Putin, and in the eyes of millions of Ukrainians, betrayed his country and his people.
Director Evgeny Afineevsky brings viewers to the front lines of this turbulent time in Ukraine's history, and shows how a peaceful youth movement morphed into a bloody struggle. With a crew of over 20 cinematographers using a combination of cameras, Afineevsky and his team capture the major battles and hidden moments that fueled a revolution.
"For the people of Ukraine, this was an important moment in their history, and a chance for them to show that the people still have the power," Afineevsky said during the Q&A following Tuesday's screening at the IFC Center. "It started as a joyful youth movement. No one expected thing to unfold the way they did."
---