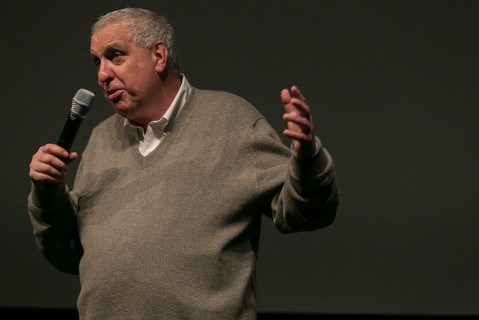 This week the DOC NYC Festival officially kicked off its fourth year in New York City with a screening of Errol Morris' new Donald Rumsfeld film THE UNKNOWN KNOWN. Writing for the POV blog, Tom Roston recapped the screening. At his Docutopia post for the SundanceNOW, Anthony Kaufman wrote on some of the films screening at DOC NYC, including THE PUNK SINGER and PATROLMAN P. Director Jeremy Xido penned a guest post on his film DEATH METAL ANGOLA, which screened at DOC NYC, for Filmmaker Magazine. Also at Filmmaker Magazine, Scott Macaulay named his 10 favorite picks for the festival, as did Lauren Wissot at the same publication. The folks at Indiewire also shared 10 of their top choices. And Daniel Walber reviewed DOC NYC film THE FINAL MEMBER for Nonfics.com.
The Women and Hollywood blog on Indiewire played host to a series of interviews with female filmmakers screening work at the DOC NYC. Inkoo Kang spoke with Dori Berinstein, Sarah McCarthy and Ky Dickens. Melissa Silverstein chatted up Sini Anderson, Suzan Beraza, Samantha Grant, Gitte Peng, Dawn Porter, Therese Shechter, Linda Hoaglund, Lucy Kostelanetz, Merete Mueller, Beth B, Sierra Pettengill and Jamila Wignot. And at Filmmaker Magazine, Randy Astle spoke with WEB director Michael Kleiman.
Earlier this morning, Canadian documentary filmmaker Peter Wintonick passed away from a rare form of liver cancer. Adam Benzine had the details in a piece at Realscreen, while Peter Knegt reported the news for Indiewire. Wintonick was in the midst of making the film BE HERE NOW when he passed. For those interested in helping the film reach its completion, please go here.
BRITDOC named THE ACT OF KILLING the winner of this year's PUMA Impact Award, handed out to the film determined to have had the most substantial positive impact over the past year. Sarah Salovaara covered the event for Filmmaker Magazine, while Christopher Campbell did the same for Nonfics.com. Bryce J. Renninger looked at some of the metrics turned out b BRITDOC on the award nominees.
Back at POV, Tom Roston followed up with BLOOD BROTHER director Steve Hoover by doing some reporting on what, if any, effect the filmmaker's Christian religion had on his film. At Filmmaker Magazine, Sarah Salovaara covered Hoover's open-letter response to the accusations that his film was a vehicle for evangelical theology.
The Sundance Institute announced that Tabitha Jackson, formerly of the commissioning editor at Channel 4 Television in the United Kingdom, would assume the role of director of the Institute's documentary film program. Adam Benzine reported on the development for Realscreen.
Again at Realscreen, Adam Benzine had a piece on the circuitous route the filmmaking team behind THE SQUARE had on their way to completing their film.
In distro news, Kelly Anderson of Realscreen reported that Kino Lorber had picked up U.S. rights for WHO IS DAYANI CRISTAL?, while colleague Adam Benzine had the news that Film Movement had nabbed U.S. rights to THE SARNOS–A LIFE IN DIRTY MOVIES. Benzine also reported that Phase 4 had acquired North American rights for the Jay-Z doc MADE IN AMERICA.
This week Adam Schartoff kept his Filmwax podcast focused on docs, interviewing PUSSY RIOT: A PUNK PRAYER director Maxim Pozdorovkin, MEDORA directors Davy Rothbart and Andrew Cohn, CAUCUS director AJ Schack, and Jamila Wignot and Sierra Pettengill, the filmmakers behind TOWN HALL.
The folks at POV turned out the results of their filmmaker equipment survey this week, finding that Canon dominated camera choices and that many filmmakers still used Final Cut Pro 7. At Indiewire, Paula Bernstein reported on the survey's results.
Indiewire's Paula Bernstein also penned a piece on whether video-on-demand (VOD) was the future of indie film, given recent statements by Netflix officials in taking on theaters for first-runs. In a related piece, Sarah Salovaara of Filmmaker Magazine wrote on the pay-as-you-wish distro model embraced by Fifth Column Features, speaking with John Yost of the outfit.
At Indiewire, Steve Greene and Eric Kohn updated their best docs of 2013 list to account for the release of Frederick Wiseman's AT BERKELEY.
At the New York Times, Mekado Murphy profiled WHOOPI GOLDBERG PRESENTS MOMS MABLEY, a profile of the late comedian.
Pete Hammond of Deadline reported on Radius-TWC's Oscar campaign strategies for four docs–CUTIE AND THE BOXER, INEQUALITY FOR ALL, 20 FEET FROM STARDOM and THE UNKNOWN KNOWN.
At The Hollywood Reporter, Chris O'Falt reported on the DIY success of Joel Schroeder's film DEAR MR. WATTERSON. Brandon Harris of Filmmaker Magazine interviewed Schroeder, while Eric Kohn reviewed the film for Indiewire.
Writing for Nonfics.com, Christopher Campbell had a rundown of docs that hit theaters, along with his top home picks. Campbell also had a report on box office figures from last week, with Alex Gibney's THE ARMSTRONG LIE making a strong showing.
In a piece at the Indiewire blog Shadow and Act, Jai Tigget noted that there were five docs directed by black women that qualified for the Oscars this year.
Emma Norton of KFTV wrote a good advice piece for filmmakers looking to film in conflict zones.
This week, Robert Greene added THE BELOVS from director Victor Kossakovsky to his nonfiction cinema canon.
And in a post at the POV blog republished from the Borderline Media blog, Jennifer MacArthur considered the rise of the "impact producer" movement.
In another piece, this one for the New York Times, Tom Roston remembered the late Ed Pincus.
The staff at The Guardian issued a list of their top 10 docs of all time, with Claude Lanzmann's SHOAH earning top honors.
Danielle Ng-See-Quan of Realscreen reported that Netflix had reached an agreement with the National Film Board of Canada to expand the Canadian docs available on the VOD service.
Also at Realscreen, Adam Benzine had the details on doc nominees for the 2013 British Independent Film Awards (BIFA).
Craig Boehman reported for Digital Journal on another Noam Chomsky doc under way titled REQUIEM FOR THE AMERICAN DREAM.
Writing for The Daily Californian, Anna Horrocks recapped screenings of some of director Agnes Varda's work that took place earlier in November.
At Canada's POV Magazine, Martin Delisle spoke with Franco-German director Marcel Ophüls on his body of work.
Fernanda Rossi broke down the film anatomy for LUCK from director Laura Checkoway in her latest post at the POV blog.
This week Christopher Campbell and Daniel Walber took on the classic STYLE WARS in their latest The Realness podcast. Christopher Campbell also turned out a piece on Zachary Roberts' complications in making his new film HOPE, about a school shooting gunman who is also the director's brother.
Good news for the subjects of THE CENTRAL PARK FIVE hit this week, when New York City Mayor-elect Bill de Blasio said he would settle the lawsuit against the city brought by a group of wrongfully imprisoned men. Tambay A. Obenson reported on the development for Indiewire.
At Indiewire, Robert Koehler wrote an interesting piece on festival's love of premieres, and the potentially deleterious effects of that phenomenon.
In a piece for Filmmaker Magazine, Kaleem Aftab reported on 8k cameras, the latest salvo in the technology arms race.
Yongle Wang reported on the latest NYC screening of the Flaherty Seminar, which featured work from three directors.
In a review for Nonfics.com, Dan Schindel awarded CHARLIE VICTOR ROMEO from directors Patrick Daniels and Robert Berger with a four-star rating.
Writing for Indiewire, Ramzi de Coster covered a recent press conference on the upcoming release of Roman Polanski's doc WEEKEND OF A CHAMPION.
Robin Lindley interviewed Susan Bellows, director of The American Experience doc JFK, in a piece for the International Documentary Association (IDA).
The True/False blog posted a video of its "Revolving Doors" panel from earlier this year, about the practice of switching between doc films and fictional narrative.
And Jess Linington of i-Docs spoke with Femke Wolting of Submarine Channel about the interactive doc UNSPEAK.
Please send any recommendations or tips for the Memo via email here, or by Twitter to @GuerrillaFace. Thanks and have a great week everyone.