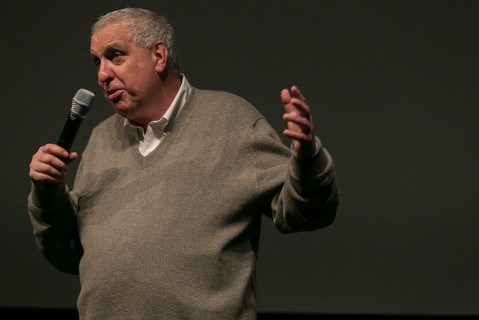 This week the DOC NYC Festival officially kicked off its fourth year in New York City with a screening of Errol Morris' new Donald Rumsfeld film THE UNKNOWN KNOWN. Writing for the POV blog, Tom Roston recapped the screening. At his Docutopia post for the SundanceNOW, Anthony Kaufman wrote on some of the films screening at DOC NYC, including THE PUNK SINGER and PATROLMAN P. Director Jeremy Xido penned a guest post on his film DEATH METAL ANGOLA, which screened at DOC NYC, for Filmmaker Magazine. Also at Filmmaker Magazine, Scott Macaulay named his 10 favorite picks for the festival, as did Lauren Wissot at the same publication. The folks at Indiewire also shared 10 of their top choices. And Daniel Walber reviewed DOC NYC film THE FINAL MEMBER for Nonfics.com.
The Women and Hollywood blog on Indiewire played host to a series of interviews with female filmmakers screening work at the DOC NYC. Inkoo Kang spoke with Dori Berinstein, Sarah McCarthy and Ky Dickens. Melissa Silverstein chatted up Sini Anderson, Suzan Beraza, Samantha Grant, Gitte Peng, Dawn Porter, Therese Shechter, Linda Hoaglund, Lucy Kostelanetz, Merete Mueller, Beth B, Sierra Pettengill and Jamila Wignot. And at Filmmaker Magazine, Randy Astle spoke with WEB director Michael Kleiman.
Earlier this morning, Canadian documentary filmmaker Peter Wintonick passed away from a rare form of liver cancer. Adam Benzine had the details in a piece at Realscreen, while Peter Knegt reported the news for Indiewire. Wintonick was in the midst of making the film BE HERE NOW when he passed. For those interested in helping the film reach its completion, please go here.
BRITDOC named THE ACT OF KILLING the winner of this year's PUMA Impact Award, handed out to the film determined to have had the most substantial positive impact over the past year. Sarah Salovaara covered the event for Filmmaker Magazine, while Christopher Campbell did the same for Nonfics.com. Bryce J. Renninger looked at some of the metrics turned out b BRITDOC on the award nominees.
---