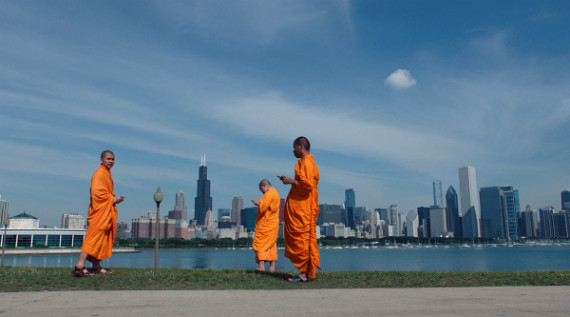 Undoubtedly, every return of Werner Herzog to the big screen is cause for celebration, so it's unsurprising to find that with the release of his ominous cinematic inquiry into the future of the internet and robotics with LO AND BEHOLD: REVERIES OF THE CONNECTED WORLD has been met with a celebratory chorus of critical praise. The folks at both Film Comment and WNYC proclaimed it the film of the week, while critics like Keyframe's Tina Hassannia, Notebook's Duncan Gray and Co.Create's Neal Ungerleider dug deep into Herzog's latest existential interrogation, ultimately finding much to love. Other warm reviews came in from Marc Spitz in The New York Times, Robert Abele at The Los Angeles Times, the Washington Post's Ann Hornaday and Emma Sandler of Forbes, who interestingly points out the fact that the project was originally intended as an advertising piece for Netscout before it reached Herzog's inquisitive hands. Matt Zoller Seitz, though appreciative, was not as enthusiastic, writing at RogerEbert.com, "The film is saved from mere competence by that Herzogian feeling, at once grandiose and self-deprecating."
At the Toronto International Film Festival, whom added a handful of notable new docs to their already stellar looking lineup this past week (Terrence Malick's VOYAGE OF TIME, Gianfranco Rosi's FIRE AT SEA, among others), Herzog is scheduled to drop a pair of new films, one fiction – SALT AND FIRE – and one non-fiction – INTO THE VOLCANO. Pat Mullen reported on the festival's additions for POV Magazine, while Michael Nordine gave a brief preview of how Malick made his first venture into documentary filmmaking for IndieWire.
While TIFF continues to reveal more films, Kosovo's DokuFest wrapped last week, naming OLEG AND HIS RARE ARTS by Andrés Duque the winner of its International Documentary Competition and DEPTH TWO by Ognjen Glavonic the winner of the Balkan Documentary Competition. The European Film Awards also named 15 films nominated for the documentary category, including Piotr Stasik's 21 X NEW YORK, Fredrik & Magnus Gertten's BECOMING ZLATAN, Pietro Marcello LOST AND BEAUTIFUL, and Sergei Loznitsa's THE EVENT, which can currently be streamed for free via Doc Alliance.
In the wake of last week's court decision to overturn the conviction of MAKING A MURDERER's Brendan Dassey, directors Laura Ricciardi and Moira Demos have responded to the news at IndieWire via Liz Calvario. Following the news, Jacob Bryant listed a selection of docs that have made a difference in the real world at Variety, while Shanna Belott did the same at Huffington Post.
Though LO AND BEHOLD was at the top of the critical heap this week, plenty of other theatrical doc coverage came in this past week. Anthony Weiner, the self destructive subject of WEINER, has reportedly stated that his wife Huma Abedin never agreed to be a part of Josh Kriegman and Elyse Steinberg's hit documentary, says Mark Leibovich in The New York Times. Robert Greene's mesmerizing KATE PLAYS CHRISTINE received a pair of glowing pieces from Dave Itzkoff of The New York Times and Melissa Anderson of Village Voice. In limited release, Heidi Brandenburg and Mathew Orzel's WHEN TWO WORLDS COLLIDE was covered by Alan Scherstuhl in Village Voice, Glenn Kenny in The New York Times and Noel Murray at A.V. Club. Likewise, Mirai Konishi's KAMPAI! FOR THE LOVE OF SAKE turned up in The Los Angeles Times via Michael Rechtshaffen and The New York Times via Andy Webster.
On the other side of the Atlantic, Zhao Liang's award winning BEHEMOTH has received reviews from David Jenkins, whom called the film "rich, deep and eventually very moving" at Little White Lies, as Wendy Ide gave the "masterly" doc five stars in The Guardian. Additionally, IndieWire's Chris O'Falt wrote on "how GLEASON director Clay Tweel turned 1,300 hours of footage into an Oscar contender," Variety's Guy Lodge posted an early review of Ron Howard's THE BEATLES: EIGHT DAYS A WEEK – THE TOURING YEARS, Keyframe's Jonathan Kiefer looked at Stephen Kijak's rock doc SCOTT WALKER: 30 CENTURY MAN, and The Guardian's Elle Hunt dove into the murky story behind David Farrier's controversial TICKLED.
Following his review of ABORTION: STORIES WOMEN TELL at Hammer to Nail, Christopher Llewellyn Reed spoke with director Tracy Droz Tragos about her new HBO doc, currently out in limited theatrical release. Fortune's Robert Hackett sat down with director Alex Gibney to discuss his terrifying new doc on cyberwar ZERO DAYS. And Tony Robbins and Joe Berlinger turned up at FilmLinc Daily in conversation with Brandon Sanichar on their film TONY ROBBINS: I AM NOT YOUR GURU.
Doc filmmakers can rejoice in the fact that BRITDOC has revamped their filmmaker resource page, making it easy to find info on anything from distribution to funding options. Speaking of funding, the San Francisco Film Society announced the finalists for its 2016 Documentary Film Fund reports Vikram Murthi of IndieWire. Meanwhile, Realscreen's Manori Ravindran published part three of her investigative series on how documentary filmmakers are financially surviving. And more on the subject of production itself, Sabaah Folayan posted a brief piece on perspective and objectivity at the Sundance Labs blog.
Those looking for something new to stream might want to head over to Kartemquin's site to catch Steve James' NO CROSSOVER: THE TRIAL OF ALLEN IVERSON, or NBC for the Olympic centered KAROLYI.
I'll leave you this week with two highlights: Tom Roston's interview with Eric Hynes of the Museum of the Moving Image and Gordon Quinn of Kartemquin discussing the upcoming 'Kartemquin at 50' series at the museum, as well as Elizabeth Lopatto's fantastic essay 'How natural are nature documentaries?' at The Verge. As always, if you have any tips or recommendations for next week's Memo, please contact me via email here, or on Twitter, @Rectangular_Eye.