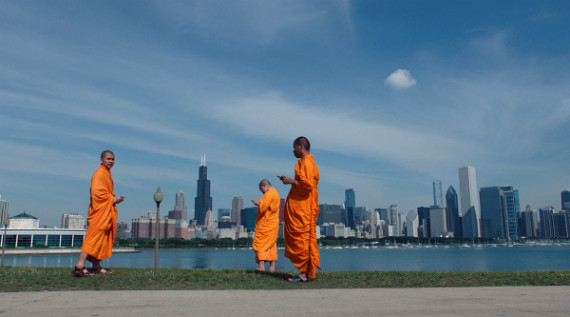 Undoubtedly, every return of Werner Herzog to the big screen is cause for celebration, so it's unsurprising to find that with the release of his ominous cinematic inquiry into the future of the internet and robotics with LO AND BEHOLD: REVERIES OF THE CONNECTED WORLD has been met with a celebratory chorus of critical praise. The folks at both Film Comment and WNYC proclaimed it the film of the week, while critics like Keyframe's Tina Hassannia, Notebook's Duncan Gray and Co.Create's Neal Ungerleider dug deep into Herzog's latest existential interrogation, ultimately finding much to love. Other warm reviews came in from Marc Spitz in The New York Times, Robert Abele at The Los Angeles Times, the Washington Post's Ann Hornaday and Emma Sandler of Forbes, who interestingly points out the fact that the project was originally intended as an advertising piece for Netscout before it reached Herzog's inquisitive hands. Matt Zoller Seitz, though appreciative, was not as enthusiastic, writing at RogerEbert.com, "The film is saved from mere competence by that Herzogian feeling, at once grandiose and self-deprecating."
At the Toronto International Film Festival, whom added a handful of notable new docs to their already stellar looking lineup this past week (Terrence Malick's VOYAGE OF TIME, Gianfranco Rosi's FIRE AT SEA, among others), Herzog is scheduled to drop a pair of new films, one fiction – SALT AND FIRE – and one non-fiction – INTO THE VOLCANO. Pat Mullen reported on the festival's additions for POV Magazine, while Michael Nordine gave a brief preview of how Malick made his first venture into documentary filmmaking for IndieWire.
While TIFF continues to reveal more films, Kosovo's DokuFest wrapped last week, naming OLEG AND HIS RARE ARTS by Andrés Duque the winner of its International Documentary Competition and DEPTH TWO by Ognjen Glavonic the winner of the Balkan Documentary Competition. The European Film Awards also named 15 films nominated for the documentary category, including Piotr Stasik's 21 X NEW YORK, Fredrik & Magnus Gertten's BECOMING ZLATAN, Pietro Marcello LOST AND BEAUTIFUL, and Sergei Loznitsa's THE EVENT, which can currently be streamed for free via Doc Alliance.
---