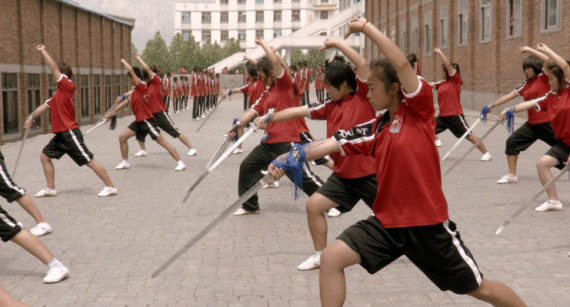 Canada's Hot Docs festival concluded its 2013 run this week. Etan Vlessing of The Hollywood Reporter had details on the festival's award winners, with international feature doc award going to director Inigo Westmeier for DRAGON GIRLS and a special jury prize awarded to Zhu Yu for CLOUDY MOUNTAINS. At Realscreen, Adam Benzine interviewed Canadian doc filmmaker Alan Zweig, who showed his film 15 REASONS TO LIVE in Toronto. Benzine also spoke with director A.J. Schnack, who screened two films at Hot Docs: WE ALWAYS LIE TO STRANGERS and CAUCUS.  At the POV blog, Tom Roston shared his own take on CAUCUS. Benzine's colleague Kevin Ritchie covered director Ondi Timoner's keynote presentation at the festival.
Jennifer Clibbon covered the thread of Russian docs running through Hot Docs for the CBC blog The Buzz. Writing for the Documentary Channel blog, Christopher Campbell shared his festival experience. Peter Knegt of Indiewire teased out 10 highlights from John Sloss's doc master class. And at Filmmaker Magazine, Allan Tong spoke to D.A. Pennebaker and Chris Hegedus about the 20th anniversary screening of their doc classic WAR ROOM at Hot Docs. This time writing for Film School Rejects, Christopher Campbell reviewed the film THE EXPEDITION TO THE END OF THE WORLD from Daniel Dencik. And back at the POV blog, Tom Roston put out another call for improved documentary criticism. Also, in The New York Times, Roston wrote about UNCLAIMED by director Michael Jorgenson, a film whose main subject's claims are being refuted by the U.S. government.

There was other big doc news out of Canada this week, namely that the National Film Board of Canada planned to create an online subscription service for streaming docs, i.e. the Netflix of documentary. Kate Taylor of the Globe and Mail reported on the details, as did Kelly Anderson of Realscreen and Jennie Punter of Variety.
This week Stranger Than Fiction is hosting director Robert Stone's film PANDORA'S PROMISE, about the embrace of nuclear power by some of its strongest former opponents. The film is screening on Tuesday, May 7 at 8pm at the IFC Center in Manhattan, and will be followed by a Q&A with Stone. For more information and to purchase tickets please go here.
HBO this week announced the details of its summer doc schedule, which includes PUSSY RIOT: A PUNK PRAYER from Mike Lerner and Maxim Pozdorovkin and Josh Fox's GASLAND II, among other films. Kelly Anderson of Realscreen reported the news, as did Alison Willmore of Indiewire.
The Oscar-voting process for docs continues to keep evolving, with Nicole Sperling of the Los Angeles Times reporting that the Academy of Motion Picture Arts and Sciences announced on Saturday that it was opening up voting on doc shorts to all of its members. The BBC also had coverage of the change.
Vadim Rizov played the contrarian this week, with a piece for Film.com that challenged the notion that we're currently in the midst of a golden age of documentary filmmaking.
In distro news, Realscreen's Adam Benzine reported that CNN Films had snagged U.S. television rights for PANDORA'S PROMISE with a premiere date set for November. Also, Anthony Kaufman shared his take on PANDORA'S PROMISE for a post at the Indiewire blog Reel Politik. And Peter Knegt of Indiewire had the news that Chiemi Karasawa's film ELAINE STRITCH: SHOOT ME had gotten picked up by Sundance Selectors for North American distribution.
Basil Tsiokos had an overview of films screening at this year's DOXA Documentary Film Festival in Vancouver, while Glen Schafer of The Province covered the festival's May 3 opening. Tsiokos last week also previewed DocAviv: The Tel Aviv International Documentary Film Festival, which started May 2 and runs through May 11. Back at Realscreen, Kevin Ritchie highlighted some of the docs screening at this year's Los Angeles Film Festival.
The PBS show POV this week opened its call for entries; you can find details on their website here.
At the DocGeeks blog, Emma Norton took a look at the online distribution approach used by filmmakers Gemma Atkinson and Fred Grace for their short animated doc ACT OF TERROR.
Back at the Documentary Channel blog, Christopher Campbell noted that the film THE SOURCE FAMILY from directors Maria Demopoulos and Jodi Wille was bowing at theaters this week. Also getting a theatrical release this week is Nisha Pahuja's THE WORLD BEFORE HER, which won the top doc prize at the Tribeca Film Festival last year.
Speaking of Tribeca, John Fink of The Film Stage reviewed Sean Dunne's film OXYANA, which screened at the festival. At the Village Voice, Alan Scherstuhl took on Victor Kossakovsky's !Vivan Las Antipodas!
For those in New York City, Adam Schartoff's Filmwax series is hosting a screening of Vikram Gandhi's film KUMARE at the Maysles Institute this week. Schartoff's podcast Filmwax Radio also found a new home this week on The Rooftop Films website.
At the SundanceNOW blog, Anthony Kaufman noted the hypocrisies of the right as manifested through documentary, particularly the film HATING BREITBART.
Soon after Tribeca ended its run, Stewart Nusbaumer shared his recap of the festival for Filmmaker Magazine.
Over at the Independent Lens blog, Rebecca Huval interviewed filmmaker Debbie Lum about her latest work, SEEKING ASIAN FEMALE.
The International Documentary Association (IDA) website, Katherine Relth shared a recap of its recent Doc U event on Fair Use.
At Filmmaker Magazine, the MIT Open Documentary Lab continued its series of new digital storytelling interviews by chatting up Lance Weiler.
That does it for this week, but remember to send tips and recommendations for the Memo via e-mail here, or via Twitter to @GuerrillaFace. Have a great week everyone.