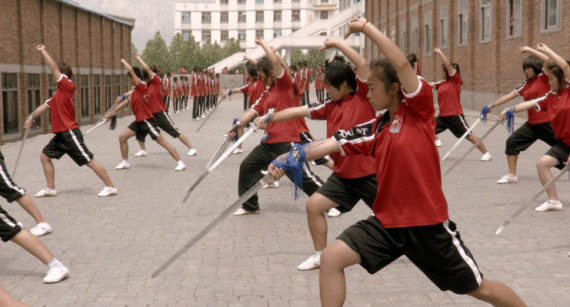 Canada's Hot Docs festival concluded its 2013 run this week. Etan Vlessing of The Hollywood Reporter had details on the festival's award winners, with international feature doc award going to director Inigo Westmeier for DRAGON GIRLS and a special jury prize awarded to Zhu Yu for CLOUDY MOUNTAINS. At Realscreen, Adam Benzine interviewed Canadian doc filmmaker Alan Zweig, who showed his film 15 REASONS TO LIVE in Toronto. Benzine also spoke with director A.J. Schnack, who screened two films at Hot Docs: WE ALWAYS LIE TO STRANGERS and CAUCUS.  At the POV blog, Tom Roston shared his own take on CAUCUS. Benzine's colleague Kevin Ritchie covered director Ondi Timoner's keynote presentation at the festival.
Jennifer Clibbon covered the thread of Russian docs running through Hot Docs for the CBC blog The Buzz. Writing for the Documentary Channel blog, Christopher Campbell shared his festival experience. Peter Knegt of Indiewire teased out 10 highlights from John Sloss's doc master class. And at Filmmaker Magazine, Allan Tong spoke to D.A. Pennebaker and Chris Hegedus about the 20th anniversary screening of their doc classic WAR ROOM at Hot Docs. This time writing for Film School Rejects, Christopher Campbell reviewed the film THE EXPEDITION TO THE END OF THE WORLD from Daniel Dencik. And back at the POV blog, Tom Roston put out another call for improved documentary criticism. Also, in The New York Times, Roston wrote about UNCLAIMED by director Michael Jorgenson, a film whose main subject's claims are being refuted by the U.S. government.

There was other big doc news out of Canada this week, namely that the National Film Board of Canada planned to create an online subscription service for streaming docs, i.e. the Netflix of documentary. Kate Taylor of the Globe and Mail reported on the details, as did Kelly Anderson of Realscreen and Jennie Punter of Variety.
This week Stranger Than Fiction is hosting director Robert Stone's film PANDORA'S PROMISE, about the embrace of nuclear power by some of its strongest former opponents. The film is screening on Tuesday, May 7 at 8pm at the IFC Center in Manhattan, and will be followed by a Q&A with Stone. For more information and to purchase tickets please go here.
---