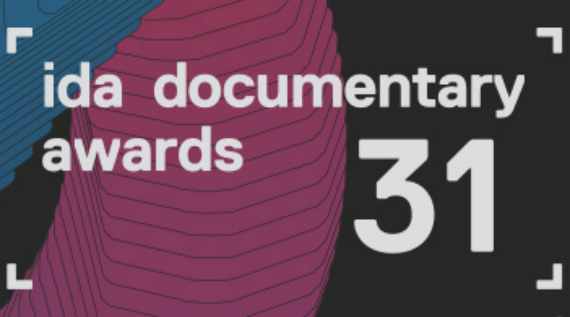 There's no denying it now: Awards season is in full swing. This week the International Documentary Association announced the nominees for the 31st Annual IDA Documentary Awards, as well as their honorees who include Gordon Quinn, Ted Sarandos, Lyric R. Cabral, David Felix Sutcliffe, Matthew Heineman, Tony Tabatznik and the Bertha Foundation. At indieWIRE, Anne Thompson mulled on the selections, contemplating how they're beginning to shape the Oscars. Additionally, Variety's Kristopher Tapley, Deadline's Amanda N'Duka, The Hollywood Reporter's Hilary Lewis and Realscreen's Kevin Ritchie each reported on the nominations.
In addition to the IDA Awards nominations, both the British Independent Film Award nominations and the European Film Awards nominations were announced. The BFI and Cineuropa's Naman Ramachandran reported on the British Independent Film Award nominations, while Guy Lodge of Variety and David González published the nominees for the European Film Awards, also at Cineuropa. James Gay-Rees' PALIO, which is among the British Independent Film Award nominees, was reviewed by Joe Leydon at Variety.
Tomorrow, Stranger Than Fiction continues with Jeff Malmberg's modern doc classic, MARWENCOL. Following the screening, film subject Mark Hogancamp and co-author/film producer Chris Shellen will be doing a post-screening Q&A and signing of the new book "Welcome to Marwencol." Tickets to the screening are still available and can be purchased here.
While award shows are gearing up, festivals around the globe continue to pass out their own awards. This week DOK Leipzig awarded Wojciech Staroń's BRACIA with the Golden Dove for best feature, while Fabien Lemercier reported that Klára Trencsényi's TRAIN TO ADULTHOOD was the winner of the festival's Next Masters section for Cineuropa. With the Jihlava International Documentary Film Festival having recently wrapped up, Nonfics' Daniel Walber outlined the best films he caught at the Czech non-fiction fest, taking special note of the guest appearance of Julian Assange via Skype. Copenhagen's CPH:DOX kicked off over the weekend and Basil Tsiokos previewed the wealth of goodies on offer at this year's edition at What (not) To Doc, in addition to previewing at length each of the sections at this year's DOC NYC, which begins this Thursday. Kurt Brokaw, of The Independent Magazine, also previewed a handful of the film's to be featured at DOC NYC later this week. And at AFI Fest in Los Angeles, Michael Moore revealed how Ava DuVernay's SELMA helped inspir him to make WHERE TO INVADE NEXT, reports Amy Kaufman in The Los Angeles Times.
For Friday's pick of WNYC's Documentary of the Week, our own Thom Powers and Raphaela Neihausen selected Frederick Wiseman's IN JACKSON HEIGHTS. Anticipating the film's opening this week, a barrage of almost unanimously positive reviews of the film were published by the likes of The New York Times' Manohla Dargis, The New Yorker's Richard Brody, Criterion Cast's Joshua Brunsting and Matt Zoller Seitz at RogerEbert.com. The Wall Street Journal also published a review of the film by Steve Dollar, as did MUBI's Notebook of Daniel Kasman's piece on the film. Nonfics posted a pair of pieces on Wiseman's 40th feature, a review by Daniel Walber, as well as an interview with the director himself by Jamie Maleszka. The New York Film Festival also posted an on-stage interview with Wiseman from this year's fest, while indieWIRE's Influencers Podcast featured the director as well.
In the UK, the big doc of the week was Anthony Wonke's soccer bio-doc, RONALDO, gleaning mixed reviews from Wendy Ide and Daniel Taylor in The Guardian, and Geoffrey Macnab in The Independent. Inspired by the film's release, The Guardian published a list of ten great sports docs by Tom Lamont.
Another doc that has gotten some much deserved attention of the weekend was Samba Gadjigo and Jason Silverman's cinematic celebration of the Senegalese filmmaker Ousmane Sembène, SEMBÈNE!. Nicholas Rapold wrote about the doc for The New York Times, as did Matt Zoller Seitz for RogerEbert.com and Joshua Brunsting at Criterion Cast.  Lisa Immordino Vreeland's PEGGY GUGGENHEIM: ART ADDICT also received some love, having been selected as a NYT Critics' Pick by Daniel M. Gold, and partaking in an interview with David Ng of The Los Angeles Times.
Other documentaries that received coverage this week included Manuel Mozos' new film THE GLORY OF FILMMAKING IN PORTUGAL, which was written about at length by Christopher Small at indieWIRE, and Maxim Pozdorovkin and Tony Gerber's THE NOTORIOUS MR. BOUT, which Hammer to Nail's Christopher Llewellyn Reed reviewed. At the POV Blog, Tom Roston published an interview he conducted with Pozdorovkin, and IONCINEMA published my interview with the pair of filmmakers from back at Sundance 2014 the day after the film had its world premiere. Gina Piccalo featured Sharmeen Obaid-Chinoy and Andy Schocken's SONG OF LAHORE in The Los Angeles Times this week for the film's one week Oscar qualifying run, while a pair of conversations with Laurie Anderson about HEART OF A DOG surfaced from the New York Film Festival and Frances Morgan via Sight & Sound.
On the topic of doc development, I finally found the time to put together a new edition of What's Up Doc? for IONCINEMA, tracking my Top 100 docs in development, placing Pennebaker, Hegedus, Malick and Herzog atop a massive list of serious contenders. Alternatively, Realscreen published a piece by Christopher Perez which explains in further detail how the recent DMCA ruling on Blu-ray use should be considered a major win for doc filmmakers. Realscreen also saw Manori Ravindran reporting that Sheffield Doc/Fest has launched "On-Screen Factual Talent Market and several initiatives aimed at increasing accessibility" that "aims to connect factual and specialist factual experts with producers and commissioners looking for 'new and emerging diverse faces' for their programs." Applications for the market are now open here.
A pair of shorts appeared online this week, one at Op-Docs – VIC INVADES by Matthew Bate, the other at The Los Angeles Times' doc page – SAN BERNARDINO: BROKEN by Liz O. Baylen.
I'll leave you this week with a video interview with Elizabeth Wood, director of the UK's Bertha DocHouse in London's Curzon Bloomsbury, by Edward Lawrenson. Published by Sight & Sound, the piece details the conversion of the venue into the UK's first documentary only screen. Until next week, if you have any tips or recommendations for the Memo, please contact me via email here, or on Twitter, @Rectangular_Eye. I look forward to hearing from you!