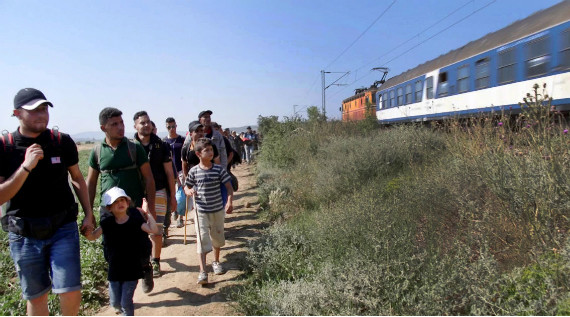 On this most lovely Memorial Day, I'm sitting in my local coffee shop here in Buffalo, the windows open, sun beaming in, thankful for the opportunity to enjoy this beautiful morning. As THE JOURNEY, Matthew Cassel's new six-part series detailing the European refugee crisis, reminds with crystalline clarity, not everyone has the freedom to enjoy this simple pleasure. Cassel's series had its first public screening as part of Stranger Than Fiction last week and was subsequently released as six short episodes over at The New Yorker in collaboration with Field of Vision. As Chris O'Falt has noted in a report on how Field of Vision is changing the way docs are made and seen for indieWIRE, THE JOURNEY, perfectly fits Field of Vision's mission to bring cinematic journalism to important news stories as they unfold. And while not a Field of Vision project, the first episode of AJ Schnack's First Look Media series NOMINATION (or NomiNation) was also released this week via Vanity Fair, where Schnack was interviewed about his new ten episode series that follows in the footsteps of his previous campaign projects, CAUCUS and MIDTERMS.
When it comes to film festivals, this week was pretty quiet outside of Docaviv 2016's announcement of their competition winners. In the International competition, Karolina Bielawska's CALL ME MARIANNA took home the Best International Film Award, while the IDFA award winner DON JUAN directed by Jerzy Sladkowski received a Special Jury Mention. The Israeli Competition was topped by Tali Shemesh and Asaf Sudry's DEATH IN THE TERMINAL, while Yael Kipper and Ronen Zaretzky's CHILD MOTHER received a Special Jury Mention and Shimon Dotan's THE SETTLERS, featured in The New York Times this week by James Glanz, picked up a Special Honorable Mention.
Our 2016 Spring Season, co-presented by New York Film Academy, will close out with a screening of James Solomon's THE WITNESS, tomorrow at 7:30 pm at IFC Center. The film follows Bill Genovese as he investigates the 1964 murder of his sister Kitty Genovese, a New York woman who was attacked while 38 people allegedly did nothing to help her. Director James Solomon will be on hand for a post-screening Q&A. Tickets for closing night can be purchased here.
Our own Thom Powers and Raphaela Neihausen selected D.A. Pennebaker and Chris Hegadus' UNLOCKING THE CAGE as WNYC's Doc of the Week. The film is in limited release this week and has received a generally positive reception from the likes of A.O. Scott of The New York Times, Daniel Walber at Nonfics and Godfrey Cheshire of RogerEbert.com. indieWIRE's Graham Winfrey spoke with Pennebaker himself, now 90 years old, about his continued drive to tell cinematic stories after six decades of documentary filmmaking.
After last week's STF screening of PRESENTING PRINCESS SHAW, the film was released via VOD and in select theaters, gleaning overwhelmingly positive press from Stephen Holden, who named the film a NYT Critics' Pick, and RogerEbert.com's Glenn Kenny, who's initial reaction was, "Wowsers." Princess Shaw herself appeared as Thom Powers' most recent guest on Pure Non Fiction, discussing what it was like to have her life translated to the big screen.
The most written about doc this past week was William Francesco Allen's cult infiltrating Sundance hit HOLY HELL. As fascinating a topic as it sounds, the film has gotten quite mixed reviews from critics like Ken Jaworowski of The New York Times, Robert Abele of The Los Angeles Times, indieWIRE's David Ehrlich and The Guardian's Noah Berlatsky. At RogerEbert.com, Matt Zoller Seitz found it fascinating though impeded, reflecting, "Throughout, there's a frustrating sense that a potentially fascinating and unsettling experience has been glossed over."
Reverse Shot's True Stories symposium continues to blossom with a trio of new pieces by Mayukh Sen, Daniel Witkin and Julien Allen all published this week, exploring AMY, NOSTALGIA FOR THE LIGHT and BEYOND HATRED, respectively. Other doc reviews that popped up include Randall Roberts' feature on LOS PUNKS in The Los Angeles Times, Josh Eisen's piece on A REVOLUTION IN FOUR SEASONS at Nonfics, and a pair of reflections on WEINER by Christopher Llewellyn Reed at Hammer to Nail and Owen Gleiberman of Variety.
A bit of controversy was kicked up by conservative groups over editorial decisions within director Stephanie Soechtig and executive producer Katie Couric's UNDER THE GUN, according to reports by Katie Rogers of The New York Times and Lois Beckett of The Guardian. The filmmakers responded to the claims in a piece by Variety's Maria Cavassuto. The controversy serves as an poignant reminder that documentary as a form, no matter how truthful the subject matter may be, is still a creative endeavor. According to Graham Winfrey at indieWIRE, TICKLED's co-director David Farrier also has a spurt of controversy on his tail, as a new website and Twitter account devoted to smearing his name and his film have cropped up.
Doc filmmakers have until the end of the week to submit their films for consideration for DOC NYC 2016 before their late deadline, while the IDA Awards have just opened up submissions for this year's award season. Likewise, POV is now taking applications to their 2016 POV Digital Labs. At the POV Blog, Eileen Meyer has posted the second piece in her series "about the regrettably underappreciated process and craft of documentary editors," this one focusing on structuring social-issue documentaries, while at Filmmaker Magazine, Paula Bernstein published a helpful piece for budding filmmakers, appropriately titled "How to Build Your Documentary's Distribution Strategy."
Before I sign off for this week, I wanted to thank No Film School's Liz Nord for including us in her piece "11 Essential Twitter Follows for Documentary Filmmakers" among a fantastic list of must read outlets like DocSoup, The D-Word, IDA and more! Until next week, if you have any tips or recommendations for the Memo, please contact me via email here, or on Twitter, @Rectangular_Eye.