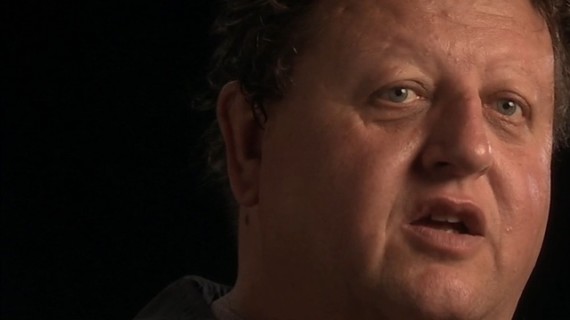 The documentary community this past week continued to remember filmmaker Peter Wintonick, who passed away from a rare form of liver cancer last Monday. In a touching piece for Indiewire, Heather Croall, director of the Sheffield Doc/Fest, remembered Wintonick. Marc Glassman did the same at Canada's POV Magazine, and you can read Wintonick's own "Doc the World" manifesto at POV's site here. Adam Benzine of Realscreen wrote on various elements of the doc community celebrating Wintonick's life, and also reported that the Thessaloniki Documentary Festival in Greece had named an award after Wintonick. The CBC reported on Wintonick's passing, while Matthew Pearson and Brendan Kelly of the Ottawa Citizen wrote on Wintonick's perhaps best known work, MANUFACTURING CONSENT.
Michel Gondry's new animated documentary on Noam Chomsky, IS THE MAN WHO IS TALL HAPPY?, had its premiere at DOC NYC in advance of a run at the IFC Center. At the New York Times, Gondry narrated a scene from the film, while Eric Kohn of Indiewire interviewed the director. R. Kurt Osenlund did the same for Filmmaker Magazine, while Gondry was interviewed by Zachary Wigan for the Tribeca Institute's blog. At Nonfics.com, Daniel Walber reviewed the film, while Christopher Campbell shared a list of Gondry's five favorite docs.
Adam Benzine of Realscreen reported on the awards winners from the DOC NYC festival, with A WORLD NOT OURS from Mahdi Fleifel winning the grand jury prize in the festival's Viewfinders section. Daniel Walber penned a review of the festival film TOXIC HOT SEAT, and another of the film TOWN HALL. At Filmmaker Magazine, Scott Macaulay interviewed I LEARN AMERICA directors Jean-Michel Dissard and Gitte Peng. Also, Sarah Salovaara of Filmmaker Magazine interviewed director Grace Lee about her film AMERICAN REVOLUTIONARY: THE EVOLUTION OF GRACE LEE BOGGS. The staff at Indiewire also extracted 10 filmmaker tips on hiring a publicist from DOC NYC panels.
Adam Nayman penned a series of four dispatches from this year's Montreal International Documentary Film Festival (RIDM) for POV Magazine. You can read part one here; part two here; part three here; and part four here, which is a remembrance of Peter Wintonick. Adam Benzine of Realscreen shared an interview with RIDM executive director Roxanne Sayegh.
Kevin Ritchie of Realscreen spoke to International Documentary Film Festival Amsterdam (IDFA) Director Ally Terks about the festival's lineup.
At Fandor, Jonathan Marlow interviewed Albert Maysles. And Indiewire published an excerpt by Albert Maysles from the book Tell Me Something, which gathers advice from documentary filmmakers.
In distro news, Icarus Films announced that it had acquired North American rights for the film NORTHERN LIGHTS by Nick Bentgen. Kelly Anderson of Realscreen reported that U.K.-based Dogwoof had picked up domestic rights for MANAKAMANA from Stephanie Spray and Pacho Velez. CNN Films announced it had picked up U.S. broadcast rights for DOCUMENTED by Jose Antonio Vargas; Kelly Anderson of Realscreen also reported on the development. Anderson also reported that Kino Lorber had picked up North American rights for AFTERNOON OF A FAUN: TANAQUIL LE CLERCQ from Nancy Buirski.
Adam Schartoff's Filmwax podcast from Monday featured DOC NYC programmer Basil Tsiokos, THE PUNK SINGER subject Kathleen Hanna and Laura Checkoway, director of the doc LUCKY. In a separate podcast, Schartoff also interviewed Marc Schiller, the CEO and founder of Bond Strategy & Influence, as well as an emerging doc producer.
The new Roger Ebert doc from Kartemquin Films stalwart Steve James, LIFE ITSELF, made waves this week with the launch of its Indiegogo fundraising campaign with the offer of a pre-release video stream for donors. Ray Pride of Movie City News reported on the development, as did Adam Chitwood of Collider and Matt Singer of The Dissolve. Beth Hanna and Ryan Lattanzio of Indiewire's Thompson on Hollywood blog examined why projects like James' were opting for Indiegogo instead of Kickstarter. You can check out the film's Indiegogo page here.
This week Anthony Kaufman took a look at "narco docs," and more specifically, the film NARCO CULTURA by Shaul Schwarz in his Docutopia post at SundanceNOW. Kaufman also wrote a piece at Indiewire on social/political film context as it related to NARCO CULTURA and other films. At The New York Times, Stephen Holden reviewed the film, while Lauren Wissot interviewed Schwarz in a piece for Global Comment.
At Nonfics.com, Christopher Campbell rounded up his home picks for the week, which included INFORMANT and TOXIC HOT SEAT. Campbell also had a post on some of the docs hitting theaters this week.
The POV blog repurposed a post from human rights activist training organization WITNESS that listed six cameras that could be used by doc filmmakers that were under $300.
At Realscreen, Kevin Ritchie reported on the recipients of the 2013 Catapult Film Fund grants; included among them were Dawn Porter, Peter Nicks and Cynthia Wade.
The Beyond The Box blog from ITVS reported the eight projects to receive money from its Diversity Development Fund.
At Esquire Magazine, Peter Martin wrote about Joshua Oppenheimer's THE ACT OF KILLING and previewed his follow-up, THE LOOK OF SILENCE.
The National Film Board of Canada's site hosted a behind the scenes post from Gerry Flahive on its recent HIGHRISE project.
At the Documentary Site, Heather McIntosh rounded up some recent documentary links.
Paula Bernstein shared nine tips for filmmakers wrangling with archival footage in a post at Indiewire.
Writing for Variety, Addie Marfoot wrote the obligatory yearly piece on the ramifications of changes made to the Oscar doc voting process. And The Hollywood Reporter's Scott Feinberg issued predictions on the 15 films that would make the Oscar doc shortlist this year.
This week Martin Bell and Mary Ellen Mark, the team behind the film STREETWISE, launched a Kickstarter campaign for the follow-up film focusing on Tiny, one of the subjects of their first film. You can find more information on the project here.
Bryce J. Renninger of Indiewire had coverage of the new Errol Morris Op-Doc focusing on the photographic and filmic recordings of the assassination of President John F. Kennedy. Forrest Wickman of Slate also reported on the Morris short, titled NOVEMBER 22, 1963.
The Cinema Eye Honors this week announced that Josh Fox, director of the film GASLAND, would receive its Hell Yeah prize for his work on that film and its sequel. Adam Benzine of Realscreen also had coverage of the news.
Writer/filmmaker Robert Greene penned a piece on the Victor Kossakovsky film ¡VIVAN LAS ANTIPODAS! for Sight and Sound Magazine.
Back at Indiewire Eric Kohn took a look at two new docs, one featuring Chinese artist Ai Wei Wei and another made by him.
At the International Documentary Association (IDA) website, Thomas White collected a series of stories about the late filmmaker Ed Pincus from members of the doc community.
Shannon Carroll of POV recapped a recent conversation hosted by the documentary series which featured the doc critics Christopher Campbell and Anthony Kaufman, along with journalist Tom Roston.
Writing for The Hollywood Reporter, Justin Lowe reviewed the AJ Schnack-helmed film CAUCUS.
At Filmmaker Magazine, Randy Astle reported on the online doc UNSPEAK, which was created by the Dutch outfit Submarine Channel.
In a piece for The Guardian, Philip Hoare wrote on the film LEVIATHAN from directors Lucien Castaing-Taylor and Verena Paravel
The True/False Film Fest announced that it was the recipient of a three-year grant from the Academy of Motion Picture Arts and Sciences (AMPAS) for its Neither/Nor series.
Please send all tips and recommendations for the Memo via email here, or by Twitter to @GuerrillaFace. Thanks and have a great week everyone.