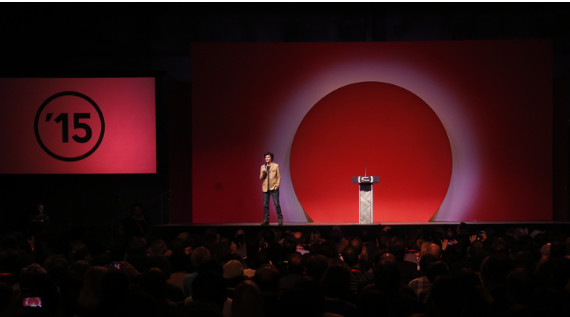 As is to be expected during a week in which Sundance, Slamdance and Rotterdam all run in parallel, an avalanche of wonderful coverage, interviews and reviews has been sliding out of Park City all week, but before I attempt to sort through the good, the bad and the ugly of that whole situation, I'd first like to remind you that the Winter '15 season of Stranger Than Fiction is set to kick off tomorrow evening at the IFC Center in NYC at 8 pm with THE HAND THAT FEEDS. Directors Rachel Lears and Robin Blotnick, as well as film subject Mahoma López are set to appear for a post screening Q&A. If you like, you can purchase tickets in advance here.
I'd also like to point out that a handful of non-fiction films, mostly shorts, quietly found their way onto the interwebs this week, most excitingly a new politically incisive, online-only BBC released feature by director Adam Curtis, entitled BITTER LAKE. Writing for RT, Tony Gosling examined Curtis' prior work and the reasoning behind an online-only release. A new entry into the Profiles By Vice series entitled THE LEGEND OF CAMBO, directed by none other than Harmony Korine, also found its way into the world. For Newsweek, Stav Ziv highlighted the online release of ANATOMY OF A SNOW DAY, a short directed by a 12 year old named Zachary Maxwell, which had its world premiere last year at DOC NYC. A pair of shorts in Joe Callander's MIDNIGHT THREE & SIX and Elizabeth Lo's HOTEL 22 also made their debut as part of the ongoing New York Times Op-Docs series. And while on the topic of Op-Docs, Heather McIntosh of the POV Documentary Site Blog wrote a piece on the coming semester in which she intends to teach a junior-level course in news writing and reporting based around the series.
And lastly before we get to a wealth of festival coverage, a slew of great articles regarding the development and promotion of documentaries and documentary filmmaking were also published this week. Leading off, an article by Katharine Relth which was published on the IDA blog gives a list of helpful tips for creating a sustainable doc career. Director and critic Charlie Lyne took to his Ultra Culture blog to list 10 things he learned while self-releasing his raucously fun essay film BEYOND CLUELESS in the UK. In great news for doc development, Sundance has announced the groundbreaking new Transparency Project as part of their #ArtistServices Workshop "that will allow aggregated film financial data to be shared among producers and filmmakers using an online analytics tool". Scott Macaulay of Filmmaker Magazine has the in-depth story. Lastly, as quoted from Adam Benzine's report at Realscreen states,"The Independent Television Service (ITVS) and the John D. and Catherine T. MacArthur Foundation have formed a partnership to encourage collaboration between journalists and indie filmmakers". Exciting opportunities on the development horizon!
Now, let's get down to brass tacks. Sundance wrapped yesterday and a great many awards were handed out in honor of docs deserving of attention. Basil Tsiokos covered the awards on What (not) To Doc, David Hudson at Fandor wrote a thorough round-up of the awards and coverage of the films honored, Eric Lavallee wrote a piece on the awards at IONCINEMA, while Nigel M. Smith also had the winners for Indiewire. Earlier in the week, the Sundance Short awards were handed out, and Shipra Gupta wrote a piece on the occasion for Indiewire.
Reflecting on their week in Park City, Manohla Dargis wrote a thorough rundown for The New York Times, Wesley Morris of Grantland composed a piece on the non-fiction faire, and Anthony Kaufman listed his top 10 of the fest at Indiewire, For /Film, Germain Lussier also listed his top films of Sundance this year, while Vadim Rizov wrote a pair of pieces reflecting on various docs he caught in Park City.
Among the many Sundance doc reviews that cropped up all around the net this week were a pair of reflections on DREAMCATCHER, one from Variety's Guy Lodge and another from Cine-vue's Harriet Warman, who actually caught the film at its Rotterdam premiere this past week. At Indiewire, Eric Kohn reviewed WELCOME TO LEITH, Anisha Jhaveri reviewed 3½ MINUTES, and Ibad Shah wrote a review of CALL ME LUCKY. For Consequence of Sound, Justin Gerber covered KURT COBAIN: MONTAGE OF HECK and NATIONAL LAMPOON'S DRUNK STONED BRILLIANT DEAD was reviewed by Michael Roffman. Michael Speier reviewed PROPHET'S PREY over at Realscreen, and Jordan Raup wrote a piece on THE WOLFPACK for The Film Stage. And finally, for IONCINEMA, Amanda Yam covered MERU and PERVERT PARK, while I wrote a pair of reviews on CITY OF GOLD and CHUCK NORRIS VS COMMUNISM.
Along with the wealth of critique coming out of Park City is a lengthy list of illuminating interviews with the filmmakers themselves. Rodney Ascher, the director of THE NIGHTMARE was interviewed by both Bilge Ebiri of Vulture and Ryan Lattanzio for Indiewire. Over at Nonfics, Dan Schindel spoke with Jennifer Siebel Newsom, director of THE MASK YOU LIVE IN, and Amy Berg, the director of PROPHET'S PREY, while Christopher Campbell interviewed Bill and Ross Turner, the filmmakers behind WESTERN. Director Alex Gibney called out Tom Cruise and John Travolta in his interview with Variety's Brent Lang about the controversy surrounding GOING CLEAR. Rolling Stone's Phoebe Reilly spoke with Sacha Jenkins about his directorial debut, FRESH DRESSED. Discussing FINDERS KEEPERS, Nick Krewen spoke with directors Bryan Carberry and Clay Tweel for Realscreen. Kevin Ritchie interviewed directors Lyric R. Cabral and David Felix about their film (T)ERROR, also on Realscreen. Tig Notaro, the subject of TIG, spoke to Paula Bernstein of Indiewire about having a film centered around her. And while not technically an interview, Mark Olsen's LA Times recap of the heated post-screening Q&A session that followed a screening of WELCOME TO LEITH makes for an interesting read.
Still on the topic of Sundance, Joe Reid wrote an elegant piece on the power of the Sundance brand for The Atlantic, Anthony Kaufman had a bone to pick with this year's documentary programming at Indiewire, and Oakley Anderson-Moore of No Film School spoke with Holden Payne, the Technical Director of Exhibition and Projection of Sundance, about the fact that this is the first year in the festival's history that no features were projected in 35mm. For The New Yorker, Tim Wu wrote a contemplative piece that debates Netflix's current trend of relying on big data for film funding, including Sundance film productions like WHAT HAPPENED, MISS SIMONE?.
Speaking of Sundance wheeling and dealing, plenty of films were picked up this past week. Tom Roston at the POV Blog covered what films were picked up by whom, as did Charles Bramesco of The Dissolve, and various writers for The Hollywood Reporter.
Now, let's remember that Slamdance and Rotterdam also concluded this week, each handing out their own honors. A great number of journalists reported on the Slamdance awards, including Ben Umstead of Twitch, David Canfield of Indiewire, Kate Erbland of The Dissolve, and various writers contributed to a piece on the awards for Filmmaker Magazine. On the topic of Rotterdam, Kiva Reardon wrote a solid round-up of the fest for MUBI, while Michael Pattison wrote about his experience at the fest for Slate.
And finally, I'd like to leave you this week with a humorously nostalgic piece of writing by Tina Hassannia, reflecting on the release of BACKSTREET BOYS: SHOW 'EM WHAT YOU'RE MADE OF for Movie Mezzanine.
As always, if you have any tips or recommendations for the Memo, please contact me via email here, or on Twitter, @Rectangular_Eye. I look forward to hearing from you!