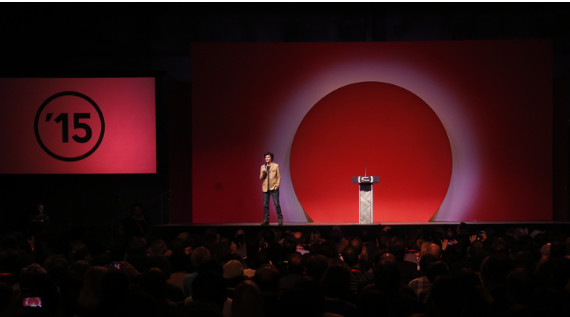 As is to be expected during a week in which Sundance, Slamdance and Rotterdam all run in parallel, an avalanche of wonderful coverage, interviews and reviews has been sliding out of Park City all week, but before I attempt to sort through the good, the bad and the ugly of that whole situation, I'd first like to remind you that the Winter '15 season of Stranger Than Fiction is set to kick off tomorrow evening at the IFC Center in NYC at 8 pm with THE HAND THAT FEEDS. Directors Rachel Lears and Robin Blotnick, as well as film subject Mahoma López are set to appear for a post screening Q&A. If you like, you can purchase tickets in advance here.
I'd also like to point out that a handful of non-fiction films, mostly shorts, quietly found their way onto the interwebs this week, most excitingly a new politically incisive, online-only BBC released feature by director Adam Curtis, entitled BITTER LAKE. Writing for RT, Tony Gosling examined Curtis' prior work and the reasoning behind an online-only release. A new entry into the Profiles By Vice series entitled THE LEGEND OF CAMBO, directed by none other than Harmony Korine, also found its way into the world. For Newsweek, Stav Ziv highlighted the online release of ANATOMY OF A SNOW DAY, a short directed by a 12 year old named Zachary Maxwell, which had its world premiere last year at DOC NYC. A pair of shorts in Joe Callander's MIDNIGHT THREE & SIX and Elizabeth Lo's HOTEL 22 also made their debut as part of the ongoing New York Times Op-Docs series. And while on the topic of Op-Docs, Heather McIntosh of the POV Documentary Site Blog wrote a piece on the coming semester in which she intends to teach a junior-level course in news writing and reporting based around the series.
And lastly before we get to a wealth of festival coverage, a slew of great articles regarding the development and promotion of documentaries and documentary filmmaking were also published this week. Leading off, an article by Katharine Relth which was published on the IDA blog gives a list of helpful tips for creating a sustainable doc career. Director and critic Charlie Lyne took to his Ultra Culture blog to list 10 things he learned while self-releasing his raucously fun essay film BEYOND CLUELESS in the UK. In great news for doc development, Sundance has announced the groundbreaking new Transparency Project as part of their #ArtistServices Workshop "that will allow aggregated film financial data to be shared among producers and filmmakers using an online analytics tool". Scott Macaulay of Filmmaker Magazine has the in-depth story. Lastly, as quoted from Adam Benzine's report at Realscreen states,"The Independent Television Service (ITVS) and the John D. and Catherine T. MacArthur Foundation have formed a partnership to encourage collaboration between journalists and indie filmmakers". Exciting opportunities on the development horizon!
---