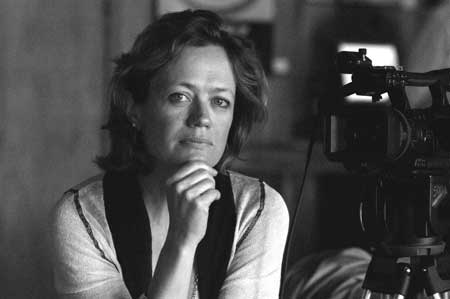 The Ford Foundation this week announced that Cara Mertes, director of the Sundance Institute Documentary Film Program and Fund, would succeed Orlando Bagwell as the director of its JustFilms documentary funding organ. Anne Thompson reported on the move for Indiewire, while Kelly Anderson did the same at Realscreen. Dru Sefton of Current.org also had coverage.
ITVS issued a response to last week's New Yorker piece by Jane Meyer suggesting the organization killed funding for the film CITIZEN KOCH for fear of offending conservative billionaire David Koch. Democracy Now offered up an in-depth piece on the story, interviewing CITIZEN KOCH filmmakers Tia Lessin and Carl Deal. Michael Lumpkin weighed in on the issue in a piece for the International Documentary Association (IDA), and PBS Ombudsman Michael Getler also considered the story.
This week Stranger Than Fiction is hosting a special Wednesday screening of Richard Rowley's film DIRTY WARS, based on the reporting of Jeremy Scahill on U.S. covert operations overseas. Both Rowley and Scahill will be in attendance for a Q&A following the film's 8 p.m. screening at the IFC Center in Manhattan. For more information or to purchase tickets please go here. If you need more encouragement, Julie Malkinen of The Los Angeles Times this week offered an in-depth look at the film's making.
Writing for Ion Cinema, Jordan M. Smith interviewed Alex Gibney about his latest work, WE STEAL SECRETS: THE STORY OF WIKILEAKS. Smith also shared a review of the film. At Realscreen, Adam Benzine reported on an annotated transcript released by Wikileaks that purports to discredit several claims in the film.
Anthony Kaufman's weekly Docutopia post looked at why docs are still second-string at the Cannes Film Festival. Kaufman also wrote a post for Indiewire on the new film AMERICAN ARAB from director Usama Alshaibi, and the landscape of racism in the U.S. post-9/11.
Back at Ion Cinema, Jordan M. Smith reviewed JODOROWSKY'S DUNE, a doc about Alejandro Jodorowsky's failed attempt to make a film based on the book dune. At The Film Stage, Raffi Asourdian also reviewed the film.
On thecontrerasgabrielproject, Mario Contreras penned a post about his experiences in Kartemquin Films' Diverse Voices in Docs program
Erica Ginsburg of Docs in Progress this week shared her opinion on the transformation of Silver Docs to the AFI Docs Film Festival.
POV this week released a sneak peek of its upcoming schedule, which includes festival favorites ONLY THE YOUNG from directors Jason Tippet and Elizabeth Mims; HIGH TECH LOW LIFE by director Stephen Maing; and THE WORLD BEFORE HER by director Nisha Pahuja.
Alison Willmore, meanwhile, covered the new HBO summer doc lineup at Indiewire, which includes PUSSY RIOT: A PUNK PRAYER among other films.
In distro news, Icarus Films announced that it had acquired North American rights for Bill Morrison's film THE GREAT FLOOD.
At The Atlantic, Boer Deng described the poignancy felt as a result of watching Debbie Lum's film SEEKING ASIAN FEMALE.
On the What (Not) to Doc blog, Basil Tsiokos this week profiled docs screening at this year's Brooklyn Film Festival, along with those screening at the Film Society of Lincoln Center's environmentally themed Green Screens program.Over at the DocGeeks site, filmmaker Katharine Round wrote about her experiences making the film THE SPIRIT LEVEL.
Christopher Campbell had this week's theatrical releases, which includes LA CAMIONETA from director Mark Kendall and PING PONG from Hugh Hartford, among others.
The Film Independent website had a case study on the distribution strategy employed by director/producers Tom Putnam and Brenna Sanchez for their film BURN. And on a related note, Colin Brown of Indiewire had a thoughtful analysis of the future of filmmaking financing, using Zach Braff's latest project as a case study.
At The Huffington Post Canada, director Liz Marshall wondered if docs could inspire change.
Bryce J. Renninger shared his opinion on the financial doc A WHOLE LOTT MORE over at Indiewire, describing it as the "most complicated examination of the financial crisis and contemporary capitalism this year."
Sara Dosa wrote about her experience in the IFP Doc Lab for the organization's website.
In gear news, Mike Wilkinson wrote about his eight favorite pieces of gear for use during run-and-gun shoots on a DSLR in a post for F Stoppers.
And David Tamés spelled out the ingredients of his hatchback production kit on his site Kino-Eye.com.
That's it for this week. Please send all tips and submisisons here, or via Twitter to @GuerrillaFace. Have a great week everyone.