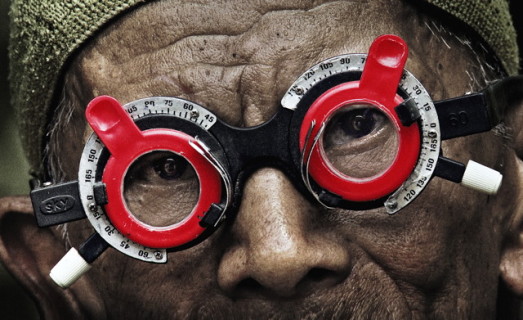 THE LOOK OF SILENCE, director Joshua Oppenheimer's highly anticipated follow up to THE ACT OF KILLING, screened last week at the Venice International Film Festival, the Telluride Film Festival and the Toronto International Film Festival (TIFF). At Realscreen, Adam Benzine reported on the film winning the grand jury prize at Venice. Writing for Cineuropa, Domenico La Porta reviewed the film, as did Guy Lodge at Variety. UK distributor Dogwoof also announced that it had acquired distribution rights for the film in Great Britain.
This week the Toronto International Film Festival kicked off. The folks at the Freep Film Festival interviewed TIFF doc programmer (and STF Artistic Director) Thom Powers, as well as filmmaker Michael Moore, in their latest podcast. Realscreen's Manori Ravindran also spoke with Powers for a piece covering the festival, while Basil Tsiokos shared an overview of the festival's doc lineup at his What (Not) to Doc blog.
In distro news, Manori Ravindran of Realscreen reported that HBO had snagged U.S. and Canadian TV rights for Alex Gibney's new James Brown doc, MR. DYNAMITE: THE RISE OF JAMES BROWN. Deadline's David Bloom also reported on the development. Realscreen colleague Adam Benzine had the news that Universal Pictures International Entertainment had picked up international rights for SUNSHINE SUPERMAN, while Jennie Punter of Variety had the same news.
Stranger Than Fiction is hosting a special preseason screening of BRONX OBAMA from director Ryan Murdock on Thursday Sept. 18 at 8 p.m. at the IFC Center in Manhattan. The film tells the improbable story of a Barack Obama impersonator living in the Bronx. Following the screening, Murdock and subject Louis Ortiz will be in attendance for a Q&A. For more information and to purchase tickets please go here.
At Realscreen, Nick Krewen took a look at the lineup announced for the Camden International Film Festival.
Over at the International Documentary Association (IDA), Lisa Hasko shared a roundup of Fall 2014 grants and opportunities.
Writers at the Wall Street Journal provided a roundup of some of the docs gracing theaters in September.
Writing for the POV blog, Olivia Koski wrote about her experiences working on an iOS app during a POV Hackathon.
The Los Angeles Times announced that it had entered into an agreement to produce documentaries focusing on social issues that would air on DirecTV.
Allan Tong spoke with ALTMAN director Ron Mann about his new film in a piece for Filmmaker Magazine.
At Nonfics.com, Dan Schindel reviewed LAST DAYS IN VIETNAM from director Rory Kennedy.
In a piece for the Tribeca Institute website, Zachary Wigon considered the recent Chris Marker retrospective at BAM.
Also at the Tribeca site, Jason Guerrasio wrote up some tips on securing film grants.
Back at Filmmaker Magazine, Scott Macaulay interviewed SUNSHINE SUPERMAN director Marah Strauch.
At Indiewire, Peter Broderick wrote a piece instructing readers how not to negotiate a distribution deal, the followed up with a second post with instructions on how to carry such negotiations out.
Also at Indiewire, Anthony Kaufman considered the latest film from director Nick Broomfield, TALES OF THE GRIM SLEEPER.
Writing for the POV blog, Tom Roston considered the stigma that trails Ken Burns in certain documentary circles.
The folks at the Fledgling Fund turned out an open letter regarding the recent attention paid to the "impact evaluation" of documentary works.
Back at Nonfics.com, Christopher Campbell rounded up a list of the best 100 documentaries available on Netflix in the month of September. Campbell also had a roundup of films reaching home video platforms this week.
Filmmaker Magazine's Michael Murie had an update on the latest in video news in his column "The Week in Cameras."
In a piece for Reel Chicago, Ed M. Koziarski wrote on the prolific year that Chicago production outfit Kartemquin Films has had.
At The Wrap, Jeff Sneider reported on the announcement that Ondi Timoner would be directing a film about actor and comedian Russell Brand.
A host of writers at the A.V. Club turned out a piece about 15 docs that switched their focus during production.
That's it for this week. If you have suggestions or tips for the Memo please email them here, or send them via Twitter to @GuerrillaFace. Have a great week all.