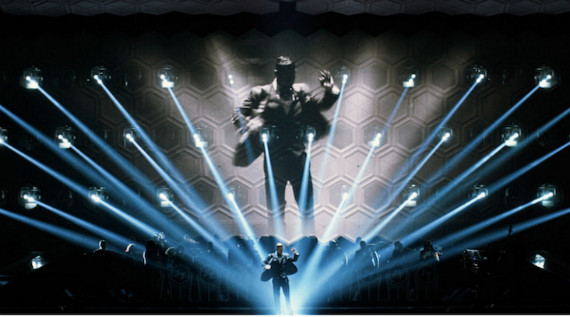 Fall festival season is nearing and with the first lineup announcements of both the Toronto and Venice Film Festivals, my anticipation is quickly mounting. Among the first of many titles to premiere at TIFF is a pair of concert docs in Jonathan Demme's Justin Timberlake-centered JT + THE TENNESSEE KIDS and Paul Dugdale's THE ROLLING STONES OLÉ OLÉ OLÉ!: A TRIP ACROSS LATIN AMERICA says the Realscreen staff, while headlining the world premiering doc offerings in Venice is Terrence Malick's first long in-the-works doc effort VOYAGE OF TIME, as well as Massimo D'Anolfi and Martina Parenti's SPIRA MIRABILIS notes Manori Ravindran. Looking at a pair of fests currently in progress, Basil Tsiokos previewed the nonfiction works screening at the Melbourne International Film Festival and Michael Moore's Traverse City Film Festival.
This past week, The Grierson Trust released it's extensive shortlist of docs up for this year's Grierson Awards, naming heavy hitters like AMY, THE LOOK OF SILENCE and CARTEL LAND in contention for the Bertha DocHouse Best Cinema Documentary award. BBC noted the record breaking amount of female directors named on the shortlist this year, with 53 women listed, completely "dominating in the best documentary series and best constructed documentary series categories," while Realscreen's Daniele Alcinii singled out SHERPA director Jennifer Peedom and MY BEAUTIFUL BROKEN BRAIN helmers Lotje Sodderland and Sophie Robinson "among the record number of female directors to be shortlisted for the Grierson Trust's 2016 British Documentary Awards."
Though the Primetime Emmy nominees were announced a couple weeks back and the News & Documentary Emmy nominees the following week, Thursday saw the announcement that director Stanley Nelson, known for his highly regarded work on black history and activism with films like his recent THE BLACK PANTHERS: VANGUARD OF THE REVOLUTION, will receive the Lifetime Achievement Award at the 37th Anual News & Documentary Emmy Awards. Manori Ravindran reported on the news for Realscreen.
 In the realm of theatrical releases, this was a busy week. Barbara Kopple's MISS SHARON JONES! was by far the most written about, having been picked as WNYC's Doc of the Week, featured in The New York Times by Jim Farber and reviewed by the likes of The Guardian's Oliver Wang, Nonfics' Christopher Campbell, The Playlist's Katie Walsh and Mike D'Angelo of AV. Club. Kopple herself appeared in conversation with our own Thom Powers on the first season closer of Pure Nonfiction, and alongside her subject Sharon Jones on The Close-up. And while contemplating MISS SHARON JONES!, Pitchfork's Judy Berman decided to expand the conversation to debate the state of rock docs in 2016.
Another much discussed film this week was Clay Tweel's GLEASON, which was named a NYT Critics' Pick by Glenn Kenny. The film also received comparably favorable press from The Guardian's Nigel M. Smith, The Los Angeles Times' Steven Zeitchik and A.V. Club's Katie Rife. At RogerEbert.com, Matt Zoller Seitz called the film a "marvelous…tearjerker of a film but also a joyous one," while Gary Garrison called it "an emotionally poignant portrait of a man, a family, and a disease" over at The Playlist.
A handful of other docs received some critical love this past week. For The Los Angeles Times, Kenneth Turan covered DON'T BLINK — ROBERT FRANK and WOMEN HE'S UNDRESSED, while Stephen Holden reviewed HIERONYMUS BOSCH: TOUCHED BY THE DEVIL for The New York Times. Writing for Nonfics, Daniel Walber took DON'T BLINK and HIERONYMUS BOSCH as a jumping off point to celebrate the quality of this year's slate of art centered docs. Peter Bradshaw took in AUTHOR: THE JT LEROY STORY and Sam Wollaston wrote a feature on THE FALL: DECKER V BUDD, both for The Guardian. NEWTON received a warm reception from Matthew Eng at Little White Lies, while The Los Angeles Times' Michael Rechshaffen deemed HOOLIGAN SPARROW "urgent" and "compelling." Conversation centered around THE SEVENTH FIRE continued with a pair of pieces from Akiva Gottlieb at IDA and Noel Murray of The Los Angeles Times. Lastly, a pair of lengthy features: Tom Brueggemann's examination of HILLARY'S AMERICA's box office success at IndieWire, and Emily Yoshida's new interview with Werner Herzog on film school, Pokemon Go and LO AND BEHOLD at The Verge.
In doc development, Sundance published Robert Greene's look into the festival's Doc Edit and Story Lab, while Eileen Meyer posted a new piece on the challenges of being both editor and director at the POV Blog. On the funding side of things, the Gucci Tribeca Fund named its doc projects to over $150,000 in grants, reports Maria Cavassuto of Variety and Kevin Ritchie of Realscreen. Additionally, Union Docs is currently accepting submissions for their Art of the Documentary Pitch Workshop: Deadline is August 12th.
Signing off this week with Newsweek's brief list of the best docs of the year thus far and a wonderful little feature by Christopher Campbell at Nonfics on "The 20 Best Documentary Trailers of the Last 20 Years." As always, if you have any tips or recommendations for next week's Memo, please contact me via email here, or on Twitter, @Rectangular_Eye.