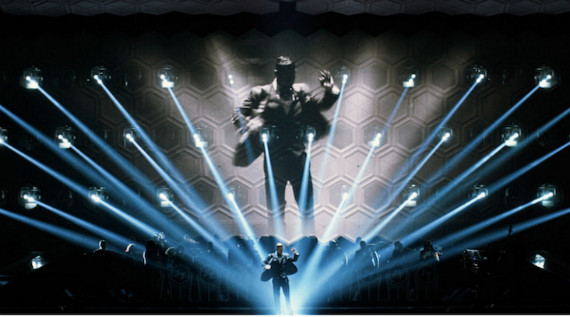 Fall festival season is nearing and with the first lineup announcements of both the Toronto and Venice Film Festivals, my anticipation is quickly mounting. Among the first of many titles to premiere at TIFF is a pair of concert docs in Jonathan Demme's Justin Timberlake-centered JT + THE TENNESSEE KIDS and Paul Dugdale's THE ROLLING STONES OLÉ OLÉ OLÉ!: A TRIP ACROSS LATIN AMERICA says the Realscreen staff, while headlining the world premiering doc offerings in Venice is Terrence Malick's first long in-the-works doc effort VOYAGE OF TIME, as well as Massimo D'Anolfi and Martina Parenti's SPIRA MIRABILIS notes Manori Ravindran. Looking at a pair of fests currently in progress, Basil Tsiokos previewed the nonfiction works screening at the Melbourne International Film Festival and Michael Moore's Traverse City Film Festival.
This past week, The Grierson Trust released it's extensive shortlist of docs up for this year's Grierson Awards, naming heavy hitters like AMY, THE LOOK OF SILENCE and CARTEL LAND in contention for the Bertha DocHouse Best Cinema Documentary award. BBC noted the record breaking amount of female directors named on the shortlist this year, with 53 women listed, completely "dominating in the best documentary series and best constructed documentary series categories," while Realscreen's Daniele Alcinii singled out SHERPA director Jennifer Peedom and MY BEAUTIFUL BROKEN BRAIN helmers Lotje Sodderland and Sophie Robinson "among the record number of female directors to be shortlisted for the Grierson Trust's 2016 British Documentary Awards."
Though the Primetime Emmy nominees were announced a couple weeks back and the News & Documentary Emmy nominees the following week, Thursday saw the announcement that director Stanley Nelson, known for his highly regarded work on black history and activism with films like his recent THE BLACK PANTHERS: VANGUARD OF THE REVOLUTION, will receive the Lifetime Achievement Award at the 37th Anual News & Documentary Emmy Awards. Manori Ravindran reported on the news for Realscreen.
---