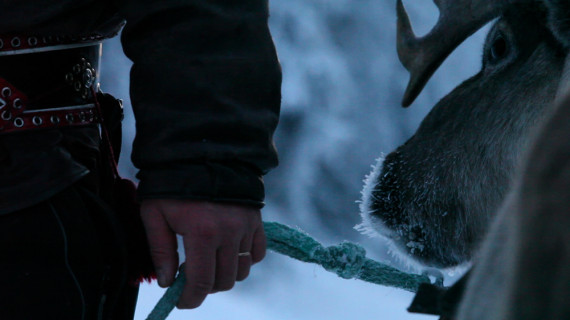 Festival news was thick this week. The Tribeca Film Festival this week announced its lineup in two parts. At Filmmaker Magazine, Scott Macaulay had the first bit of news, which included the documentaries in competition, while his colleague Nick Dawson had the second chunk of news about spotlights, special screenings and more. At About.com, Jennifer Merin focused her attention to the docs in competition and the docs in the viewpoints section. At Realscreen, Adam Benzine covered the news similarly, noting the competition films and others getting a premiere. In a post for Indiewire, Anthony Kaufman highlighted some of the docs screening at Tribeca that he thought noteworthy.
Canada's Hot Docs also announced 28 films screening as part of their Special Presentations program. Back at Realscreen Adam Benzine covered the news, while Etan Vlessing of The Hollywood Reporter pointed out some of the premieres in the announcement.
Full Frame, which runs in Durham, North Carolina, April 4-7 had news of its lineup this week, and that it would open with the Dawn Porter film GIDEON'S ARMY; Kelly Anderson of Realscreen had the details.
This week we here at Stranger Than Fiction also announced our spring season, set to start with a pre-season special screening of the film HANDS ON A HARD BODY. Other films screening over the next weeks include Shola Lynch's FREE ANGELA & ALL POLITICAL PRISONERS; Sebastian Junger's WHICH WAY TO THE FRONT LINE FROM HERE? THE LIFE AND TIME OF TIM HETHERINGTON; and Sarah Polley's festival darling STORIES WE TELL. Don't forget that you can get a season pass for $100 that grants you access to all eight films–plus the preseason screening, a DVD from Docurama, free popcorn, a guaranteed seat at sold-out events and the ability to hand your pass off to a friend. For details and to purchase tickets or a pass, click here.
The True/False Film Fest recaps starting bleeding out of Columbia, Missouri, this week. At the What (Not) to Doc blog Basil Tsiokos shared a recap of his experience, as did Ben Kenisberg of Time Out Chicago. At Indiewire Bryce J. Renninger shared eight ways True/False had made Columbia a festival destination, while Brian Brooks shared his thoughts with the Film Society of Lincoln Center's website. Vadim Rizov at Filmmaker Magazine issued a dispatch on a handful of films screened at the festival, and Adam Schartoff spoke with BLACKFISH director Gabriela Cowpertwaite in Columbia for his Filmwax Radio outlet. Public radio station KBIA also rounded up a bunch of conversations recorded with filmmakers and others at the festival.
The film portion of South by Southwest kicked off this week, and in case you missed it, Basil Tsiokos had a good overview of the docs screening in Austin this year. Alex Winter's film DOWNLOADED, about the history of Napster seemed to be getting decent press, earning pieces from Rebecca Keegan of the Los Angeles Times as well as from Tim Appelo at The Hollywood Reporter.
The debate over whether filmmakers should be paid by festivals was bumped along this week with a piece on Storify by the man who started it all, Sean Farnel. At his Sub-genre blog, Brian Newman also helped to kick that can down the road.
And if you needed another doc debate to fill some kind of void, Scott Tobias of the A.V. Club supplied on in a post arguing that documentaries needed to work harder on craft in order to be taken seriously.
For those interested in the self-distribution route, the IFP's Dan Schoenbrun had a case study of the successful run had by Kelly Anderson for her film MY BROOKLYN. At Filmmaker Magazine, Isaac Feder had a similar piece focusing on his film LIFE ON THE LINE. And last week Ivan Kander had a piece on the changing nature of distro for shorts on the Short of the Week website. And at Art Threat, Ezra Winton last week had a relevant piece on making docs downloadable.
The Flaherty Seminar covered the launch of its Flaherty NYC spring season on its website this week. At the POV blog, Shannon Carroll profiled the program in an interview with curator Jeronimo Rodriguez.
Filmmaker Jessica Edwards is in the midst of a Kickstarter campaign for her book Tell Me Something, which aims to gather photographs of and advice from some of the world's greatest documentary filmmakers. Edwards nabbed some great names for the project, including Frederick Wiseman, James Marsh and the duo of Heidi Ewing and Rachel Grady. A donation of a certain level will get you a guaranteed copy when the book goes to print.
In distro news this week Realscreen's Kelly Anderson reported that U.K. outfit Dogwoof locked up international sales rights for THE NETWORK, the new film from Eva Orner. Also GoDigital nabbed the VOD and digital distro rights for the film THE PUNK SYNDROME by Jukka Kärkkäinen and Jani-Petteri Passi.
Kevin Ritchie of Realscreen had the doc lineup for this year's San Francisco Film Festival, which includes abortion doc AFTER TILLER from Martha Shane and Lana Wilson, as well as CUTIE AND THE BOXER by Zachary Heinzerling
Christopher Campbell had a few pieces on the Ramona Diaz doc DON'T STOP BELIEVIN': EVERYMAN'S JOURNEY, interviewing Diaz for the Documentary Channel blog, and assessing the film in a post at Film School Rejects. Campbell also had a piece at Movies.com on the phenomenon of the rags-to-riches doc genre.
In interviews this week, Nick Dawson of Filmmaker Magazine spoke with THESE BIRDS WALK directors Omar Mullick and Bassam Tariq on their new film. His colleague Brandon Harris talked to GUT RENOVATION director Su Friedrich. Christopher Campbell also spoke with THE PUNK SYNDROME filmmakers Jukka Kärkkäinen and Jani-Petteri Passi in a post for the Documentary Channel blog. At the POV blog, Tom Roston interviewed MAIDENTRIP director Jillian Schlesinger on her film.
In his Docutopia post at the SundanceNOW blog, Anthony Kaufman this week took a look at the tint of globalization inherent in the work of filmmakers Ashley Sabin and David Redmon. Kaufman also had a second piece on the idea of the Oscar bump, and if it had any effect on docs.
Writing for Film.com, David Erlich had a post on the 10 most intense documentaries, highlighting the recent film LEVIATHAN from Lucien Castaing-Taylor and Verena Paravel.
Robert Greene may have accidentally discovered a new calling as a film critic, this week he turned out a post on SLEEPLESS NIGHTS for Hammer to Nail.
At his Kino-Eye site, David Tamés had an incredibly useful post on sound issues to consider for docs.
For those interested in the interactive side of things, this week was a meaty one for news. At the POV blog Emma Desau spoke with the minds behind the interactive storytelling platform Zeega, and the platform was similarly highlighted in a piece from the MIT Open Documentary Lab at Filmmaker Magazine. Also at Filmmaker Mag, Sarah Wolozin asked a more fundamental question about whether it was important for filmmakers to learn to code. Back at Kino-Eye, David Tamés talked to Jake Price about his web documentary UnknownSpring.
Christopher Campbell has this week's rundown of the noteworthy docs hitting theaters, highlighting DON'T STOP BELIEVIN and DOWNEAST among others.
That does it for this week's Memo, but be sure to keep e-mailing tips and recommendations here, or tweet them to @GuerrillaFace. I'm going to go and eat some barbecue now, have a great week everyone!