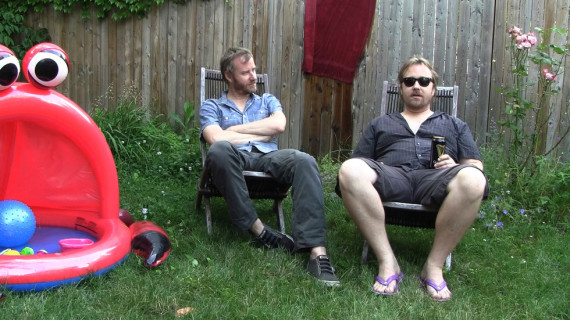 The 2013 edition of the Tribeca Film Festival began April 17 with a screening of the film MISTAKEN FOR STRANGERS about the rock band the National, directed by Tom Berninger. Critic Eric Kohn reviewed the film for Indiewire, giving it a letter grade of "B." At Reuters, Chris Michaud took a look at some of the docs screening at this year's festival. Writing for the POV blog, Tom Roston also previewed the festival's docs, and in a separate post highlighted the films BIG FLEX and FLEX IS KINGS. Also writing for the POV blog, Liz Nord described the transmedia Storyscapes section of the festival as a "must-see." Alex Reben's BlabDroids project, which uses robots to make a documentary, got write-ups from both Angela Wattercutter of Wired and Samantha Murphy of Mashable.
The doc WHICH WAY IS THE FRONT LINE FROM HERE? THE LIFE AND TIME OF TIM HETHERINGTON got a fair bit of press over the last week, cadging no fewer than four interviews with director Sebastian Junger. R. Kurt Osenlund interviewed Junger for the pages of Filmmaker Magazine, while Adam Benzine spoke with him for Realscreen. Alison Willmore of Indiewire also chatted up Junger, as did Christopher Campbell at the Documentary Channel blog.
For those interested in checking out Junger's film, Stranger Than Fiction is hosting a screening on Tuesday, April 23 at 8pm at the IFC Center in Manhattan. Following the screening, James Barbazon, a colleague of Hetherington's, and Alan Huffman, the author of Hetherington's biography, will be in attendance for a Q&A. You can find out more information and purchase tickets here.
As surprising as it might seem, Junger wasn't the only director to be interviewed last week. Back at Filmmaker Magazine, Mary Anderson Casavant interviewed Rachel Boynton, director of BIG MEN, about the oil fields of Nigeria. At the Tribeca Film Institute Karen Kemmerle chatted with Stephen Silha and Eric Slade, directors of the film BIG JOY: THE ADVENTURES OF JAMES BROUGHTON.
The Independent Lens blog interviewed Jon Shenk, director of the film THE ISLAND PRESIDENT. Nick Dawson of Filmmaker Magazine posed five questions to OXYANA director Sean Dunne. Also at Filmmaker Magazine, the MIT Open Documentary lab interviewed Tribeca's director of digital initiatives, Ingrid Kopp. Liz Nord posed five questions to Hugues Sweeney of the National Film Board of Canada for the POV blog.
Last week David Edelstein, Bilge Ebiri and Miranda Siegel of New York magazine's Vulture blog published their list of the 20 most essential docs of the last century. At the POV blog, Heather McIntosh reacted by questioning the value of any "best of" list. Thom Powers noted the New York mag list contained only male directors. He responded on Twitter with a counter list of 20 essential docs by women directors that was reprinted by Women and Hollywood.
The New York Times reported that the 2nd annual Montclair Film Festival, has "more of everything," nearly doubling in size since last year. Led by the STF team of PowersHausen, Montclair has a robust documentary lineup including the world premiere of SHORED UP, a conversation with Alex Gibney and David Carr, and a free panel on Docs-in-Progress with HBO's Nancy Abraham. Writing in The Star-Ledger, film critic Stephen Whitty highlighted Montclair docs including BEST KEPT SECRET and ICEBERG SLIM: PORTRAIT OF A PIMP with producer Ice-T in person.
In distro news, Kevin Ritchie of Realscreen reported that HBO had acquired U.S. broadcast and home video rights for the Whoopi Goldberg-directed film MOMS MABLEY: I GOT SOMETHING TO TELL YOU, as did Jorge Rivas of Colorlines. Kevin Ritchie also had the news that First Hand Films had inked a number of deals, while colleague Adam Benzine reported that Film Buff snagged digital distro rights for RED OBSESSION from directors Warwick Ross and David Roach.
Writing for the What (Not) to Doc blog, Basil Tsiokos provided his regular slate of festival overviews. This week he took on Toronto's Hot Docs, along with Visions du Reel.
Back at the POV blog, Heather McIntosh weighed in on the recent ruling from the Illinois state government to deny documentary production entity Kartemquin Films a sales tax exemption. The POV blog this week also republished a great breakdown of a standard three-camera interview setup from Tim McLaughlin of the MediaStorm blog.
At the True/False blog, Dan Steffen posted an interview with Angad Singh Bhalla, director of the film HERMAN'S HOUSE, which opened this past weekend at Cinema Village in New York City. Writing for Filmmaker Magazine, David Licata had five questions for Bhalla.
This week documentary producer Daniel Chalfen became the latest to weigh in on the "Fair Trade for Filmmakers" article penned by Sean Farnel back in early February.
Christopher Campbell included HERMAN'S HOUSE in his round-up of notable theatrical releases for the week at the Documentary Channel blog. Also, now writing for Film School Rejects, Campbell reviewed one of those releases, UNMADE IN CHINA.
The demo versions of the projects from the latest POV Hackathon are now online, and POV has put the call out for applications for the fourth Hackathon, set to take place in NYC July 27-28.
At the Center for Social Media's blog, Patricia Aufderheide talked about how filmmakers who have bad, but rare, problems with copyright and fair use can scare others off of engaging in the practice, and then offered some best practices.
In his weekly Docutopia post, Anthony Kaufman considered the films AN OVERSIMPLIFICATION OF HER BEAUTY from director Terence Nance, and PORTRAIT OF JASON from Shirley Clarke.
Jeff Gomez shared with Indiewire his list of things that made for a good transmedia project.
Writing for the Independent Film Project's site, Marc Schiller argued for the end to the phrase "self-distribution," saying it had a negative connotation for films.
That's it for this week. Please send tips and recommendations via e-mail here, or tweet them to @GuerrillaFace. Thanks, and have a great week everyone!