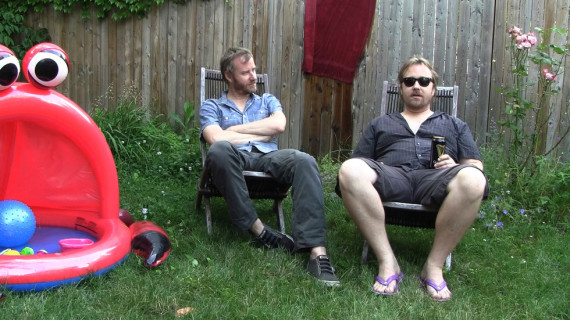 The 2013 edition of the Tribeca Film Festival began April 17 with a screening of the film MISTAKEN FOR STRANGERS about the rock band the National, directed by Tom Berninger. Critic Eric Kohn reviewed the film for Indiewire, giving it a letter grade of "B." At Reuters, Chris Michaud took a look at some of the docs screening at this year's festival. Writing for the POV blog, Tom Roston also previewed the festival's docs, and in a separate post highlighted the films BIG FLEX and FLEX IS KINGS. Also writing for the POV blog, Liz Nord described the transmedia Storyscapes section of the festival as a "must-see." Alex Reben's BlabDroids project, which uses robots to make a documentary, got write-ups from both Angela Wattercutter of Wired and Samantha Murphy of Mashable.
The doc WHICH WAY IS THE FRONT LINE FROM HERE? THE LIFE AND TIME OF TIM HETHERINGTON got a fair bit of press over the last week, cadging no fewer than four interviews with director Sebastian Junger. R. Kurt Osenlund interviewed Junger for the pages of Filmmaker Magazine, while Adam Benzine spoke with him for Realscreen. Alison Willmore of Indiewire also chatted up Junger, as did Christopher Campbell at the Documentary Channel blog.
For those interested in checking out Junger's film, Stranger Than Fiction is hosting a screening on Tuesday, April 23 at 8pm at the IFC Center in Manhattan. Following the screening, James Barbazon, a colleague of Hetherington's, and Alan Huffman, the author of Hetherington's biography, will be in attendance for a Q&A. You can find out more information and purchase tickets here.
---