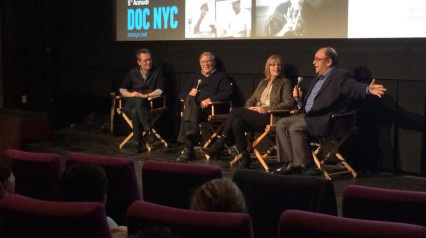 This post was written by STF blogger Krystal Grow.
The legendary Stax recording studio produced some of the finest and most influential soul and R&B music of the 60s and 70s. Now all that remains is a vacant lot in Memphis, TN. There's a tarnished sign on the sidewalk that bears tribute to the former music mecca with a list of names that reads like a roll call of soul singers, from Otis Redding to Rufus Thomas, Sam and Dave to The Bar-Kays. In 1999, with journalist Roger Friedman in tow, DA Pennebaker and Chris Hegedus set out to find these legends, and document not only their impact on the development of an entire genre of music, but to preserve their legacy.
"We'll probably never see anything like that ever again," Pennebaker said following the screening of ONLY THE STRONG SURVIVE, the last film in Stranger Than Fiction's eight-week tribute to the filmmaking duo. "I grew up on jazz. I had no idea this incredible music was right here in the middle of America."
Through a series of candid interviews and observations, as well as a healthy serving of live performance footage, Pennebaker, Hegedus and Friedman follow some of the most important figures in the evolution of Memphis soul music. Standing outside the site of the former Stax studio, Carla Thomas, the 'Princess of Soul,' and daughter of Rufus Thomas, tells the story of her entrance into the soul scene as a teenager, singing sugar-coated songs in a girl group, and later as a solo artist. Having left her music career behind to pursue a college education, she returns to the studio to record updated versions of her most popular songs, and like they did with the cast of COMPANY and Dave Lambert, Pennebaker and his team capture all the energy of a live studio session through their unobtrusive yet intimate lens.
Outside the studio, many of the Stax legends were still performing when the film was made in 1999. From venues with revolving stages to banquet halls in small southern towns, the smoldering sound resonates with the same intensity that soul music is known for. From Wilson Pickett to Mary Wilson, Pennebaker and Hegedus reveal a resilience in these artists that has traversed profound personal tragedies and the downfall of the Stax, the epicenter of the Memphis sound.
"I wanted it to go on forever," Pennebaker said. "It was really amazing to see these performers, whose names I knew, but who I'd never seen perform, and didn't know were still even performing." Hegedus agreed,"Most of these performances weren't in the biggest venues," she said, "but everyone really just went for it and gave it their all."
Valerie Simpson, of the influential Ashford and Simpson songwriting/production/performing duo, was in the audience at the IFC center for the screening, and during the Q&A said that while her memories of soul music were still strong, the film itself achieved something that few people could have accomplished.
"Your love of the music allowed you to have a relationship with people that other people couldn't have had," she said to Friedman, who helped Hegedus and Pennebaker gain access to the subjects they followed in the film. "I loved seeing the people I love in this film in their natural state, like they really were, and that was because of you."
Stranger Than Fiction's twenty-fifth season featured an eight-week tribute to the careers of D A Pennebaker and Chris Hegedus.
Krystal Grow is an arts writer and photo editor based in New York. She has written for TIME LightBox, TIME.com, LIFE.com, the New York Times Lens Blog, the Magnum Foundation and the DOC NYC blog. Follow her on Twitter and Instagram @kgreyscale.

Related Film