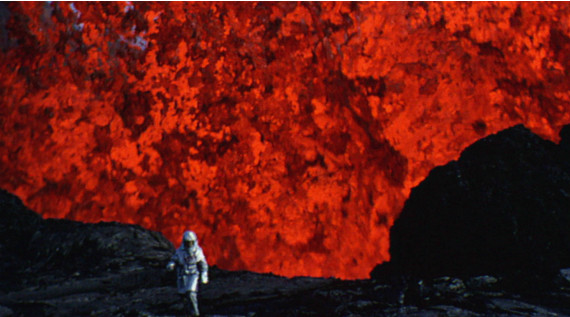 Happy Halloween! It's odd, one would think Halloween weekend would be primed for horror releases, but it seems an unusual amount of well regarded documentaries found their way into theaters this past week. Chief among these was Werner Herzog's INTO THE INFERNO, which found its way into homes around the world via Netflix and also opened at the IFC Center. The volcanic film was named WNYC's Documentary of the week, was Film Comment's Film of the Week, and was selected by Manohla Dargis as a NYT Critics' Pick. Though I'm fond of the film myself in my review at IONCINEMA, I am in full agreement with Matt Zoller Seitz when he says in his review at RogerEbert.com that many viewers detect that "all the adulation has made him cuddly, and his films warmer, more accessible, and perhaps in some ways more superficial." We'll return to theatrical releases a bit later.
As we near the start of DOC NYC (less than two week away now), the festival's Director of Programming, Basil Tsiokos, has been running through a series of previews of each of the festival's sections over at What (not) To Doc. Tsiokos also looked at the Jihlava International Documentary Festival, the Czech Republic's widely known nonfiction fest, having ran Tuesday through Sunday, as did Vladan Petkovic for Cineuropa. Cineuropa also had David González on hand to report on the festival's industry conference happenings in a pair of pieces on documentary making process and funding. Yesterday, the festival announced its award winners, with Maria Kourkouta and Niki Giannari's SPECTRES ARE HAUNTING EUROPE named as the Best World Documentary, Salomé Jashi's THE DAZZLING LIGHT OF SUNSET taking the award for Best Central and Eastern European Documentary, and Tomáš Bojar and Rozálie Kohoutová's FC ROMA named as the Best Czech Documentary.
Tomorrow, We conclude our fall season with one final doc by the great Jonathan Demme, his 2007 film about the former U.S. president, JIMMY CARTER MAN FROM PLAINS. For this special screening director Jonathan Demme, Producer Ron Bozman and President Carter's Literary Publicist Elizabeth Hayes will all be on hand for a post-screening Q&A. Tickets for this closing night screening are available here.
---