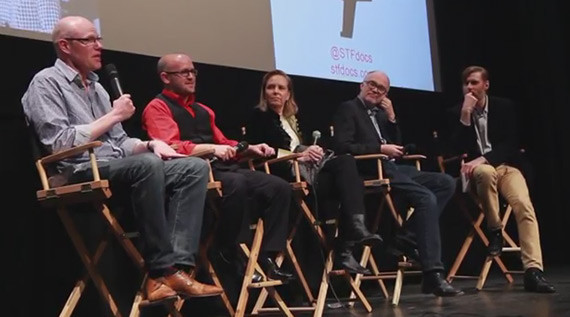 The picturesque sand dunes of Aberdeenshire, the ancient walls of Dubrovnik and the suburban sprawl of Bedminster, New Jersey may not have all too much in common at first glance. Yet for some they share an unexpected foe. Golf.
Stranger Than Fiction welcomed director Anthony Baxter and a host of guests at the screening of A DANGEROUS GAME, Baxter's second film documenting the construction of luxury golf courses and their high environmental and personal cost to local residents.
The film is a follow-up to Baxter's first documentary, YOU'VE BEEN TRUMPED. Released in 2011, the film documented the construction of Donald Trump's, 'Trump International Golf Links' course, in an environmentally protected rural area on the coast of Scotland. Following characters such as local farmer and fisherman Michael Forbes, the film exposed their struggle against the billionaire mogul. A DANGEROUS GAME continued following the same characters, with highlights including Forbes' receipt of the 'Top Scot Award' in the wake of the film, whilst also expanding to other examples of the problem in parts of the world such as Dubrovnik, Dubai and Las Vegas.
Though "they may not be Trump by name," Baxter said in his introduction to the film, they are "Trump by nature."
Combining compelling personal narratives and interviews with experts and celebrities such as Robert Kennedy Jr. and Alec Baldwin, A DANGEROUS GAME wove together touching tales of personal struggle enthused with geopolitical and environmental themes. Throughout, Baxter's simple yet direct line of questioning to political leaders, and even Trump himself, evoked a strong response from the audience.
In the Q&A after the film, Baxter was joined by producer, Richard Phinney; executive director of the Raritan Headwaters Association, Cindy Ehrenclou and activist Justin Wedes, one of the organizers of the Occupy Wall Street movement.
A consistent theme in the Q&A and in the film was the golf courses as a manifestation of wealth inequality across the world. "I think it is revealing, especially in the second film, just how pervasive the notion of the 99% and the 1% has become in the mindsets of people in this country, but also around the world," said Wedes. "It is this universal symbol now."
Baxter also echoed this sentiment, referring to the disconnect between people living in a "Trump Tower" environment in comparison to ordinary people. He spoke with affection and reverence for the local people he had met along the way during his two films, referring particularly to the Scots in Aberdeenshire. "They did not ask for this fight," he said. "They have shown huge courage and determination to stand up for their environment. And Donald Trump just does not seem to recognize that."
Writer and producer on both of the films, Richard Phinney, also pointed out that there is a need to not only hold the financial figures pushing for these golf courses accountable, but also the political leaders responsible for approving them. "As societies, we really have to respond," he said.
Stranger Than Fiction begins again on Tuesday April 14 for its 27th season! STF Spring 2015 opens with KING GEORGES, followed by a Q&A with director Erika Frankel and film subject Georges Perrier. The line-up includes sneak previews of highly anticipated docs such as SUNSHINE SUPERMAN and THE WOLFPACK along with revivals of classic docs such as Alan and Susan Raymond's THE POLICE TAPES (1977) and Nick Broomfield's AILEEN: LIFE AND DEATH OF A SERIAL KILLER (2003). The series takes place each Tuesday night at the IFC Center.
---
Writing by Chloe Mamelok, a multimedia journalist currently studying at the Columbia Graduate School of Journalism. Originally from the UK, Chloe graduated from Queen Mary's University in London in 2013 before spending time in South America. Chloe is currently producing a short-form documentary and hopes to combine documentary production and investigative journalism in the future. Follow her on Instagram @chloemamelok and Twitter @chloemamelok.
Videography and photography by Steff Sanchez, a filmmaker and designer based in New York City. Twitter @steffsanchez.
Related Film