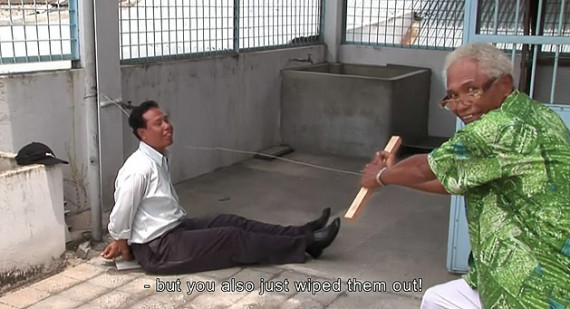 The New Year holiday has left us with another light news week. Perhaps the most interesting news was that distributor Drafthouse Films released a "bundle" of content related to THE ACT OF KILLING via BitTorrent, a medium most closely associated with pirating. The bundle dropped at the same time the film was being released on iTunes. Realscreen's Adam Benzine covered the development, as did Paula Bernstein of Indiewire. And Anthony Ha of TechCrunch also had the news.
Indiewire rounded up all of their doc advice from last year in one incredibly helpful post that you can check out here.
Melena Ryzik of the New York Times took note of the fact that both PUSSY RIOT: A PUNK PRAYER and THE SQUARE had been banned in the respective countries in which they had been shot, while also landing on the Oscar shortlist for docs. Vanessa Thorpe of The Guardian mentioned PUSSY RIOT in a piece noting the political nature of those getting on the shortlist. Jezebel's Rebecca Rose had details on a screening of PUSSY RIOT intended to take place in Russia that was scuttled by the government there.
Writing for the Los Angeles Times, Oliver Gettell spoke with THE SQUARE director Jehane Noujaim. And the New York Times' Larry Rohter interviewed Noujaim in a piece for the Carpetbagger blog.
The True/False blog took a look at how some of the films programmed at the festival fared in 2013. At Nonfics.com, Christopher Campbell rounded up 25 memorable moments from the year in docs. Writing for the DocGeeks blog, Alexandra Zeevalkink released a list of the best docs from last year.
Looking forward, Anthony Kaufman issued eight New Year's wishes for docs in a post at the SundanceNOW blog. And Jennifer Merin of About.com made up a doc film fest calendar for 2014.
In a piece for Nonfics.com, Landon Palmer wrote on Chris Marker's films LE JOLIE MOI and FAR FROM VIETNAM, both of which were recently released on DVD.
Back at Realscreen, Manori Ravindran recapped the docs that were nominated for Producers Guild of America awards. And Christopher Campbell of Nonfics.com had coverage of the nominations for nonfiction work that came out of the Writers Guild.
In a piece for the Chicago Reader, Ben Sachs reviewed Frederick Wiseman's latest film, AT BERKELEY.
Writing for the Independent Lens blog, Craig Phillips interviewed HOW TO SURVIVE A PLAGUE director David France. Over at Filmmaker Magazine, Lauren Wissot interviewed Tomas Leach, director of IN NO GREAT HURRY–13 LESSONS IN LIFE WITH SAUL LEITNER. At the Televisual blog, Tim Dams gleaned some useful tidbits from doc producer John Battsek.
At Indiewire, Paula Bernstein found six Oscar shortlisted docs that are available online to stream.
Writing for Filmmaker Magazine, Ray Pride eulogized Canadian filmmaker Peter Wintonick as well as the late film critic Roger Ebert.
Back at Nonfics.com, Christopher Campbell had a post on docs hitting theaters this week, along with one on the top home picks.
That's it for this week. Please send all tips and recommendations via e-mail here, or through Twitter to @GuerrillaFace. Thanks and have a great week all!