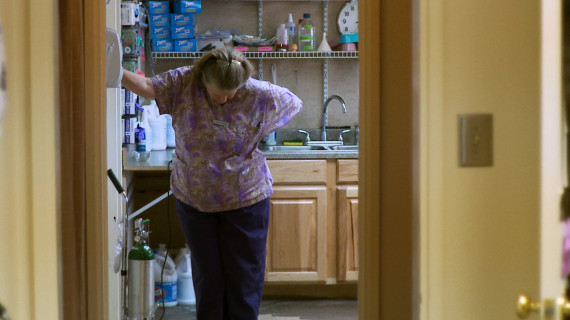 The film AFTER TILLER, which takes a look at the four late-term abortion doctors in the U.S. left after the 2009 slaying of Dr. George Tiller, was released in theaters this week. At the POV blog, Tom Roston spoke with directors Martha Shane and Lana Wilson about the film, while Christopher Campbell interviewed them in a post at RogerEbert.com. Darianna Cardilli also interviewed the pair at the International Documentary Association's Documentary site. A.O. Scott reviewed the film for The New York Times, as did Joëlle Pouliot at the DocGeeks blog. At Mother Jones, Kate Sheppard wrote about AFTER TILLER's relationship to Chicken & Egg Pictures. And Daniel Walber reviewed the film for Nonfics.com.
News came out of Egypt this week that filmmaker John Greyson and doctor Tarek Loubani had begun a hunger strike in a Cairo jail; the pair have been held there since August 16 without charge. Friends and family announced the hunger strike in a post on website created to secure the pair's release, and Alex Ballingall reported on the development for the Toronto Star.
Kevin Ritchie of Realscreen reported that Susan Lacy, the creator and executive producer of the "American Masters" doc show on PBS, was leaving affiliate WNET for a job directing and producing docs at HBO. The Deadline site also reported on the news, as did Bill Carter at the Times and AJ Marechal at Variety.
This week Stranger Than Fiction is kicking off its fall season with a screening of Evan Jackson's film LINSANITY, which follows professional basketball phenomenon Jeremy Lin. Jackson and producer Brian Yang will be in attendance for a screening following the screening. You can find more information and purchase tickets by going here.
The Grierson Trust announced the final nominations for its 2013 awards this week. Kelly Anderson covered the announcement for Realscreen, while Alexandra Zeevalkink did the same at DocGeeks.
An IFP Week panel on whether docs should speak truth to power proved to be feisty, according to Bryce J. Renninger's post on Indiewire. Colleague Paula Bern covered the panel on fact/fiction hybrid work, and wrote another piece covering the panel on navigating festivals.
Just a friendly reminder that the deadline to apply for the Karen Schmeer Film Editing Fellowship is September 30. Fellows are given mentors and passes to film festivals and screenings, along with a cash award.
At Realscreen, Adam Benzine provided a comprehensive recap of documentary news that came out of the Toronto International Film Festival (TIFF). Benzine also interviewed Alan Zweig on his TIFF win for best Canadian feature prize for his film WHEN JEWS WERE FUNNY. Daniel Walber reviewed WHEN JEWS WERE FUNNY for Nonfics.com. Indiewire presented its critic's poll on docs that screened at TIFF, finding MANAKAMANA from Stephanie Spray and Pacho Velez taking the top spot. And Ion Cinema's Jordan M. Smith reviewed A SPELL TO WARD OFF THE DARKNESS from directors Ben Russell and Ben Rivers.
The Realness podcast from Nonfics.com editor Christopher Campbell and writer Daniel Walber is back, with the latest episode focusing on Joshua Oppenheimer's THE ACT OF KILLING. Adam Schartoff's Filmwax podcast was given over to Alan Berliner, whose new film FIRST COUSIN ONCE REMOVED investigates Alzheimer's disease. Vox Tablet's weekly podcast also focused on Alan Berliner's new film.
This week Anthony Kaufman's Docutopia piece at the SundanceNOW blog focused on the use of voiceover in documentaries. In a separate post a Indiewire's Reel Politik feature, Kaufman took a look at the new film INFORMANT from director Jamie Meltzer. Jim Newell of The Baffler also penned a piece on INFORMANT subject Brandon Darby.
California Newsreel established a page dedicated to the work and legacy of filmmaker Marlon Riggs which is worth checking out here.
In a post at the PBS Mediashift blog, Abigail Maravalli looked at three ways filmmakers had made webisodes work for documentary.
Writing for the IDA site, Justin Ridgeway looked at recent rereleases of two Jean Rouch classics, LE JOLI MAI and FAR FROM VIETNAM.
At Nonfics.com, Daniel Walber overviewed some recent documentary work coming out of China.
At DocGeeks, Jacob Harbard took a look at THE STUART HALL PROJECT, which examines the British cultural theorist. Also at the blog, Nicola Lampard reviewed OUR NIXON from director Penny Lane, and Myriam Gwynned Dijck looked at Beeban Kidron's new work INREALLIFE.
The International Documentary Association announced that it had hired Ken Jacobsen as its new education director. Thomas White penned a post at the IDA's website.
Hal Siegel of Storycode lent an interview with documentarians Kel O'Neill and Eline Jongsma to the POV blog. POV also put out a call to documentary filmmakers, asking them to fill out an equipment survey about the tools they use when producing work. And Fernanda Rossi focused on the film JUSTICE FOR MY SISTER in her Film Anatomy column.
Alison Willmore of Indiewire reported that CNN had inked a deal with Tom Hanks to produce a 10-part series on the 60s for the news channel, while Kevin Ritchie also had details at Realscreen.
Basil Tsiokos shared a doc overview for the Haifa International Film Festival at his What (Not) to Doc blog, and also gave the Urbanworld Film Festival the same treatment.
At Nonfics.com, Robert Greene shined a spotlight on BELOW SEA LEVEL, a 2008 work from filmmaker Gianfranco Rosi.
Randi Summers of the Homer Tribune profiled the Homer International Documentary Festival, set to take place in Homer, Alaska.
At Realscreen, Adam Benzine reported that this year's International Documentary Film Festival Amsterdam (IDFA) would feature a retrospective on Niek Koppen, and would focus on World War I docs.
Josh Dickeny of The Wrap reported that The Weinstein Company was turning it's Shane Salermo-helmed doc SALINGER into a biopic, and would also be adding new material to the doc. Adam Benzine had similar coverage at Realscreen, as did Michael Ciepley of the Times. Pamela McClintock of The Hollywood Reporter said the changes were due to complaints about the film.
In distro news, Mike Fleming Jr. reported that SUPERMENSCH: THE LEGEND OF SHEP GORDON had been picked up for North American distribution by RADiUS-TWC.
Christopher Campbell, writing for Nonfics.com, reported that GMO OMG from director Jeremy Seifert had done well at the box office, pulling more than $15k on one screen over one weekend.
At the Times, Nicolas Rapold reviewed director Josh Greenbaum's THE SHORT GAME.
CALL ME KUCHU director Malika Zouhali-Worrall shared six doc tips with Filmmaker Magazine's audience.
And finally, Peter Knegt shared his prognostications for Oscar's documentary frontrunners.
That's it for this week. Please send any tips or recommendations for the Memo via e-mail here, or through Twitter at @GuerrillaFace. Thanks and have a great week!