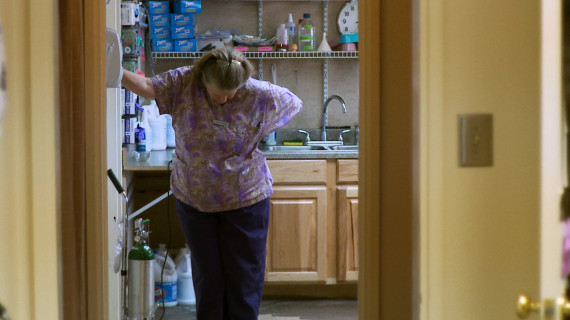 The film AFTER TILLER, which takes a look at the four late-term abortion doctors in the U.S. left after the 2009 slaying of Dr. George Tiller, was released in theaters this week. At the POV blog, Tom Roston spoke with directors Martha Shane and Lana Wilson about the film, while Christopher Campbell interviewed them in a post at RogerEbert.com. Darianna Cardilli also interviewed the pair at the International Documentary Association's Documentary site. A.O. Scott reviewed the film for The New York Times, as did Joëlle Pouliot at the DocGeeks blog. At Mother Jones, Kate Sheppard wrote about AFTER TILLER's relationship to Chicken & Egg Pictures. And Daniel Walber reviewed the film for Nonfics.com.
News came out of Egypt this week that filmmaker John Greyson and doctor Tarek Loubani had begun a hunger strike in a Cairo jail; the pair have been held there since August 16 without charge. Friends and family announced the hunger strike in a post on website created to secure the pair's release, and Alex Ballingall reported on the development for the Toronto Star.
Kevin Ritchie of Realscreen reported that Susan Lacy, the creator and executive producer of the "American Masters" doc show on PBS, was leaving affiliate WNET for a job directing and producing docs at HBO. The Deadline site also reported on the news, as did Bill Carter at the Times and AJ Marechal at Variety.
This week Stranger Than Fiction is kicking off its fall season with a screening of Evan Jackson's film LINSANITY, which follows professional basketball phenomenon Jeremy Lin. Jackson and producer Brian Yang will be in attendance for a screening following the screening. You can find more information and purchase tickets by going here.
---