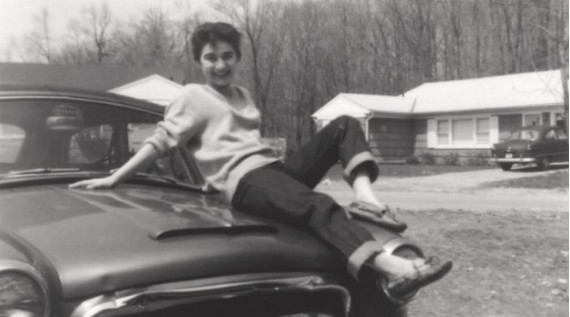 Last Thursday, Realscreen's Daniele Alcinii broke the news that the "GoDigital-owned digital distributor Distribber.com has partnered with the International Documentary Association (IDA) to launch a quarterly grant program that will allow filmmakers the opportunity to distribute their content to major online platforms and retain rights and revenue." No Film School's Emily Buder followed up, "The catch? You can't apply cold. The program is only open to a film already receiving fiscal sponsorship from the IDA, Pare Lorentz grant recipients, or films nominated for the IDA Annual Documentary Awards." Josh Fox's HOW TO LET GO OF THE WORLD (AND LOVE ALL THE THINGS CLIMATE CAN'T CHANGE), which debuted at Sundance earlier this year and is set to be shown on HBO on June 27, has been selected as the first film to receive the grant.
The Full Frame Documentary Film Festival celebrated ten years of its Garrett Scott Documentary Development Grant with a special presentation at New York's Film Society of Lincoln Center this past week featuring  Ian Olds, Esther Robinson, Rachael Rakes and Thom Powers who helped establish the grant. Graham Winfrey of indieWIRE reported on the event.
While you may have thought our screening of THE WITNESS was our final screening of our Spring Season, we made a surprise addition with a very special Wednesday evening screening of Jonathan Demme's 1992 documentary COUSIN BOBBY to take place on June 15th. Demme himself will be on hand to discuss his film centering around his cousin Robert Castle, an Episcopalian priest known for his work in the black communities of Jersey City and Harlem. Tickets now on sale to the public here, while STF Spring Season passholders get in for free.
We screened James Solomon's THE WITNESS a few days before its theatrical run began, and since, the film has garnered an overwhelming amount of glowing press from the likes of Matt Zoller Seitz of RogerEbert.com, Joshua Brunsting of Criterion Cast, and Andy Webster, who dubbed it a NYT Critics' Pick. Our own Thom Powers and Raphaela Neihausen named the film WNYC's Documentary of the Week, while the film's director turned up on both WNYC and The Close-up to discuss THE WITNESS. Solomon also appeared in print at indieWIRE, as well as at Filmmaker Magazine, in conversation with Paula Bernstein, discussing how his film evolved from an HBO-scripted series to a revealing documentary project.
Another warmly received doc this past week was Charles Ferguson's environmentally focused call to action TIME TO CHANGE by Stephen Holden of The New York Times, Kenneth Turan of The Los Angeles Times, and Owen Gleiberman of Variety, as was Louise Osmond's bio-doc on the two time Palme D'or winning British social realist filmmaker in VERSUS: THE LIFE AND FILMS OF KEN LOACH, having been lovingly covered by Peter Bradshaw in The Guardian, David Jenkins of Little White Lies, and Georgia Korossi at the BFI.
Film essayist Thom Anderson, known most for his monumental work LOS ANGELES PLAYS ITSELF, is currently receiving a retrospective courtesy of Anthology Film Archives, just as his latest project THE THOUGHTS THAT ONCE WE HAD hits theaters. The film was reviewed by Eli Goldfarb in Brooklyn Magazine, as well as by A.A. Dowd at A.V. Club.
Other doc coverage from the past week of note included Stephen Holden of The New York Times and Sheila O'Malley of RogerEbert.com's reviews of ART BASTARD, Nick Allen's piece on OF MEN AND WAR also at RogerEbert.com, Oscar-nominated director Marshall Curry on WEINER at The Talkhouse, Frank Scheck's take on THE PEACEMAKER in The Hollywood Reporter and Influence Film Club's lengthy interview with Jerry Rothwell, director of the Greenpeace doc HOW TO CHANGE THE WORLD.
On the festival circuit, the Los Angeles Film Festival kicked off with a handful of world premieres that include Damani Baker's THE HOUSE ON COCO ROAD, Eve Marson's DR FEELGOOD, as well as Natalie Kottke-Masocco and Erica Sardarian's COMPANY TOWN, among others. Lori Huck wrote up an overview of the festival's doc offerings for Blasting News, while Basil Tsiokos did the same at What (not) To Doc. Tsiokos also composed a preview of the 18th edition of South Africa's Encounters' film slate. Looking back at this year's Cannes Film Festival, Matthew Carey reflected on documentary's increased visibility at IDA's website, noting that this year's "L'Oeil d'or went to CINEMA NOVO, directed by Eryk Rocha, the story of the Brazilian cinematic movement of the 1960s that challenged the authoritarian, military-led government in Brazil." Additionally, at this past week's FOCAL Awards, Asif Kapadia's AMY, Stanley Nelson's BLACK PANTHERS: VANGUARD OF THE REVOLUTION and Morgan Neville and Robert Gordon's BEST OF ENEMIES each took home prizes recognizing the "best use of footage across platforms, and the researchers and archivists behind it," reports Barry Walsh for Realscreen.
Those looking for docs to catch online this week should turn toward Kartemquin's continued celebration of their 50th anniversary, this week streaming Maria Finitzo's 5 GIRLS for free. Or, head over to Vanity Fair, who is now streaming the second episode of AJ Schnack's NOMINATION series.
I'll leave you this week with a pair of wonderfully celebratory pieces in Conor Bateman's defense of the video essay at Keyframe and indieWIRE's list of the "25 Best Music Documentaries Of The 21st Century So Far". Until next week, if you have any tips or recommendations for the Memo, please contact me via email here, or on Twitter, @Rectangular_Eye.