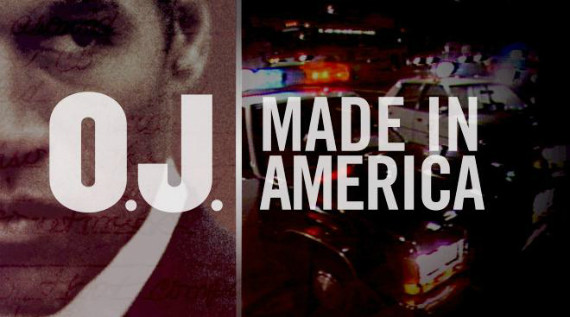 A couple months back, Anthony Kaufman predicted that Ezra Edelman's towering five-part ESPN series O.J.:MADE IN AMERICA would follow in the footsteps of THE JINX and MAKING A MURDERER to become the next media hyped documentary phenomenon. This week, that forecast came to fruition as the series has gleaned twice as much (or more) rave coverage as any other doc released this year to date, and the series has yet to have been released in full. There seems to be no shortage of rhapsodic quotes coming in like Salon's Andrew O'Hehir proclamation, a "magnificent work of journalism and storytelling from producer and director Ezra Edelman, which now belongs on the short list of the greatest television documentaries ever made," or Slate's Jack Hamilton who aims to soften one's doubts, "Forget your O.J. Simpson fatigue—ESPN's 7½-hour documentary is a revelation."
The praise continues to mount, with reviews from the likes of gushing reviews coming in from Noel Murray of AV Club, Brian Tallerico of RogerEbert.com, and Scott Tobias at Vulture. The Washington Post published a lavish profile of Edelman by Eric Hynes, who astutely distills the series as "a heady, five-part, half-century-spanning epic that…posits the story of O.J Simpson as a Rorschach test for the American psyche. Hero or villain, creator or creation, denier or exemplar of his race, how we view O.J. says as much about ourselves as it does the enigma currently languishing in a Nevada prison," while Hank Stuever called it "nothing short of a towering achievement" in his review for the same publication. Also in the Post, Connor Schell and Aaron Cohen have composed a syllabus of other O.J. related materials to check out, just as Vanity Fair's Laura Bradley listed five other docs on Simpson to watch in the wake of Edelman's production.
Even various publications typically unrelated to documentary films published serious criticism on the series, like Brian Raftery's essay at Wired, Sarah Weinman's piece at New Republic, and Edwin Rios' reflection at Mother Jones. Other worthwhile pieces included James Andrew Miller's "Why ESPN Gave Director Ezra Edelman Nearly Eight Hours for O.J.: MADE IN AMERICA," found at Vanity Fair, Stephen Battaglio's feature in The Los Angeles Times, NPR's pair of pieces by Eric Deggans and Linda Holmes, as well as Alan Pergament's interview with Edelman in The Buffalo News. Flavorwire's Lara Zarum may have been the most critical by running the headline, "Yes, O.J.: MADE IN AMERICA is a Triumph of Documentary Storytelling — But it Has a Troubling Blind Spot Around Domestic Violence in the NFL." And let's not forget, Stranger Than Fiction's own Thom Powers spoke at length with Edelman in the latest episode of his new documentary focused podcast, Pure Non Fiction.
While O.J. may be the hot topic on small screens everywhere this week, on Wednesday on the giant screen at IFC Center we here at Stranger Than Fiction will really wrap up our spring season with a very special screening of COUSIN BOBBY, at which Oscar winner Jonathan Demme will appear to present his long unavailable 1992 documentary. Tickets for the show are currently available here.
---