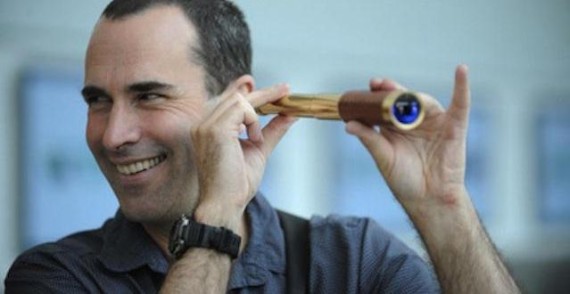 Canadian filmmaker John Greyson, along with doctor and potential film subject Tarek Loubani, were arrested in Egypt this week while considering beginning work on a documentary film about Loubani's work. Adam Benzine of Realscreen had details of his arrest, as did Sean Tepper of the Toronto Star. The Documentary Organization of Canada called on its government to aid in winning the release of the pair.
Director Bill Siegel talked with WYNC interviewer Leonard Lopate this week about his new film THE TRIALS OF MUHAMMAD ALI, which hit theaters this week. Noel Murray of The Dissolve and Nicolas Rapold of The New York Times turned in reviews of the film.
At the Tribeca Institute website Ron Mwangaguhunga wondered if documentaries could save newsweeklies, noting the recent launch of Time Magazine's new doc unit, Red Border Films. In a piece for the POV blog, Heather McIntosh provided a rationale for new interest in docs from CNN, Time and Al Jazeera America.
ESPN made waves this week by pulling out of a doc project it had been working on with PBS show Frontline investigating concussions in the NFL. Richard Sandomir of the New York Times reported on the development, as did Scott Simon of NPR and Brian Montopoli of CBS News.
In distro news, Nigel M. Smith of Indiewire reported that Oscilloscope Laboratories nabbed North American rights for KILL TEAM from director Dan Krauss, while Adam Benzine did the same at Realscreen. Craig Phillips also had the news at the Independent Lens blog.
For his Docutopia post at the SundanceNOW site, Anthony Kaufman noted that box office receipts for docs seemed to be slipping in 2013.
The New York Film Festival announced its main slate this week; Realscreen's Adam Benzine picked out some of the documentary highlights.
The POV site is playing host to a video interview with director Ra'anan Alexandrowicz about his film THE LAW IN THESE PARTS, which is currently available to watch online at the site.
Over at NPR, Karen Michel did a piece on Zachary Heinzerling's film CUTIE AND THE BOXER. Heinzerling was also the featured guest in Ondi Timoner's web series Bring Your Own Doc.
At The New York Times, Andrew Jacobs profiled CNEX, the nonprofit attempting to foster a doc scene in China.
Writing for Movies.com, Christopher Campbell highlighted some of the documentaries about narrative films in search of crowdfunding to aid them in completing the projects.
At the PopcornTaxi site, director Rebecca Barry talked with Oscar Hillerstrom about directing and fundraising for her film I AM A GIRL.
Paste Magazine's Michael Dunaway reviewed director Freddy Camalier's MUSCLE SHOALS, describing it as "the best documentary of the year."
Rauwanne Northcott of Dazed Digital rounded up a list of the top ten cult fashion docs, complete with trailers and excerpts.
Indiewire unleashed its ultimate guide to crowdfunding for filmmakers, a roundup of coverage on the topic that Indiewire has turned out recently.
Back in late July, the folks from Spoiler Alert Radio interviewed MEDORA director (and FOUND Magazine founder) Davy Rothbart about his recent film.
In the last segment of a recent Filmwax Radio podcast, Adam Schartoff spoke with director Adam Bhala Lough on his skateboarding doc THE MOTIVATION. Filmwax is also hosting a special screening of Joshua Z. Weinstein's film DRIVERS WANTED on Sept. 7 at the 55 Stan Taxi garage in Long Island City, followed by the film's Sept. 10 release on iTunes and VOD.
Back at the Times, Michael Cieply and Julie Bosman reported on some of the details emerging from Shane Salerno's doc SALINGER, about reclusive author J.D. Salinger. Also at the Times, Logan Hill traced Morgan Spurlock's unlikely path to role of director of ONE DIRECTION: THIS IS US, the authorized doc about the pop band.
At the Documentary Site, Heather McIntosh catalogued a list of methods for categorizing documentaries.
Katharine Relth, writing for the International Documentary Association (IDA), recapped Outfest Los Angeles.
Back at the POV blog, Shannon Carroll shared her experience at this year's Flaherty Seminar.
And finally, writing for Filmmaker Magazine, Randy Astle covered the interactive doc UNKNOWN SPRING from Jake Price.
Please send any tips or recommendations for the Memo via email here, or give me a shout on Twitter at @GuerrillaFace. Thanks and have a great week everyone!