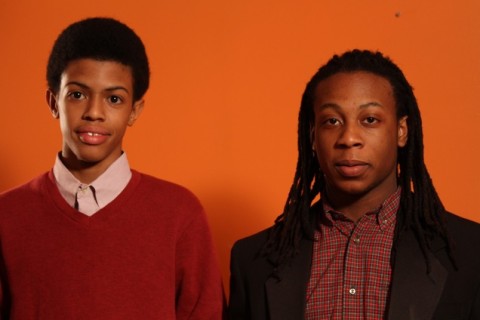 The Full Frame Documentary Film Festival in Durham, North Carolina, concluded this weekend, with Glenn McDonald of the Raleigh News and Observer reporting that the grand jury award for best doc feature going to AMERICAN PROMISE by Michele Stephenson and Joe Brewster. Prior to the festival's start, Basil Tsiokos wrote up an overview for his What (Not) to Doc bog, as did McDonald for the News and Observer. Writing for Film School Rejects, Christopher Campbell reviewed A.K.A. DOC POMUS, as well as MEDORA. And the Tribeca Film Institute published a list of five influences on Marco Williams, the director behind the film THE UNDOCUMENTED, which premiered in Durham.
This week the film community lost two valued members in film critic Roger Ebert and director Les Blank. Writing for the New York Times, Bruce Weber had an obituary for Blank, who had bladder cancer. Phil Gallo of Billboard also had an obit for Blank. You can find an interview with Blank from 2007 conducted by David Tamés for The Independent magazine.
At Realscreen, Adam Benzine penned an obit for Roger Ebert, as did Douglas Martin of the New York Times. Borys Kit of The Hollywood Reporter wrote that Steve James planned to finish his in-progress doc biopic on the highly regarded Ebert, as did Nick Venable of CinemaBlend.
Stranger Than Fiction is taking a week off, but will be back on Tuesday, April 16 with a screening of the film BITTER SEEDS about the dire straits faced by farmers in India, from filmmaker Micha Pelad. Following the screening, Pelad will participate in an audience Q&A. For more information or to purchase tickets, please go here.
Dave McNary of Variety reported that Cinedigm was expanding its Docurama distribution brand by launching a theatrical series and VOD program. Jen Yamato of Deadline and Alex Ben Block of The Hollywood Reporter also had the news.
Susan King of the Los Angeles Times profiled director Shola Lynch and her film FREE ANGELA & ALL POLITICAL PRISONERS, while at Filmmaker Magazine Livia Bloom interviewed Lynch. At the New York Times, Nicolas Rapold reviewed the film.
In distro news for the week, Adam Benzine of Realscreen reported that the film GOING BLIND from director Jon Lovett had been acquired by the American Public Television channel World for U.S. television distribution. Also, Icarus Films gained a restored version of the film LE JOLI MAI by Chris Marker and Pierre Lhomme. Writing for the Documentary Blog, Jay Cheel took a look at the unusual distro model embraced by Morgan White for his film THE REP. And last month Paul Banks of KFTV wrote up a guide to the self-distribution platform Distrify which may be of interest to filmmakers thinking of going that route.
Once again at the What (Not) to Doc blog, Basil Tsiokos highlighted the film RICKY ON LEACOCK, a portrait of direct cinema figure Richard Leacock from director Jane Weiner. Tsiokos also had an overview of the docs at the Sarasota Film Festival, as well as one of the films at this year's It's All True International Documentary Film Festival in Brazil.
This week Erin McIntyre, writing for the POV blog, listed a number of useful texts for aspiring editors (some of which might surprise you).
At Indiewire Alison Willmore reviewed the new HBO documentary program from Vice Media, finding their approach "both exasperating and valuable."
The MIT Open Doc Lab's latest installment for Filmmaker Magazine consisted of an interview with filmmaker and software architect Mark Harris.
At Wired Magazine, Jakob Schiller profiled WHICH WAY IS THE FRONT LINE FROM HERE? THE LIFE AND TIME OF TIM HETHERINGTON from director Sebastian Junger, a former colleague of the late Hetherington.
In his weekly Docutopia post, Anthony Kaufman considered the ramifications that result from two directors tackling the same subject at the same time.
At the Center for Social Media's website, Eva Gardner rounded up some tips for filmmakers gearing up for the release of their social issue docs. And Patricia Aufderheide took a look at fair use doctrine as it was used in the new film OUR NIXON from directors Penny Lane and Brian Frye.
Daniel Walber and Christopher Campbell inaugurated their new documentary podcast, The Realness, this week by taking on ROOM 237 and the issue of humor in documentary.
POV also announced the projects chosen to participate in its third Hackathon, with those chosen including a web documentary project, an education initiative and a feature documentary, among others.
At the Film Society of Lincoln Center website, Eugene Hernandez contemplated Jean Rouch's classic CHRONICLE OF A SUMMER, and the influence the film seems to have had on a slew of recently released films.
James Carter of the Cultureradar blog profiled the user-generated documentary project A JOURNAL OF INSOMNIA, one of five projects named to the Tribeca Film Festival's Storyscapes category.
Writing for Duke University's newspaper The Chronicle, Megan Rise interviewed filmmaker Jessica Yu, who showed work at this year's Full Frame festival.
Jim Hession, the current Karen Schmeer film editing fellow, had shared a recap of his South by Southwest experience for the fellowship's website.
The documentary festival DOXA, held in Vancouver, this week announced its lineup; Shawn Conner of the Vancouver Sun had the details.
For those in New York City, NYU's Center for Philanthropy and Fundraising is hosting a workshop/panel/discussion on Wednesday, April 10, social issue films that will include several award-winning filmmakers, among them BULLY director Lee Hirsch.
Ellen Nakashima of The Washington Post reported that the filmmakers behind the doc STATE OF CONTROL about Tibet had suspicions that they had been targeted for cyberattacks by the Chinese government due to the subject of their film.
At Filmmaker Magazine, David Leitner has a comprehensive piece on the new technological wave of 4K cameras.
The Tribeca Film Institute blog also had a piece highlighting the recent Tribeca Hacks event held in late March in San Francisco.
Writing for Mother Jones, Maggie Caldwell listed some of THE SHINING conspiracies brought to the fore by the doc ROOM 237.
Christopher Campbell, this time writing for the Documentary Channel blog, had a roundup of recent doc world news. He also highlighted some new documentary trailers.
And finally, the Independent Lens blog recently got THE HOUSE I LIVE IN director Eugene Jarecki to sit and talk about the War on Drugs.
That's it for this week. You can e-mail tips and submissions here, or tweet them to @GuerrillaFace. Thanks and have a great week everyone.