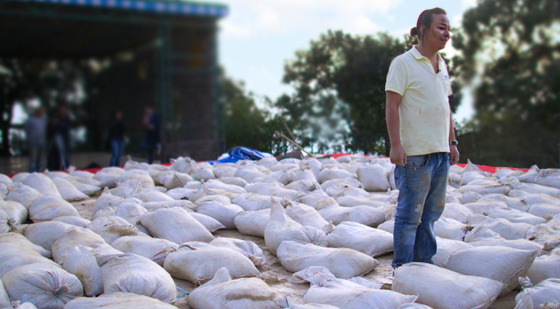 The Independent Filmmaker Project (IFP) this week named the 10 participants in its 2013 Doc Lab, a year-long fellowship for first-time filmmakers. Among the projects named to the program were BRINGING TIBET HOME from director Tenzin Tsetan Choklay, EVOLUTION OF A CRIMNAL from director Darius Clark Monroe and APPROACHING THE ELEPHANT from director Amanda Wilder. Kelly Anderson covered the announcement for Realscreen, while Peter Knegt did the same for Indiewire. Nick Dawson provided coverage for Filmmaker Magazine.
Sarah Polley's STORIES WE TELL continues to draw the attention of the press, and for good reason. Germain Lussier of /Film (that's not a typo) interviewed Polley, as did Nick Allen of The Scorecard Review. Tom Roston of the POV blog weighed in on the film, while NPR covered its release.
Cannes already seemed to be heating up doc acquisitions on the French Riveria. Realscreen's Kelly Anderson reported that HBO had acquired US and Canadian television rights for James Toback's new film SEDUCED AND ABANDONED, while Glenn Whipp of the Los Angeles Times had coverage of the same deal. Gregg Kilday of The Hollywood Reporter had the news that Phase 4 had nabbed all U.S. and Canadian rights for Lucy Walker's film THE CRASH REEL. And Geoffrey Macnab of Screen Daily reported that Attraction Distribution had won worldwide rights to Hot Docs award winner DRAGON GIRLS from director Inigo Westmeier.
This week Stranger Than Fiction is hosting its last film of the Spring season, ON THE ROPES by directors Brett Morgen and Nanette Burstein. The film follows the lives of three boxers struggling to succeed at The Bed-Stuy Boxing Center in Brooklyn. Morgen and Burstein will be in attendance for a Q&A following the screening, which will take place on Tuesday, May 21 at the IFC Center in Manhattan. For more information or to purchase tickets please go here.
This week the doc world lost member William Miles, a self-taught filmmaker who made work about the history of black America. Bruce Weber penned an obit for Miles at the New York Times.
This week Basil Tsiokos had an overview of docs screening at this year's Cannes Film Festival at his What (Not) to Doc blog. Tsiokos also turned out a couple of Tribeca recaps, one about the festival's gala screenings and another about spotlight films.
Shane Salerno's in-the-works J.D. Salinger doc SALINGER earned some ink from Britain's Guardian newspaper this week, with Paul Harris and Charlotte Higgins providing the coverage.
Kevin Ritchie of Realscreen reported that Dylan Mohan Gray's film FIRE IN THE BLOOD had won the Feature Documentary Award at this year's DOXA Documentary Film Festival in Vancouver.
In his weekly Docutopia post on the SundanceNOW blog, Anthony Kaufman wrote on the trend of celebrity driven docs, and how they stacked up to those driven by lesser known subjects that touched on deeper themes. Kaufman also wrote on the short film MY NEIGHBORHOOD by director Julia Bacha for the Reel Politik blog at Indiewire.
Film critics turned out a number of doc reviews this week. At The Film Stage Nathan Bartlebaugh took on Jessica Oreck's Aaatsinki: The Story of Arctic Cowboys. Writing for the Film School Rejects site, Christopher Campbell considered THE FRUIT HUNTERS from director Yung Chang, while Andy Webster of The New York Times awarded Michael Singh's film VALENTINO'S GHOST with a Critics Pick.
Up north, Jay Cheel turned out a podcast covering this year's Hot Docs festival for The Documentary Blog. Marc Glassman also covered Hot Docs, but for the International Documentary Association website. And Adam Benzine of Realscreen reported that this year's Montreal International Documentary Festival (RIDM) would honor director Marcel Ophüls (THE SORROW AND THE PITY) in November.
The Boston Globe's Books section interviewed filmmaker Ken Burns, sussing out his taste in the written word.
This week the New York Times published an Op-Doc from filmmaker Stephen Maing about the work of Chinese blogger Zhang Shihe.
At the Documentary Channel blog, Christopher Campbell highlighted BIDDER 70 and STATE 194 as docs getting theatrical releases worth keeping an eye out for and, in a separate post, THE FRUIT HUNTERS and BECOMING TRAVIATA. Campbell also noted several new noteworthy doc trailers, including one for SUDDENLY, the film that profiles young Harlem rapper A$AP Rocky.
ProPublica's Tom Detzel published a post on the results of the organization's participation in the recent Tribeca Hacks hackathon. The event yielded the online work "Your Hospital May Be Hazardous to Your Health.
And the MIT Open Doc Lab kept its new digital storytelling interviews for Filmmaker Magazine going with one with D. Fox Harrell, Associate Professor of Digital Media in the Comparative Media Studies Program and the Computer Science and Artificial Intelligence Laboratory at MIT.
At the i-Docs website, Judith Aston considered the commonality of linearity found in several successful online and interactive documentary projects. Sandra Gaudenzi also provided a recap of WebDox 2013 for i-Docs.
The Tribeca Film Institute published video from this year's TFI Interactive, specifically a very funny speech from IDFA Doclab creator Casper Sonnen.
That's it for this week. Remember to send tips and recommendations for the Memo via e-mail here, or on Twitter to @GuerrillaFace. Thanks and have a great week!